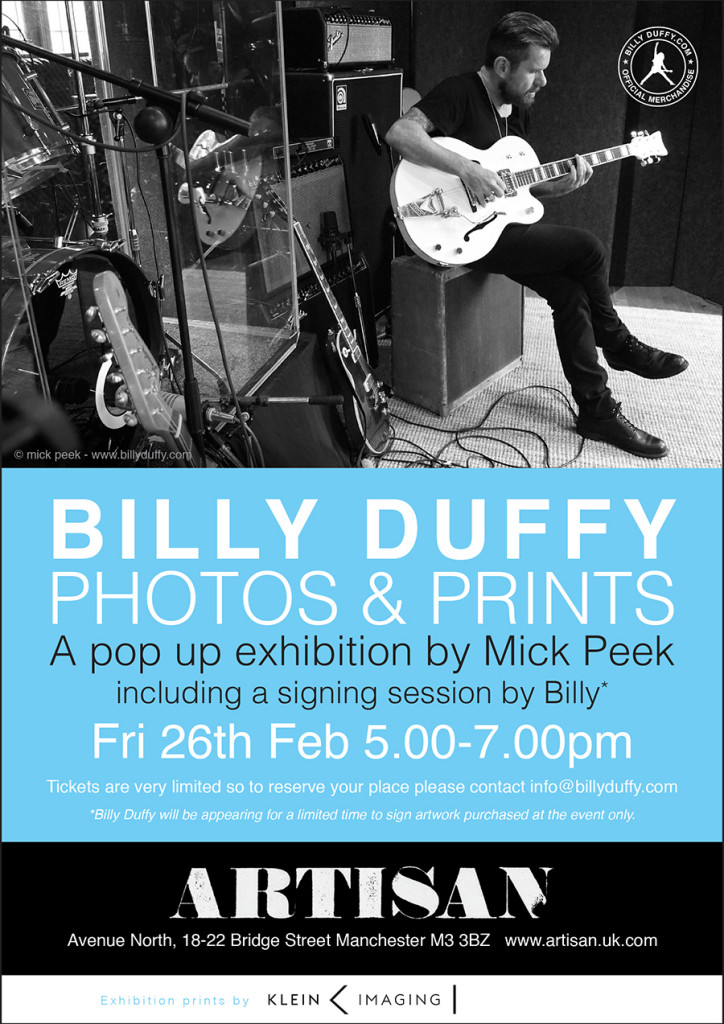 _
On Friday 26th February, Billy returns to his home town to play a sold out show with The Cult, at Albert Hall, Manchester to support their new album 'Hidden City'.
Earlier that evening, he will be appearing at a special Private View  to sign photos and prints by his long-time friend, Mick Peek – at Artisan Restaurant & Gallery. Mick and Billy have previously collaborated to produce two series of signed limited edition screen print posters, all of which sold out very quickly on release.
This special pop-up exhibition will take place at Artisan from 5pm-7pm on Friday 26th February, with Billy personally signing artwork for anyone who makes a purchase (before he heads off to be on stage at Albert Hall). The exhibition will feature an exclusive Manchester-themed limited edition screen print, as well as a collection of black & white photos of Billy taken by Mick over the years, including some never seen before images. There will also be an opportunity to purchase a life-size photo print of Billy's signature Gretsch White Falcon guitar.
Following the pop-up exhibition, any remaining prints and photos will be available to purchase via www.billyduffy.com.
Tickets for this special pop-up event are free but very limited so to reserve a place please register here…
PLEASE NOTE: This is an an art show with a chance to buy limited edition prints and photos (& not a meet-and-greet event). Billy's time will be very limited at this event, so he will ONLY be signing artwork purchased at Artisan. (Billy will also be doing a meet-and-greet signing session with The Cult earlier at The Albert Hall with tickets available here… The Cult Photo Op Upgrade Package )
If this event is showing as SOLD OUT but you would still like to attend there will be a very limited number of VIP tickets available to people who purchase artwork ahead of the event to be picked up on the night. Please contact info@billyduffy.com for more details.
20% OFF YOUR MEAL AT ARTISAN
Artisan are also offering anyone attending this event 20% OFF dining on the day so why not come down early and treat yourself before the show. To take advantage of this offer please contact Artisan to book in advance: 0161 832 4181 and quote BILLY DUFFY VIP to reserve your table. (Subject to availability). Simply show your event ticket when paying your bill to receive your discount. For more info on Artisan and to view their great menu visit www.artisan.uk.com
This event is in association with KLEIN IMAGING
Billy and Mick have teamed up with Klein Imaging to produce the photographic prints for this exhibition. Klein Imaging is a Manchester-based Hahnemühle Fine Art certified print house, specialising in the production of bespoke exhibition-quality giclée prints for artists, galleries and art professionals.
www.kleinimaging.com