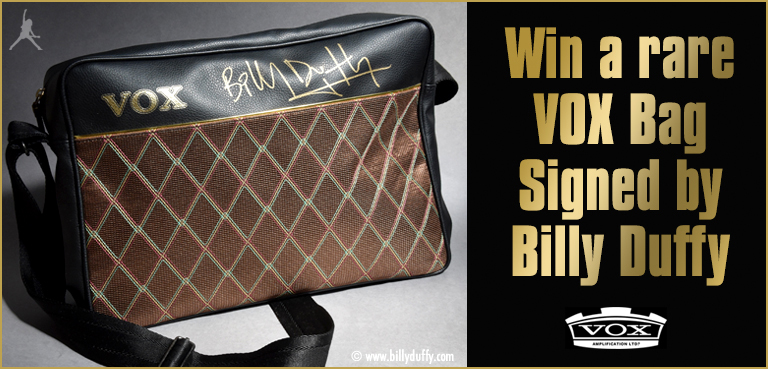 .
Despite occasionally using VOX amps throughout his career Billy only started using one as a permanent part of his backline in 2013. Since then the AC-30 combo has become a really important part of his live sound.
Recently VOX produced a shoulder bag modelled on that classic amp as a gift for their musicians and they have never been available to buy. Billy has teamed up with VOX to offer a chance to win one of these bags that he has signed in this exclusive www.billyduffy.com competition.
You can read more about the amp here…
Billy's VOX AC-30 Amplifier
THIS COMPETITION IS NOW CLOSED
Terms and conditions
Ts & Cs
ABOUT THE PRIZE DRAW
1. The promoter of this prize draw is Billyduffy.com c/o OJK 19 Portland Place, London W1B 1PX.
2. By entering the prize draw you agree to the below terms and conditions, to be bound by the decisions of billyduffy.com and to receive email notifications from billyduffy.com in relation to the prize draw.
ENTERING THE PRIZE DRAW
3. Due to local territory competition and prize draw laws this promotion is open to residents of the following countries only; Canada, Denmark, Finland, Germany, Ireland, Netherlands, Norway, Poland, Portugal, Spain, Sweden, Switzerland, United Kingdom, United States.
4. The free prize draw is open any person over the age of 18.
5. The prize is a VOX Shoulder Back autographed by Billy Duffy.
6. You may enter only once.
7. Employees or relatives of employees of billyduffy.com and VOX Amplifiers are not permitted to enter.
8. No entries on behalf of third parties will be accepted.
CHOOSING THE WINNER
9. Billyduffy.com will draw one (1) winner at random from all entries received and the draw will be supervised by an independent person.
10. The closing date for the competition will be Midnight January 30th 2018 (UK GMT)
11. Billyduffy.com will notify the prize winning entrant by 2pm on the day following the draw by email. If any prize winner does not confirm acceptance of the prize within 7 days of this notification being sent or the email address supplied is invalid, another random draw will take place from completed entries and another prize winner will be selected. Provision of the prizes is subject to the winner responding to the email notification about winning the prize confirming their acceptance
THE PRIZE
12. The prize is a VOX Shoulder Back autographed by Billy Duffy.
13. The prize will be dispatched by tracked post or courier within 28 days of receiving confirmation details from the winner.
GENERAL
14. The prize is as stated above, non-transferable, non-refundable and subject to availability. There is no cash alternative. The winner is responsible for paying all associated costs that are not specifically stated in these Terms and Conditions and all other incidentals. The Winner is also personally responsible for any personal or incidental expenses and any VAT, national and/or local tax liabilities incurred in claiming the prize.
15. Billyduffy.com's decision is final and binding and no correspondence will be entered into regarding the outcome of the draw.
16. No responsibility will be taken for late, lost, indecipherable or misdirected entries or for any failure of communication resulting from incorrectly supplied information.
17. Billyduffy.com reserves the right to check the validity of any entry and the identity of any entrant or winner and to refuse entry or refuse giving the prize if billyduffy.com reasonably considers the entry and/or winner to be in breach of the terms and conditions or to have otherwise acted in an inappropriate or deceitful manner.
18. Billyduffy.com reserves the right at any time in its sole discretion to cancel, modify or supersede the prize draw if it believes, in its sole discretion, that the prize draw is not capable or is likely not to be capable of being conducted fairly or as specified within these terms and conditions due to events beyond its control (including, without limitation, a virus, a computer bug or unauthorised human intervention or any other cause beyond the reasonable control of Billyduffy.com that could corrupt or affect the administration, security, impartiality or normal course of the prize draw.
19. The name and country of the prize winner will be available by sending a stamped addressed envelope within one month of the notification date to Billyduffy.com c/o OJK Ltd, 19 Portland Place, London W1B 1PX
20. Nothing in these terms and conditions shall limit in any way Billyduffy.com's liability for death or personal injury caused by its negligence. Subject to that, Billyduffy.com shall have no liability for any delay and/or failure to perform any obligation to the winner or other entrant that is caused by: (a) technical problems of any kind which may limit or prevent any person's participation in the prize draw; (b) any loss or damage arising from or in connection with the allocation of the prize; (c) any act or omission of any third party; or (d) any other events beyond Billyduffy.com's control that may cause the prize draw to be disrupted or corrupted or may lead to loss of, or damage to, the prize in transit to the Winner.
21. If any of these terms and conditions is found by a court or regulator to be invalid or unenforceable the other provisions shall continue to apply
22. We will do our best to resolve any problems relating to the prize draw. This promotion shall be governed by the laws of England and Wales.
© 2018 Billyduffy.com.