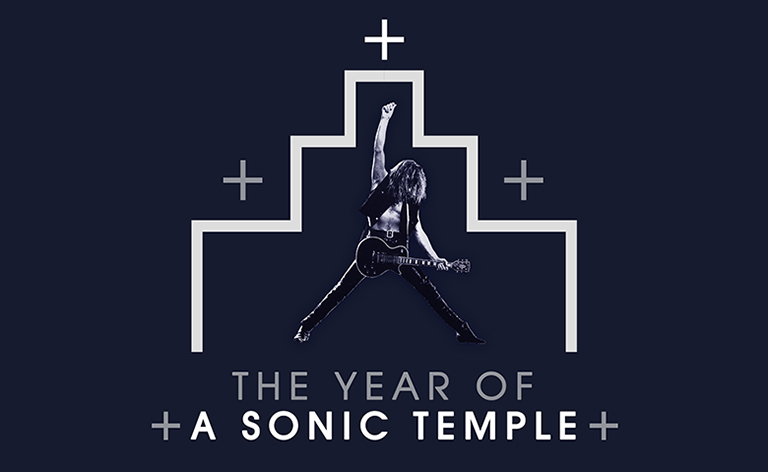 +
Looking back at 2019 I'll remember it as the year of + A SONIC TEMPLE + with The Cult celebrating the 30th anniversary with the re-issue of the album and a whole heap of shows.
As with Electric 13 these reissues and tours are a great chance to celebrate landmark moments in our career and revisit songs that have remained un-played for a long time.
It's also important for us to be interspersing these with new music and shows celebrating where we are now.
The year itself had a quietish start which is usual as not may bands play shows in that period for a number of reasons… not least the weather is usually much worse and people don't go out as much after a busy holiday period.
Despite the fact that we didn't start the tour itself until May there was lots happening behind the scenes as we worked with Beggars Banquet on the multiple formats of the Sonic Temple that would be released later in the year as well as all the tour prep with our management team and promoters.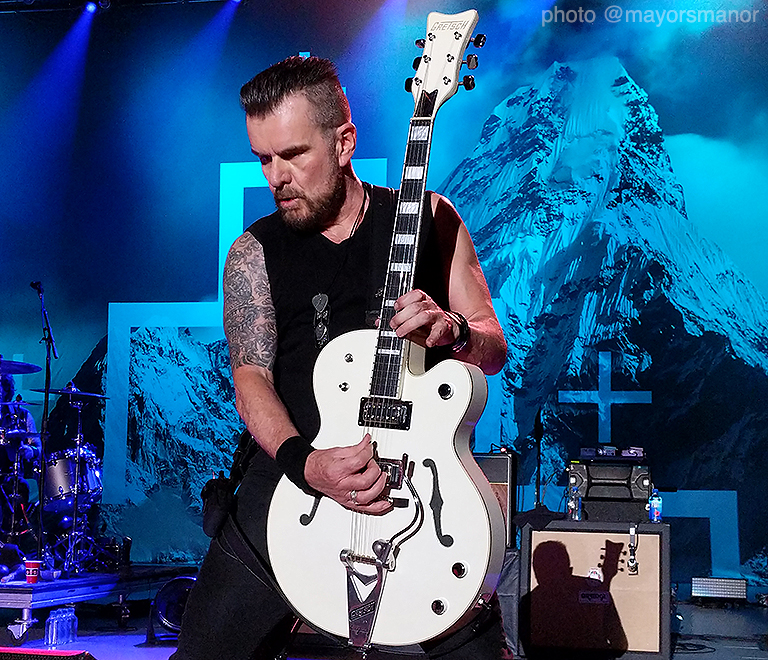 +
May and June we're pretty much taken up with touring as we played + A SONIC TEMPLE + sets at a mixture of festivals and our own standalone shows in the US, Canada and Europe. With many of these nights sold out it made for some great memories especially the show at The Greek in Los Angeles which I felt was one of our best performances ever. An interview I did at the time summed up why these shows worked so well so worth repeating here…
"For the most part, once an album is done, Ian and I never look back too much and let it go out there with few regrets. We want you to celebrate those good times back then but not dwell in them and even more so look forward to new and different experiences as well as our new music in the future."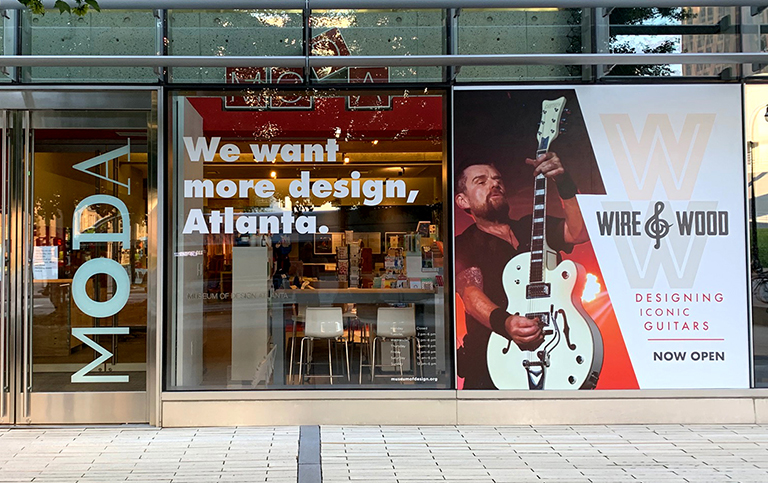 +
Away from the band I was really proud to be one of the artists to contribute a guitar to "Wire & Wood" at the Museum of Design in Atlanta. It was an exhibition exploring the basics of guitar design while also considering how some guitars had become icons, how they reached this status and how technology will affect the instrument in the future. And most importantly my Gretsch White Falcon was considered one of those iconic guitars!
I was back in the UK for most of the summer and as well as catching up with friends and family kept myself busy work wise. I spent some time in the studio with top producer Tom Dalgety beginning the process of working on new music. I also had quite a few press and radio interviews in preparation for the Sonic Temple re-issue as obviously these had to be done in advance of the release date.
A big amount of time was spent on sorting through my vast collection of (mainly) music memorabilia to feature in an action later in the year (more on this later).
And I even managed to fit in a couple of + A SONIC TEMPLE + shows in Spain and Portugal!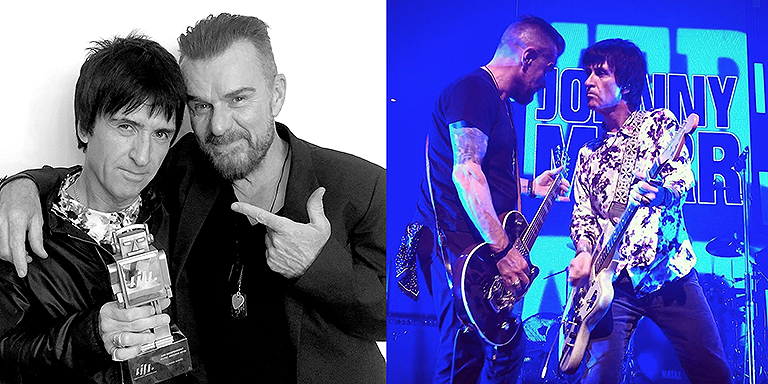 +
At the beginning of September, I had a very special night in London when I was asked to present the 'Pioneer Award' at the Aim Awards to one of my oldest mates, Johnny Marr. I then joined him onstage a guest on The Smiths classic "How Soon is Now".
Even though we've been friends since High School it's only been over the last few years that we've played live together and it's always a special moment… two lads from a council estate in south Manchester!
Right after that I headed back to the US for a few more Cult shows interspersed with an amazing charity night at the Fonda in Los Angeles when I was one of the (many) musicians asked to guest at the Above Ground event. Organised by Billy Morrison and Dave Navarro I got to jam and hang with some very good mates while hearing two of my favourite albums (the Stooges 1st and The Rise & Fall of Ziggy Stardust) played in full by some of the best musicians around. All raising money and awareness for treatment of mental health with profits donated to MusiCares.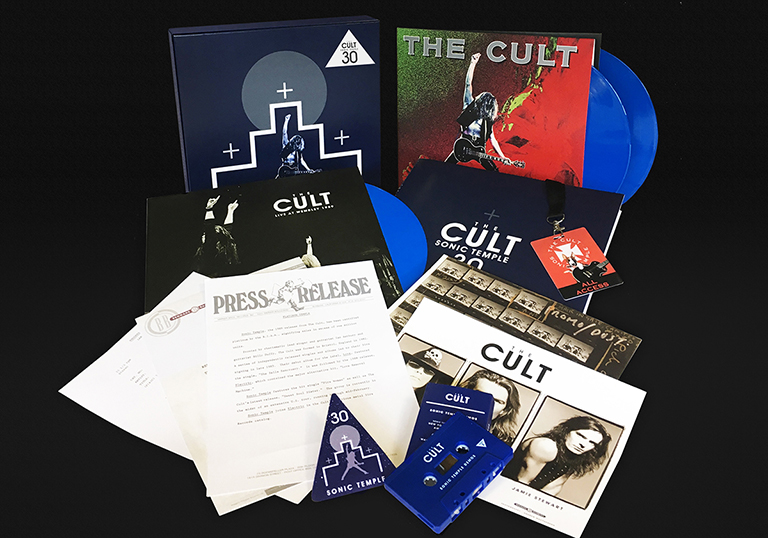 +
I was really pleased with the re-issue of Sonic Temple when it came out in September. It was a pleasure to work with Beggars Banquet on this and I think that attention to detail and quality of all the different releases was a testament to the hard work put in by everyone involved. Particularly nice was the box set with the vinyl, demos cassette and cool repro memorabilia. With the resurgence of vinyl recently these kind collectables of reissues are a perfect complement to new music and hopefully we'll get chance to work on more in the future.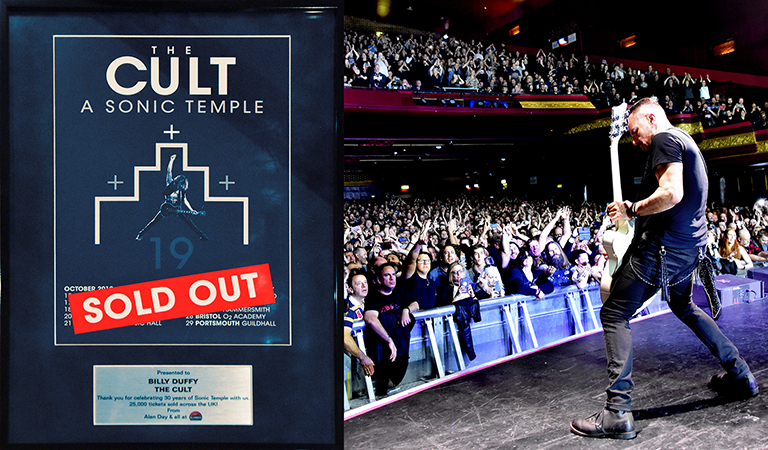 +
October was probably the highlight of my year when we got to tour + A SONIC TEMPLE + in the UK. Playing some venues from the original 1989 schedule these sold out shows were off the hook including ones at the legendary Hammersmith Odeon and Manchester Apollo (my hometown) where Johnny jumped up for "Rain" in the first time ever joining The Cult live (previously I'd played at one of his shows).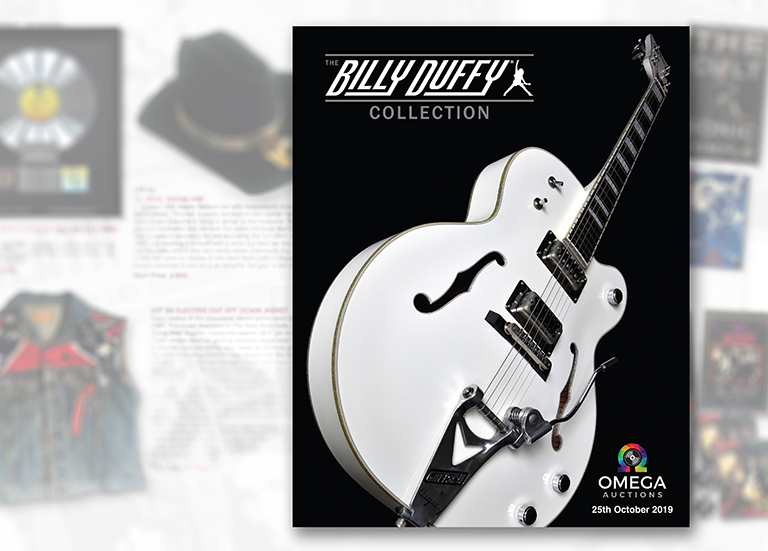 +
October was also very memorable because that's when the auction of my memorabilia took place. It was a bittersweet moment as I said goodbye to so many treasured items but also knew that they were finding a home with fans who could really treasure them rather than them continue to gather dust in my attic. It was also great that we were able to raise a big chunk of money for Love Hope Strength,  the cancer charity set up by my great friend (and ex Coloursound bandmate) Mike Peters.
Whilst some fans will benefit from getting own the original items I'm sure many of you will also get to appreciate them as a lot have already been added to "Memora-billy-a"… the digital archive on my website with images and the stories behind them. There's still quite a few that were photographed and we will continue to added them there, as well as share on both mine and The Cult's social media pages.
For anyone who would like a physical copy of these memories there are still signed copies of the
"Billy Duffy Collection" catalogue available from my online store.
November was spent in the UK before heading back to the States for the last few + A SONIC TEMPLE + shows of the year earlier.
So there you have it… THE YEAR OF + A SONIC TEMPLE +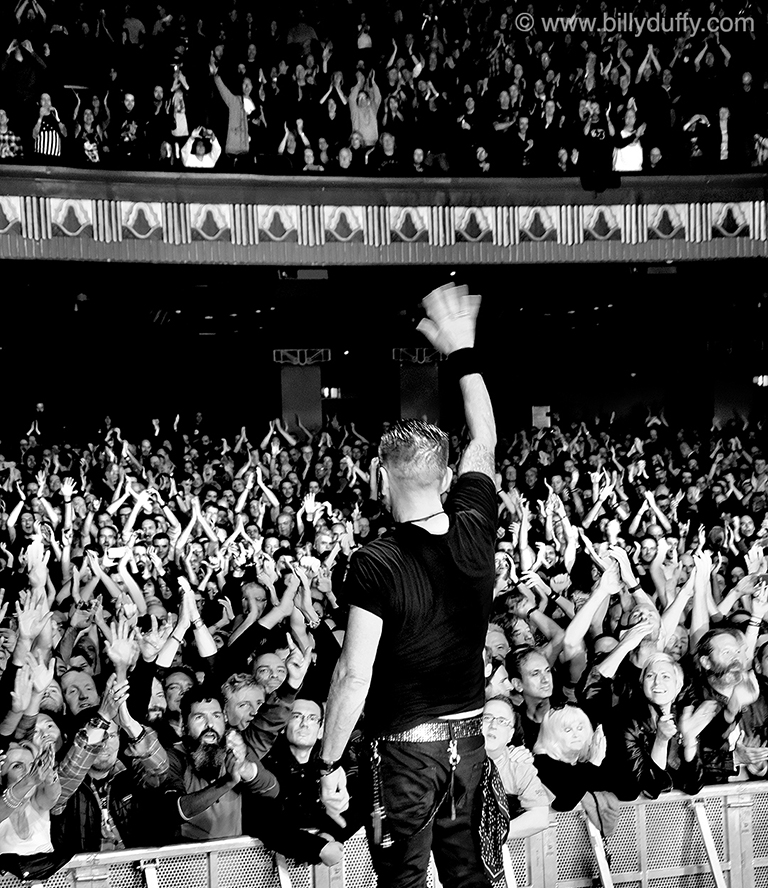 +
Billy – December 2019