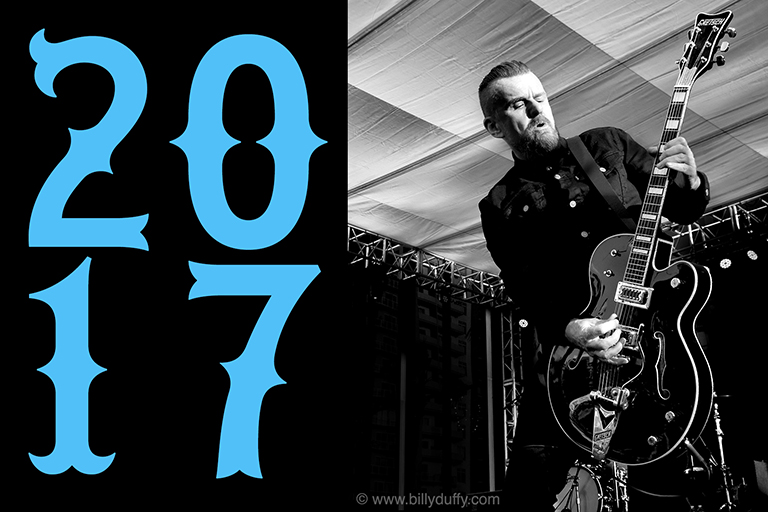 JANUARY, FEBRUARY & MARCH
The early part of any year is generally the quietest for me 'work' wise and 2017 was no different. I took my annual visit to NAMM music conference at Anaheim in January, had a night out to Celebrate 50 Years of Sire Records at the GRAMMY museum in February and spent a couple of days in the studio in March with Jonesy recording guitar for some tracks on Paul Cook's band The Professionals album that was released at the end of the year.
APRIL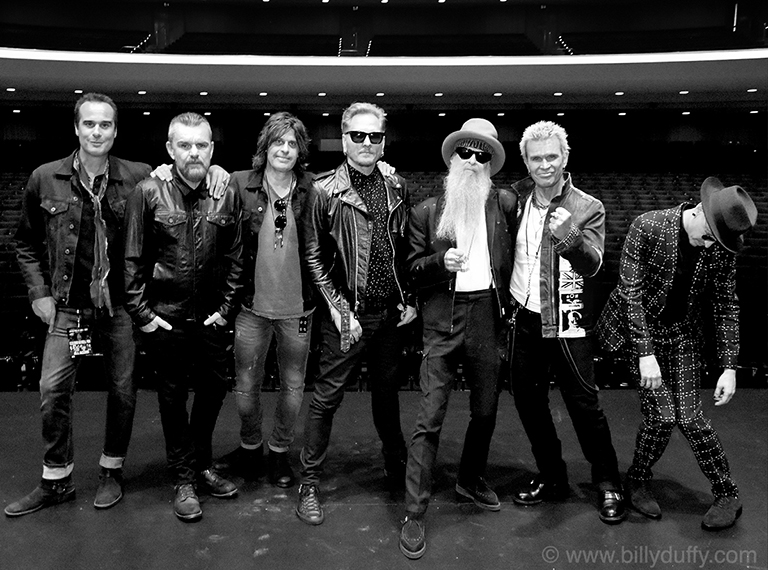 Things got much more exciting in April when I did my first show of the year playing at the Toyota Grand Prix in Long Beach with the Kings of Chaos guys. It was a busy few days leading up to the show including two very long rehearsal days as usually Steve Stevens plays with the band but he was away doing his own shows in Europe so I had to learn his parts for about a dozen songs. I know I've said it before but it really helps my playing when I have to do this and you're never too old to keep improving.
The show itself was great fun but I have to say it was one of the strangest sound checks I've ever done as there was a big crowd already in front of the stage AND we had to compete with the roaring sound of the Grand Prix cars racing by every few minutes!!
The band were solid with Matt S on Drums, the 'STP' Deleo brothers on Bass and guitar with voal duties being shared between the other two Billy's (Idol & Gibbons) and the now sadly departed Chester Bennington.
July was obviously the moth for Jamming with Mates as at the end of the month Mike Peters bought his legendary 'Gathering' to the UCLA and I had a great time jumping up with him and James Stevenson to play a couple of Coloursound songs!
MAY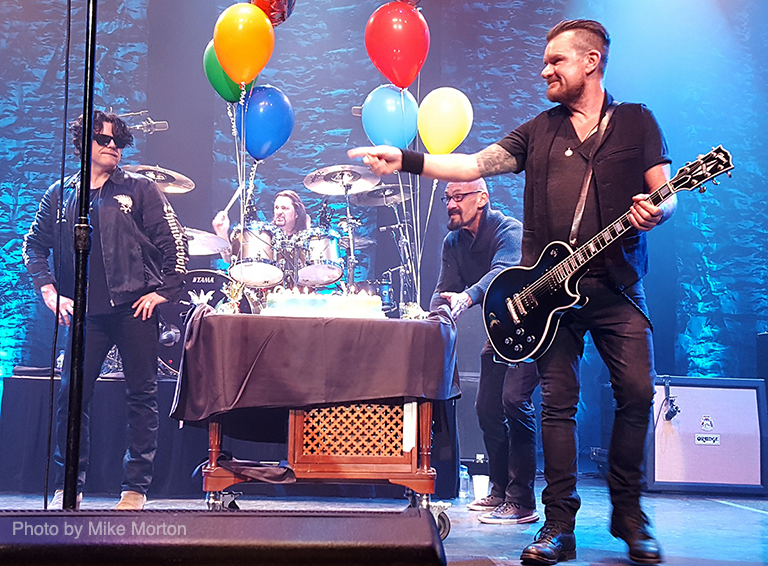 At last I got properly busy with when I got back out on the road with The Cult when we took the 'Hidden City' tour to the US East Coast for some amazing shows. The band picked up where we left off at the end of last year and sounded as tight as ever.
I have to say I'm amazed at how many familiar faces I see down the front of our US shows and can only say how much we appreciate your constant support and those 'road trips' you get on!
Many of you will know that my birthday is on the 12th and Ian's is just two days later but it still came as a massive surprise when the band and crew guys organised a cake and balloons to be wheeled onstage mid set on 13th and then serenade us with a Beatles tune!
Whist that was a highlight there was one negative that came on the last day of the tour… we were all ready to go on at the 'Rocklahoma' festival in Oklahoma when a tornado warning caused the whole event to be shut down. Whilst it was incredibly disappointing for all involved the priority had to be the safety of everyone and thankfully everyone was OK.
JUNE & JULY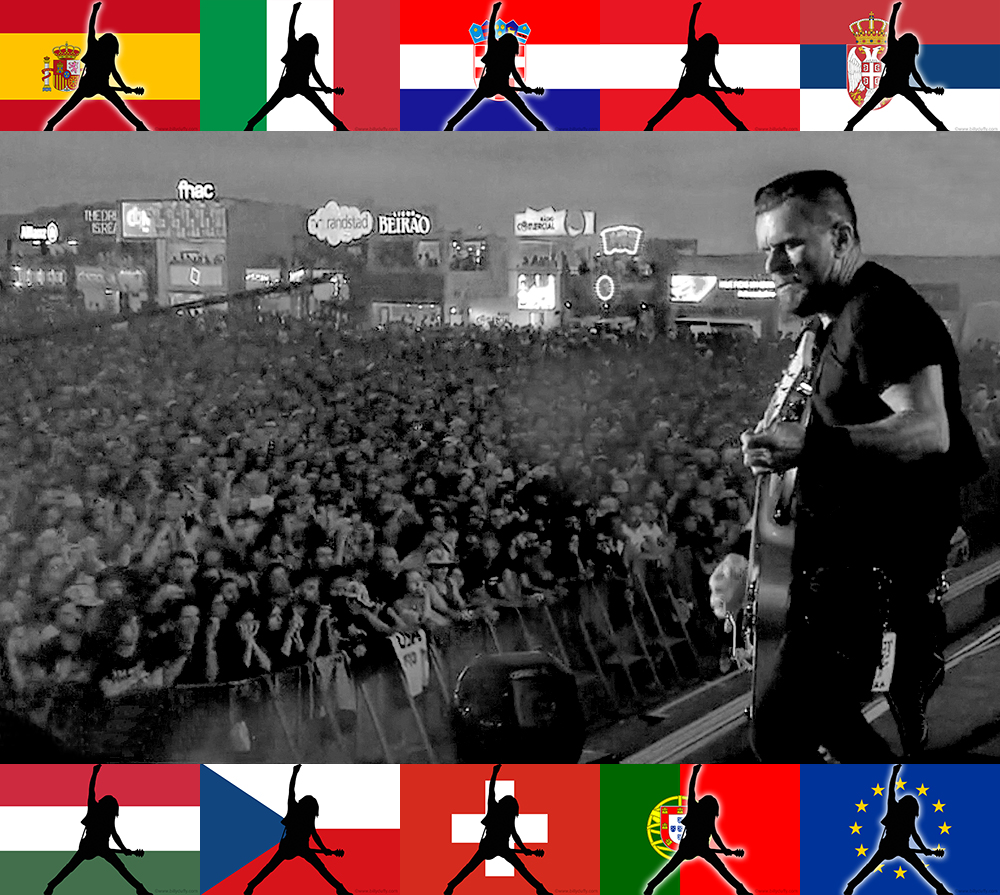 Back from the US tour dates I took the opportunity at the start of June to keep my hand in by joining Matt Sorum and my Kings of Chaos buddies at the ROT RALLY 2017. The KOC 'troupe' is always made more interesting by the fact that the 'players' will change from show to show and having one of my best pals Glenn Hughes as part of the Chaos made it even more special… plus I always love playing Texas.
Then the proper work started again when the Cult hit Europe. Each of the countries we visited had their own beauty and lovely cities but one thing remained the same… the crowds who were amazing. Being based in America it can make it much harder than we would like to play around the world but rest assured when we can we do!
With so many great crowds (including the massive NOS Festival in Portugal where we played with the Foo Fighters) it's quite hard to pick out a highlight from Europe but if you really pushed me I suppose I'd have to say having my long-time pal Duff jump up to jam 'Love Removal Machine' with us in Prague… and he even played guitar rather than him trusty bass!
AUGUST
August was a bit different for me work wise as it wasn't focused on playing but more on the behind the scenes side of the industry. Over the last year or so I was involved as a consultant on the British film 'England Is Mine' that tells the story of Morrissey's teenage years. I also got to create some incidental music for some of the scenes to and it finally got released in August and whilst I wasn't able to make the premier in the UK I was there for it's first screening in LA at the end of the month.
It is beautifully shot and avoids any clichés while telling the story in an entertaining and humorous way … it was a pleasant saunter down memory lane for me and will have introduced me to a new audience who didn't know my part in getting Morrissey onstage for the first time in his life as well as introducing him to his future musical partner (and my high school friend) Johnny Marr.
SEPTEMBER & OCTOBER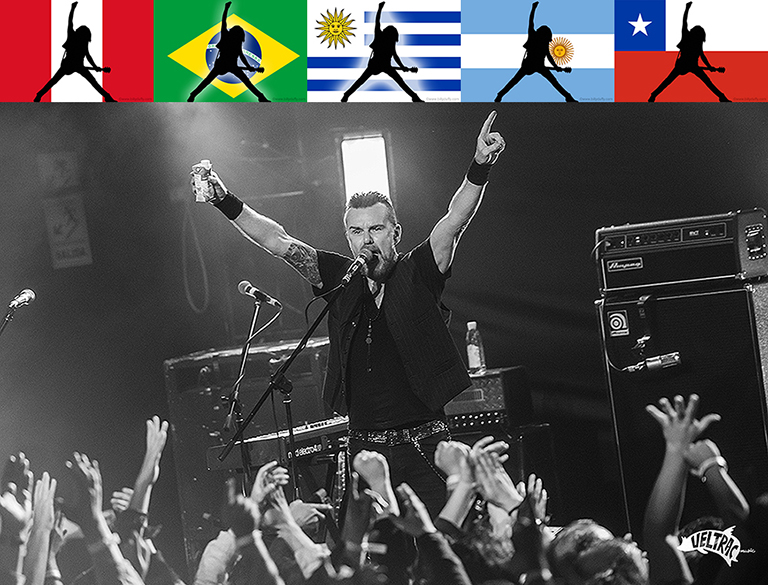 The Cult South American Tour was an epic expedition… 25 days… 18 flights… 11 shows & 5 countries!
I have spent my 'working' life feeling blessed that I get to tour the world doing something I love, but as any musician will tell you there's a lot of hanging around on a tour! What makes it all worthwhile, though, is getting out there on stage and doing it… and when that comes together with a great crowd it can be magical. The unbridled passion we experienced from the fans on in South America tour was as amazing as any we have had anywhere else in the world. We knew what to expect in Brazil, Argentina and Uruguay, as we'd been there before, but it was out first time ever in Peru and Chile and the reaction was equally off the hook!
From a personal point the highlight's were the show in Buenos Aires and playing with The Who in São Paulo.
I was just 12 when I first saw The Who live in Manchester, in November 1973, and it was worth 'wagging' time off school to queue up and buy tickets just to witness the master stage performer Pete Townsend do his guitar hero routine.
At that time he was the ultimate, coolest onstage guitar player about and it left a big impression on me in terms of commitment to stage performing. I'd been fortunate to play some gigs with The Cult supporting The Who a few times over the years but it was still special for it to happen again. What really topped it off for me was Pete's post on Facebook after when he said;
"The Cult supported us here in São Paulo. They were incredibly good. Super heavy, fantastic energy. Loved it."
It doesn't get much better than that 😉
NOVEMBER & DECEMBER
So, I ended the year a bit like the start musically quite quietly though I was still very busy moving into my new home that I'd been getting renovated for a good few months.
I only did the one show and that was just a few songs guesting with Hellcat Saints when they supported Janes Addiction at the 'Rhonda's Kiss' Benefit concert at Hollywood Palladium in December. It's always nice to be involved in these charity events and use my 'talents' for a good cause especially when it gives me a chance to catch up (and play) with people like my 'Cardboard Vampyres' buddy Jerry Cantrell.
Finally I ended the year with a trip back to the UK… but it wasn't all relaxing with the family and watching the mighty blues as I still found time to spend an evening jamming with the ever 'Professional' Cookie as well as a couple of days in Wales in the studio with Mike Peters!
So that's my 'work' year… not the busiest ever but I was still out there and going strong so here's to 2018 and more of the same!!!
Billy Duffy – December 2017