Day Zero
LA to San Francisco (flight)
Though technically not part of the road trip I did need to catch a short hop flight from LA to San Francisco as that's where I was picking up my bike for the ride with my mate, Jason Chinnock, who's the CEO of Ducati North America.
Me and Jason go back a long way since Jonsey introduced us during the Ducati All Stars Tour up the West Coast that I was part of in 2009. My first road trip with him was in 2017 when we did a central California trip and rode to Sturgis Bike Week and we knew then it would only be a matter of time til then next one.
So back in the summer we hatched the idea of a trip to soak up the Northern California coast and some roads less traveled… and definitely quality over quantity. I then spent lots of free time during the Rev 3 tour texting Jason to plan the bikes, routing, gear and minutiae.
After meeting up with Jason and grabbing a quick bite we headed up to his place nestled amongst the Santa Cruz mountains for a quiet night to prepare for the trip.
Day 1
Santa Cruz to Little River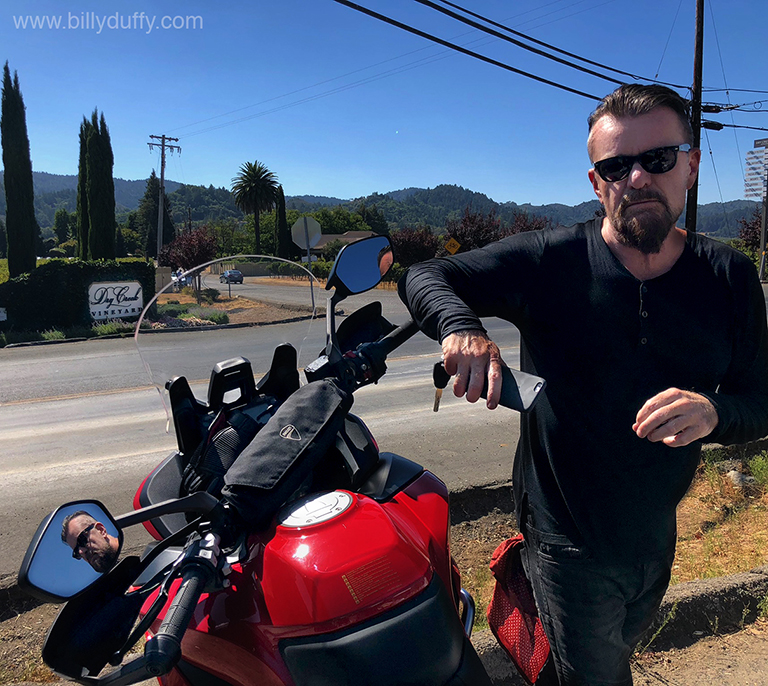 After our morning coffee ritual and playing Jason's new aluminum baritone guitar we packed up our bikes and hit the road. We were riding Ducati Multistrada's me on a 950 and Jason a 1200 Enduro.
We took the scenic route over to Half Moon Bay before blasting through San Francisco traffic and over the Golden Gate (which is breathtaking every time we cross) and heading up the 101 to Dry Creek General Store for a food stop.
Then it was onto the beautiful Skeggs Springs Road which took us from northern California wine country to the famed Highway 1 along the California coast. With seasoned asphalt and the road to ourselves we carved our way through the hillsides until the Pacific Ocean opened up in our view. Heading north on the 1 we then stopped in Point Arena for a quick pit stop at a Zen Garage, which is a classic motorcycle repair shop that had a small collection of European motorcycles all for sale.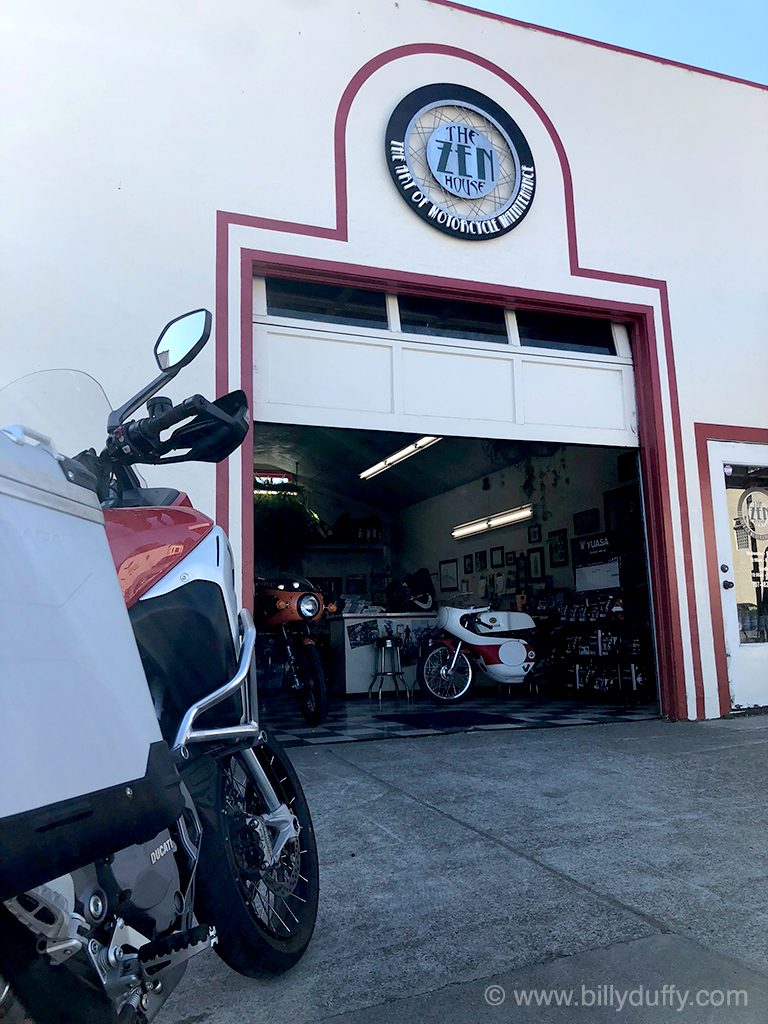 For a while now Jonsey has been talking about buying a place "up norf" in Manchester… but not my birthplace in the UK, he's thinking of the Californian one just north of Point Arena 😉
So it had to be done as we stopped for the obligatory photo opp before keeping going to beat the sunset.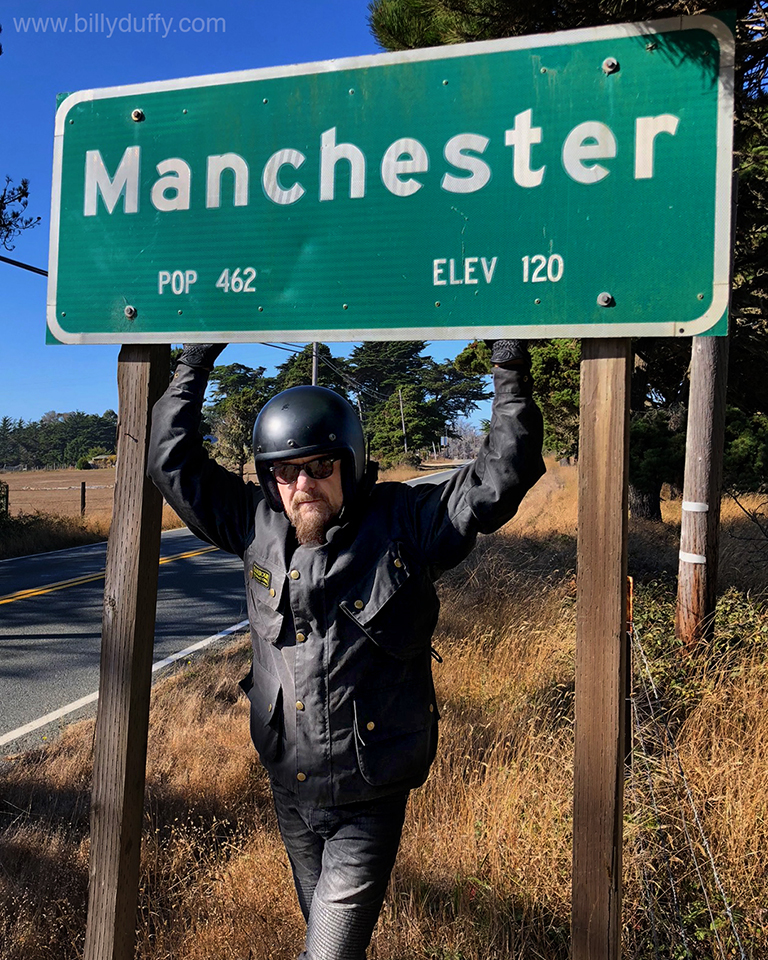 We made it to Mendocino, picking up necessary coffee supplies to served us for the rest of the trip, before arriving at our destination of Little River which gave us access to a great dinner at Wild Fish just steps away from our cottage (pictured here).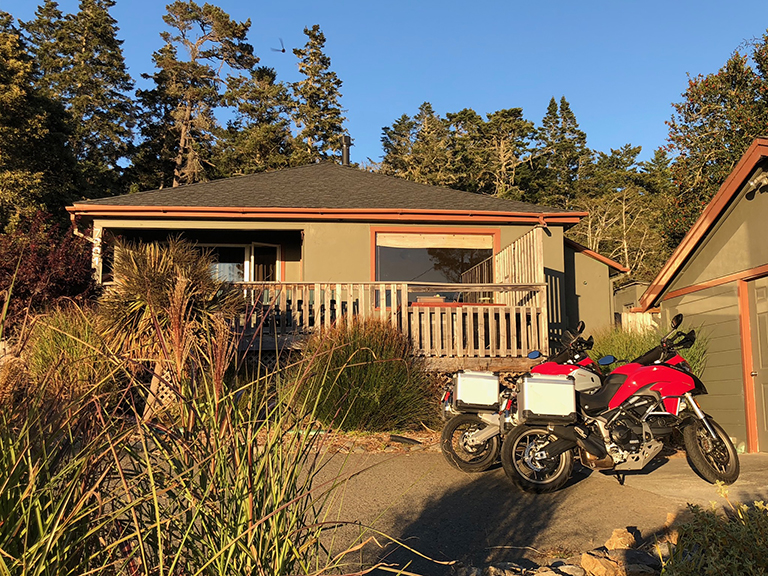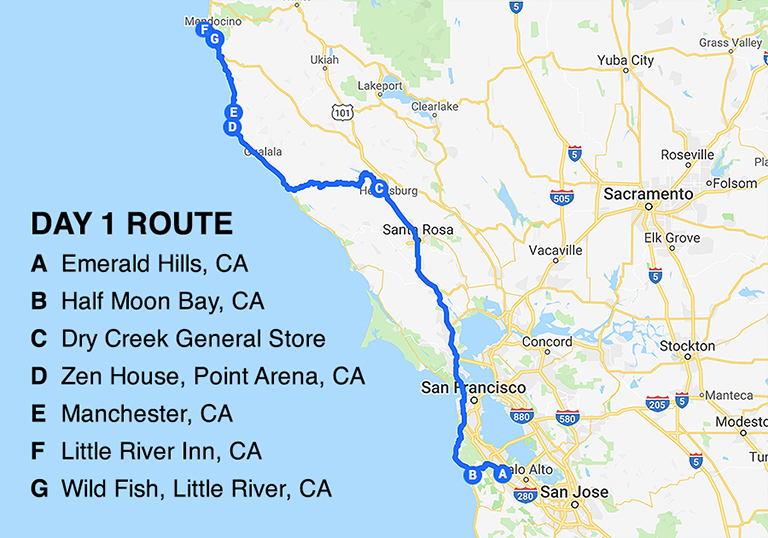 Day 2
Little River to Humboldt Bay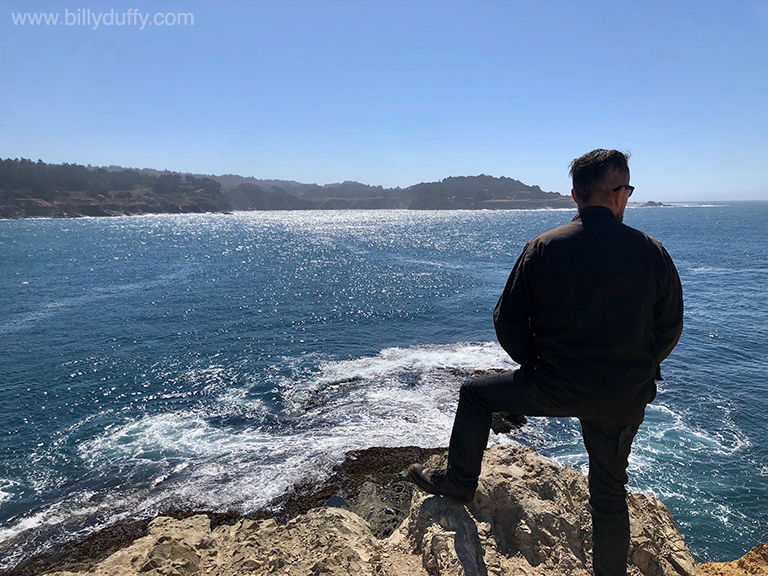 After waking to an ocean view we headed back into Mendocino for coffee at the Good Life Cafe and a breakfast burrito that set the day off just right. Considering we'd be flying up the 1 for most of the day we decided to walk over the headlands and take in the incredible views that this part of the country has to offer. We rode the coastline back up the 1 until it re-connects with the 101.
Before we hit the highway we stopped at the World Famous Drive-Through Chandelier Tree for another obligatory photo opp 😉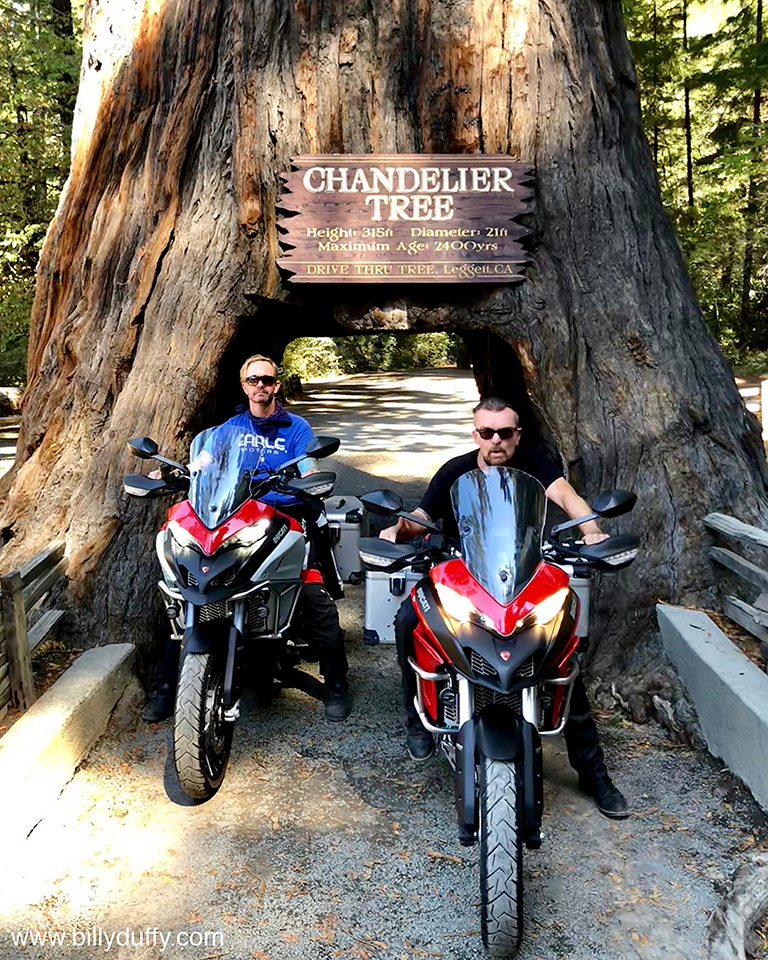 Onwards then through 'The Avenue of the Giants' a famous road of giant redwood trees that parallels the 101… it was stunning and an opportunity we just couldn't pass it up.
After a lunch break at the Chimney Tree we grabbed a tourist map and discovered a detour along the 'Lost Coast of California'. This is an area of road that has a lot of 'farming' (all legal now) and it's not frequented due to the lack of services and road conditions. We weighted out our options of timing and since we were on the ever-capable Multistrada… we threw caution to the wind. Good thing we did… it was epic and it's the perfect example of how the freedom of a road trip to not stick to a strict itinerary can lead to amazing experiences and this is one that will be remembered a long time to come!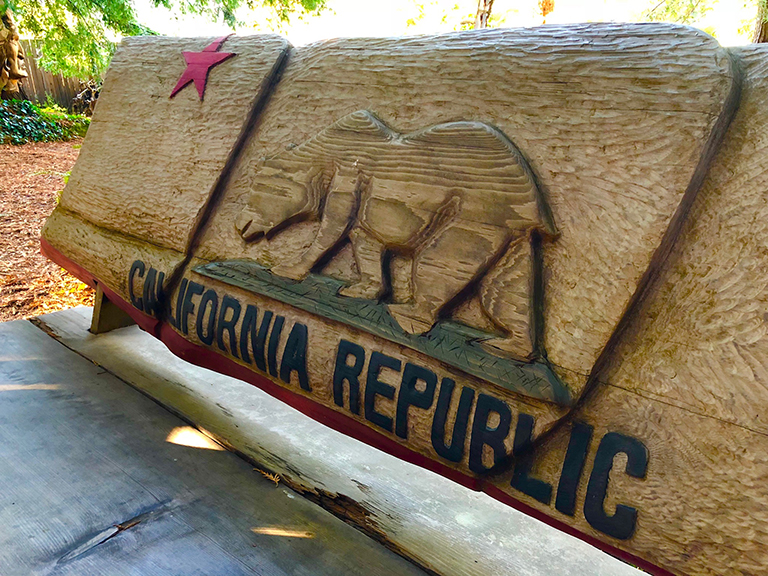 We reconnected with civilization by way of the Victorian town of Ferndale before continuing up the 101 to Eureka. Jason was in charge of the lodging and we made our way to a quiet island by the name of Samoa and stayed at the Humboldt Bay Social Club. It is situated on a WW2 airstrip and they renovated the officers' quarters to provide rooms for rent with the perfect touches, a lounge with perfect eats and a fire pit that we had to ourselves for the night.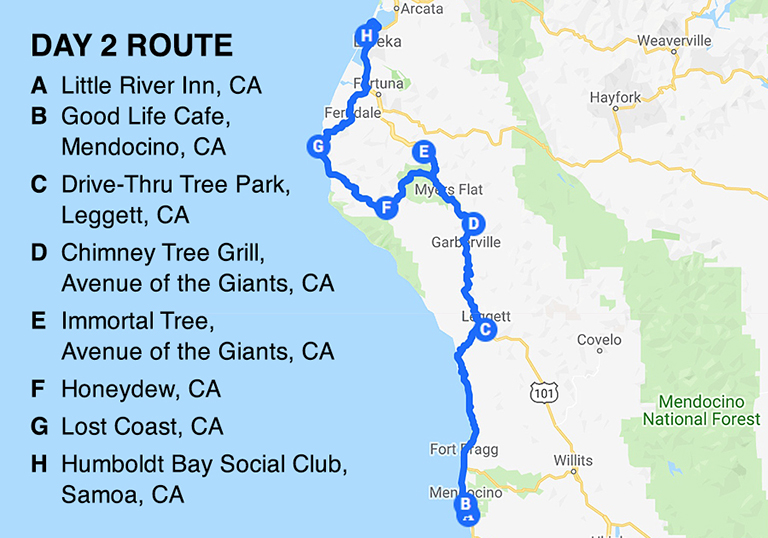 Day 3
Humboldt Bay to Ashland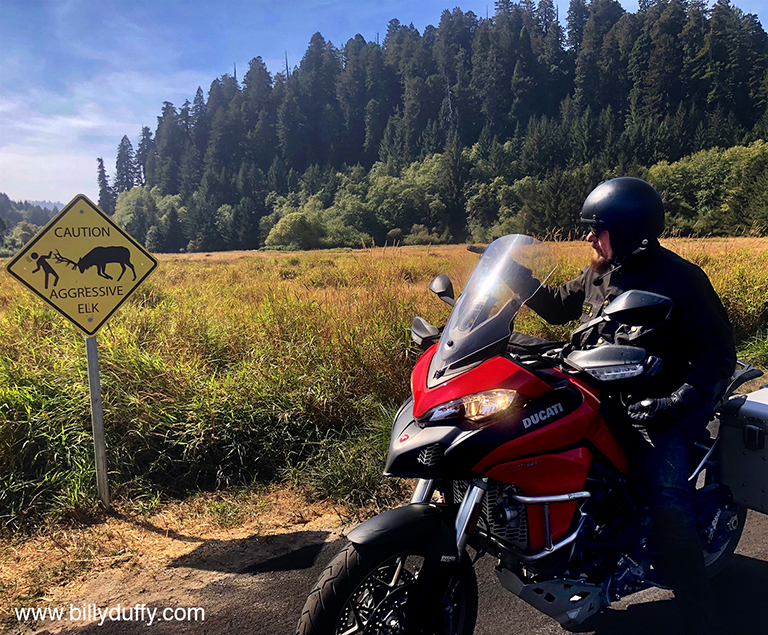 Following our morning coffee we geared up and headed to the end of Samoa where it opens to Humboldt Bay. The weather was so perfect and we even saw a dolphin taking advantage of the day as we had planned.
After learning how far we could make it on the empty light we fueled up and headed north along the coastline towards Crescent City for perfect fish tacos at the North Coast Grill. We were momentarily distracted by a 'life-size' statue of Paul Bunyan and Babe the Blue Ox so we stoped for stretch and ridiculous photo opp. It's known that if you rub the bullock of Babe it brings you good luck but we're doing fine without it.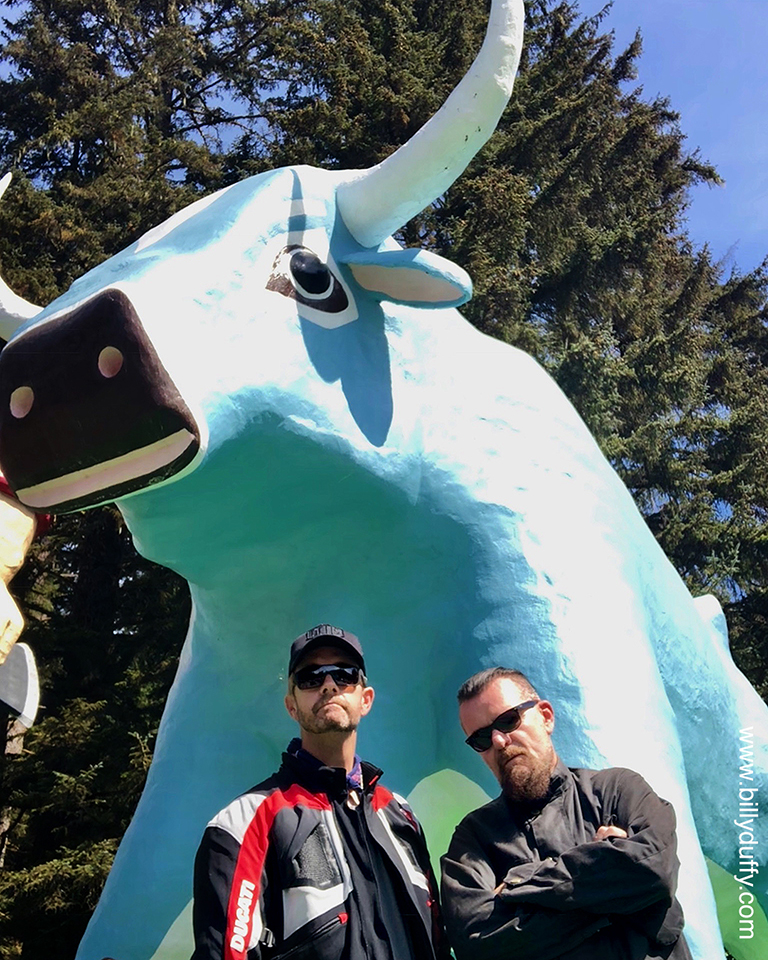 Considering the time of the year the river was low but it must be roaring with the spring thaw. We made our way into Oregon and over to the 5 down to Ashland, Oregon to visit with our mutual friend Ed Kemper.
Ashland is a small college town that's known for hosting a major Shakespeare Festival annually and after checking into our hotel we met up with Ed for a kick-ass curry and walk about town.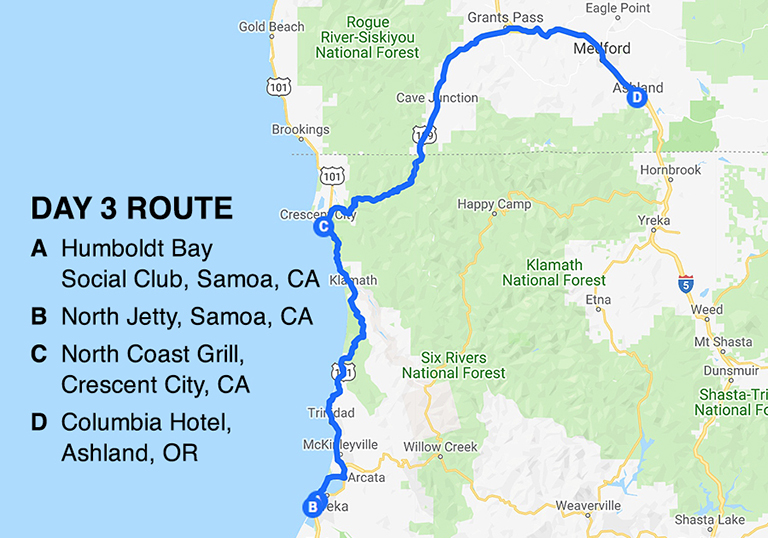 Day 4
Ashland to Corning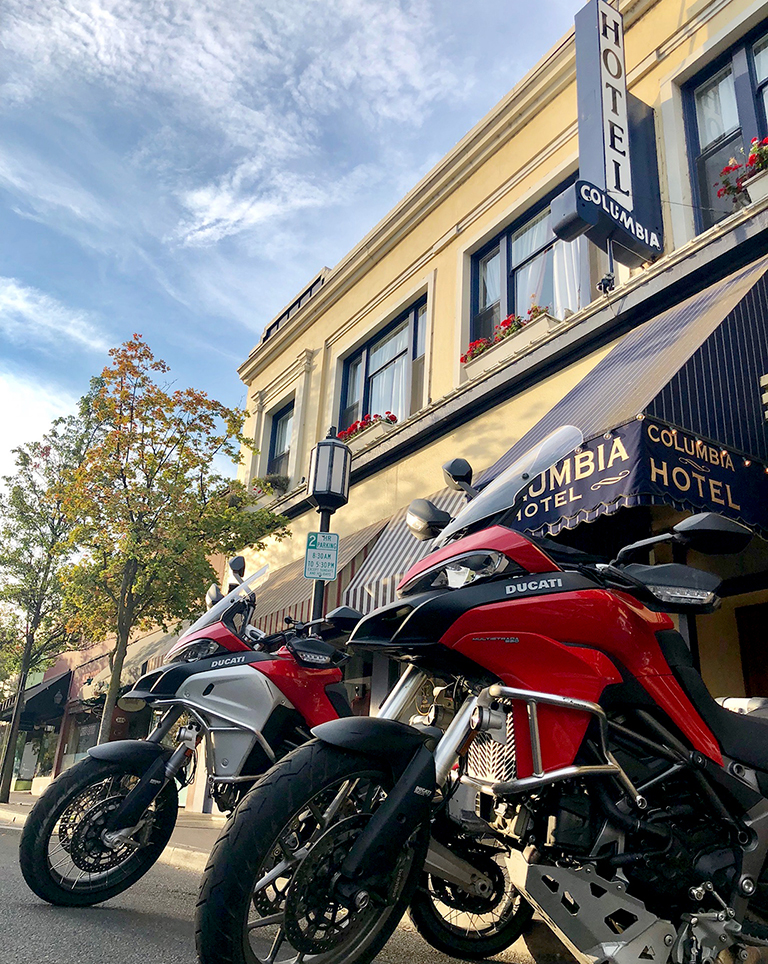 After a comfortable stay at the oldest hotel in Ashland we had an excellent breakfast and quick trip to the record store a couple doors down where Jason scored a Johnny Thunders 10" re-issue 🙂
We then met up with Ed to try our hand at E-Mountain Biking… we each rented 3 different bikes from the top of the line Specialized Turbo Levo to some two-bob basket bike. The Specialized was a great experience and allowed for a solid workout without exhausting while climbing the mountains behind Ashland.
Following the (push) bike ride we suited back up for the least exciting part of the road trip down Interstate 5 back into California. The northern California part of the 5 had been recently damaged by fires and the countryside that wasn't burned looked like a tinderbox ready to go.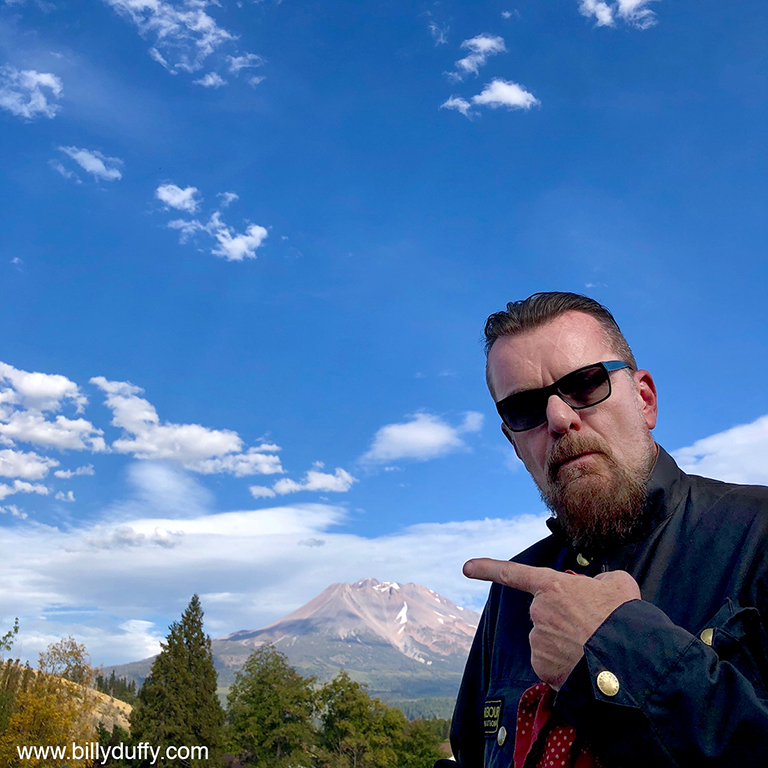 After passing Weed, CA (yes it really is called weed so always funny to go there) and Mount Shasta we found a hotel with a refreshing pool at a Native American Casino that made for a perfect stop as we were just starting to wear out from a long day of activity.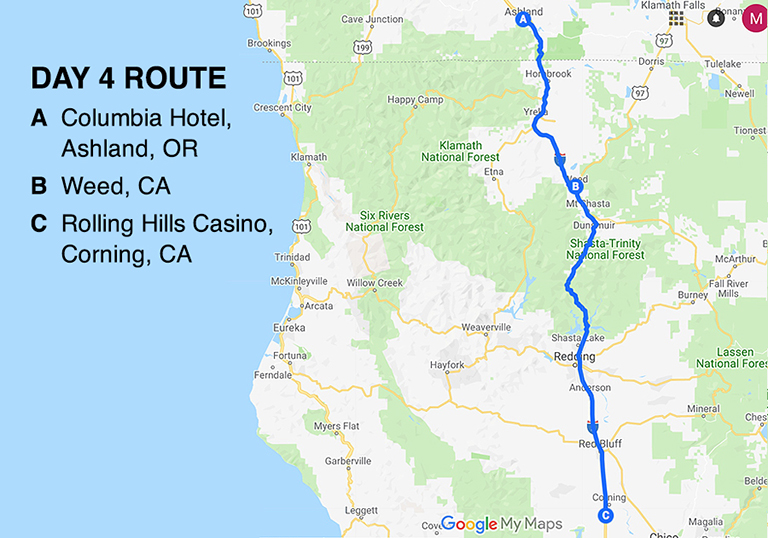 Day 5
Corning to San Francisco
As we had our longest and hottest day of riding planned we decided for an early departure to work our way back west to the coast. Middletown somewhere I used to visit a lot when Ed lived nearby so I knew the best place for an honest breakfast and excellent coffee to fuel our human tanks. The Harbin Hot Springs there was my regular escape but it had sadly been destroyed by the Lake County fires in September 2015.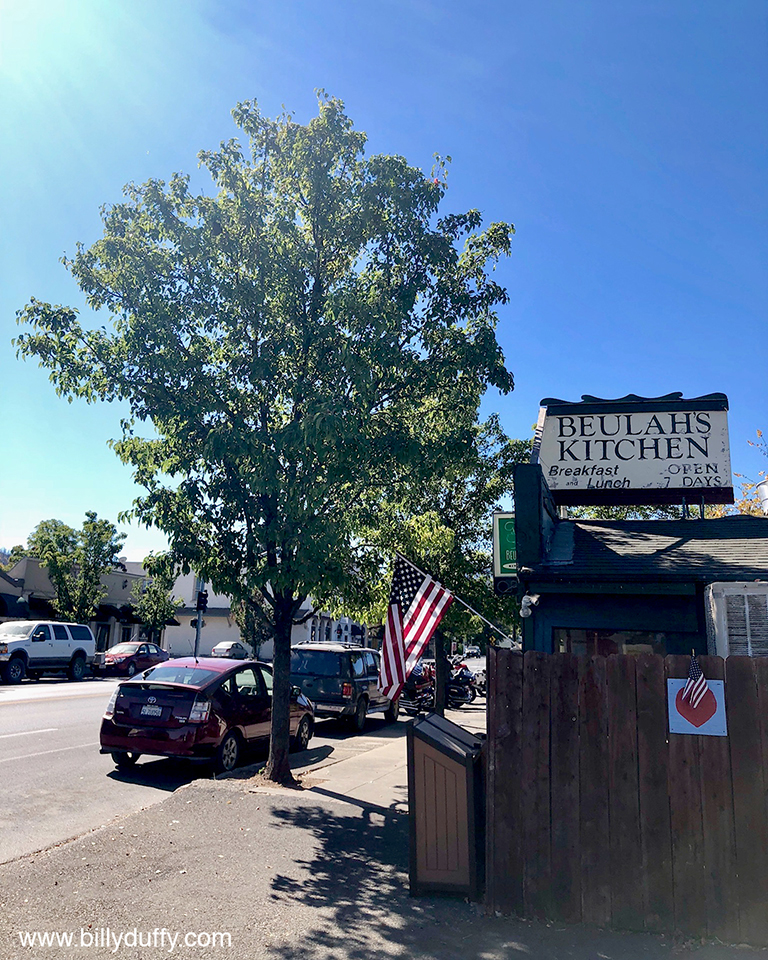 Riding through the northern part of Napa brought us back to the 101. Instead of just heading straight back down south we opted for a trip to Tomales Bay and the town of Point Reyes. The twisty roads around the bay with the combination of cool temps and warm sun on our back made for perfect riding. After making it through Stinson Beach we connected with a part of Highway 1 that was closed most of last year due to the road being washed out from heavy rains and a mudslide. It was also sad to see the devastation around Santa Rosa from this year's fire as it was huge with hundreds of houses in the process of being rebuilt as we rode through from Napa to the coast.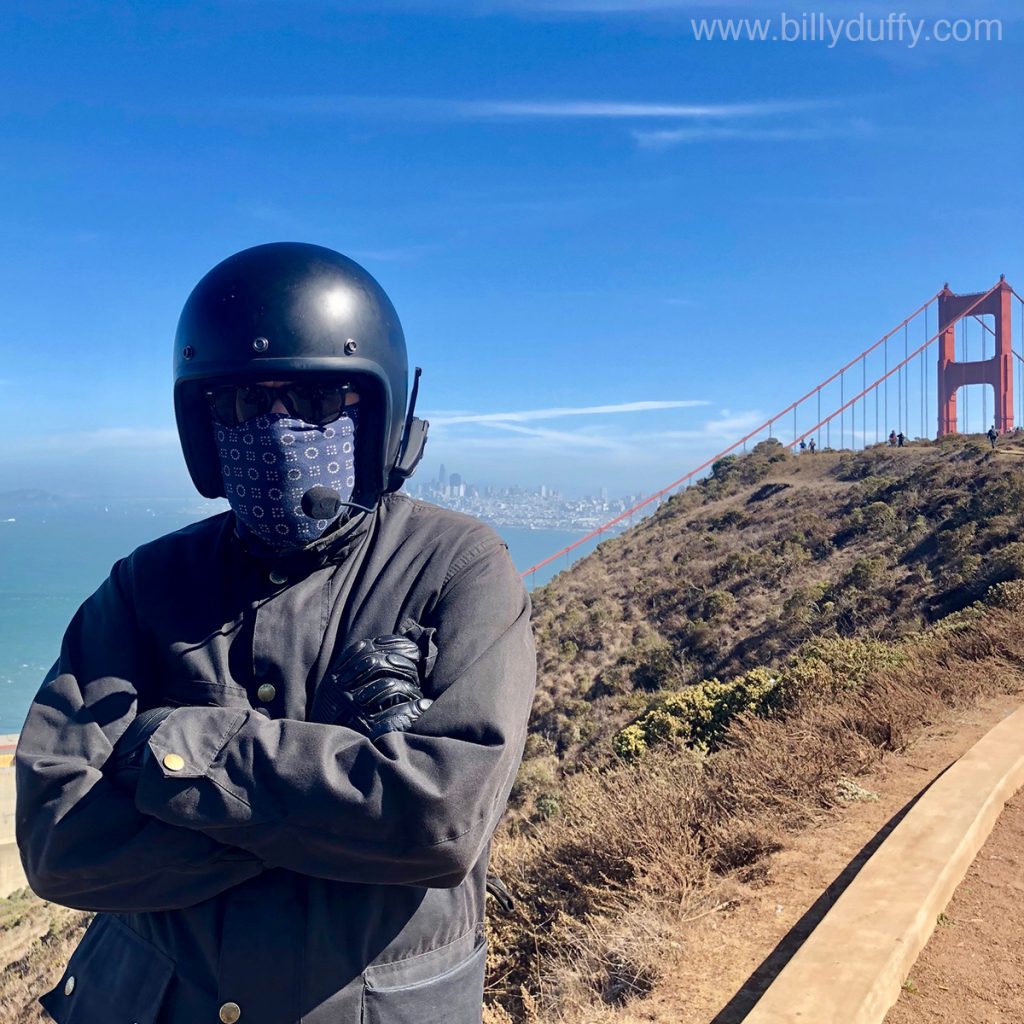 We eased our way back to the 101, crossed the Golden Gate and made our way through the city down to Ducati North America HQ where we dropped off the bikes before I caught my flight back to LA.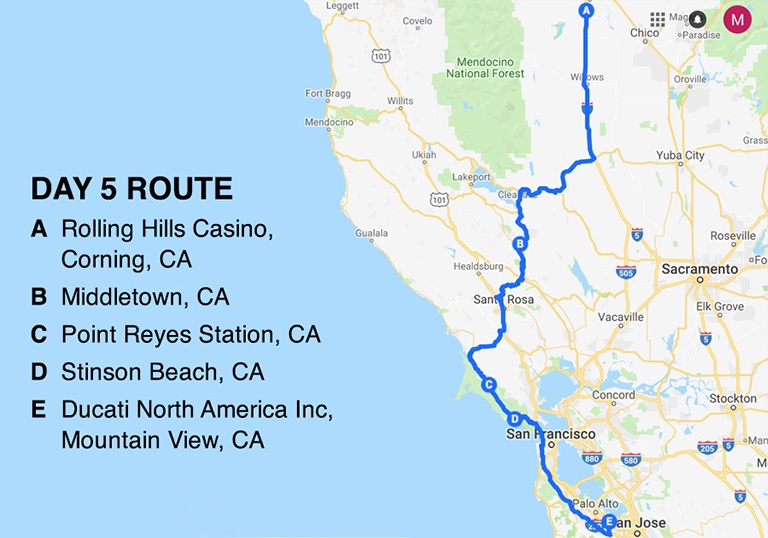 When I'm on tour so much of the countryside just goes by us in the view of a window but being on a bike gives me a real connection of the senses with the place I am. I've been a biker for a long time and did many a trip around UK, stopping to camp wherever the roads took me. I was fortunate to have this time to unwind after a big tour, see the countryside with a mate and share these experiences.
So big thanks to Jason for the bike loan and great company… here's to planning the next one 🙂
Words; Billy Duffy
Photos; Jason Chinnock
– September 2018