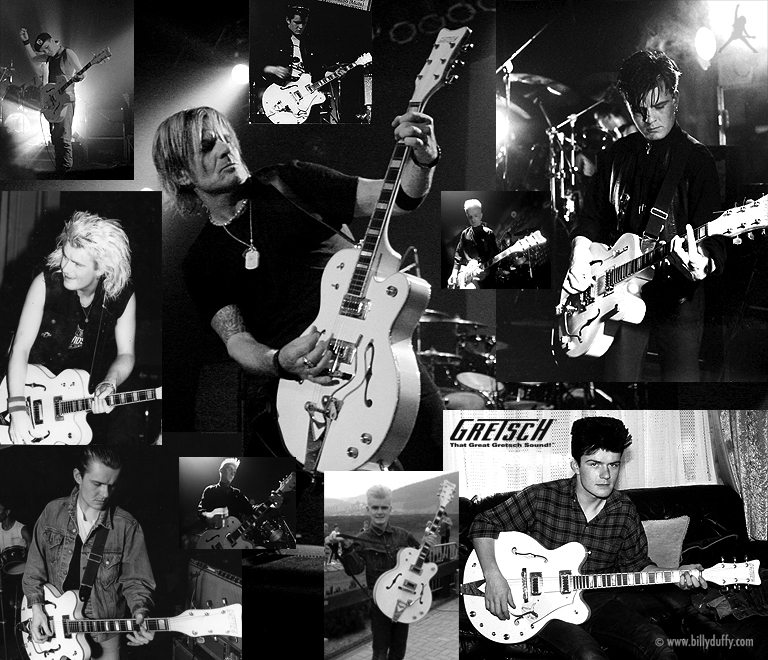 Since he bought his first Gretsch White Falcon in the early 1980's this guitar more than any other in Billy's collection is the one that most people will associate with him.
"My love affair with the White Falcon was a long-term/short-term thing. Long-term, pre-punk rock, around 1976, I was playing in my high school band, and we were all into Neil Young and Ted Nugent. I went to see Nugent around this time in England. He was playing the big Byrdland and all that. So I was very impressed by the large, semi-acoustics. They were more exotic, even though I still liked Les Pauls– and a black Les Paul copy was my very first guitar.
The Gretsch thing was just a search for a different sound, something unique. And what brought it into focus was when I went to see Bow Wow Wow. I kind of knew those guys a little bit, but seeing Matthew Ashman with that Gretsch… I was transfixed. I said, 'If I get any money, I'm buying a Gretsch.'
Soon after, I got in the band Theatre Of Hate, and ironically, the singer played a Gretsch. He had an odd-green model, with the pickup by the neck – it was great. He asked me one day what kind of guitar I was going to play, and I said, 'Well, I've got a job now, don't I? I'm buying a Gretsch!' Took all my money and got the double cutaway.
I always liked the way that guitar felt but Gretsch's were always expensive, even then in 1981, because they were imported into the UK from the US. Of course, I didn't have any special backing then, so as you can imagine, buying a guitar like that was a really big deal for me.
The only White Falcon I could get my hands on at the time was a double cutaway that was stereo, which made it difficult to use – I had to get a stereo jack for it. Then I got a single cutaway mono version, and that's the one people have seen a lot. It was easier for me to handle, too. I didn't like the stereo guitar too much; I don't know what it was made for – some kind of country-jazz-fusion thing, I guess. But I wanted to rock, so the other one suited me fine. Gretsch's are great. They've got their sound, obviously, but there's the look – it's distinctive. You strap on a Gretsch, and you're saying something with how you look. The visual thing is very important in rock 'n' roll. A Gretsch is a fashion statement, as well as an instrument for sound.
They do look cool but the destinctive sound is really important to me and it's something I've really experimented with. I've tried to go for something… cinematic. I didn't want the surf thing or rockabilly, and I didn't even want to do Ennio Morricone – I wanted it to be psychedelic. It's a feeling I pursued, and I still am."
Over time I've modified my various White Falcons to personalise the sound. I changed the pickups initially in the '80s because the output was so feeble, so Seymour Duncan helped me – I've been working with him since 1986.  I wanted to keep all of the high end "chime" of a Gretsch, but with the lower end chunk of a Les Paul. Seymour Duncan installed new pickups in my two '70s White Falcons. Nowadays, the TV Jones pickups you get through Gretsch do the same thing just fine."
I also have a few tricks especially in the way I minimise onstage feedback problems. With every semi-acoustic you have some feedback potential.  I put some stuff – t-shirts and things – in the guitar, but not too much; you don't want to affect the tone.  You just have to watch it, because there are those low-end notes that will send feedback through the roof if you're not careful."
Billy Duffy – January 2013