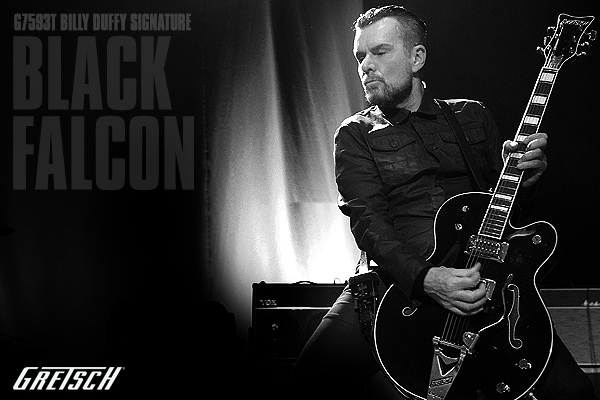 "January 2013 was very special to me as it saw the launch of my first ever signature guitar. The release of the Gretsch Billy Duffy Falcon (link) was something I could have only dreamed of as a young lad in London in 1981 when I bought my first White Falcon. Over the many years starting with Theatre of Hate and then more importantly with The Cult I suppose I made this 'big white beast' my own to the point where the guys at Gretsch asked to create my signature version.
Back in 1984 and just starting out as a musician I was unable to afford a second Falcon so I picked up a Gretsch Country Club with a similar feel. I didn't like it's natural wood finish as it looked like a piece of Danish furniture (really!) plus there was a lot of them kicking around in the '70s and '80s. So, I decided to create an 'evil twin' for my White guitar by getting it painted black!
At the time Gretsch didn't have a Black Falcon available so I felt like I'd created a brand new model! You can read the full story of this guitar on my Gear pages here…
Ironically Gretsch did finally launch a Black Falcon in 1992 and I remember seeing pictures of one of my all time guitar heroes, Sylvain Sylvain (of the New York Dolls), playing one. Whilst it is a great looking guitar I didn't feel the gold finish was me so never picked one up.
Fast forward to earlier this year, and following the success of my signature Falcon, I started talking to Gretcsh about the possibility of creating my Black Falcon vision as a Limited Edition model.
They loved the idea so here it is…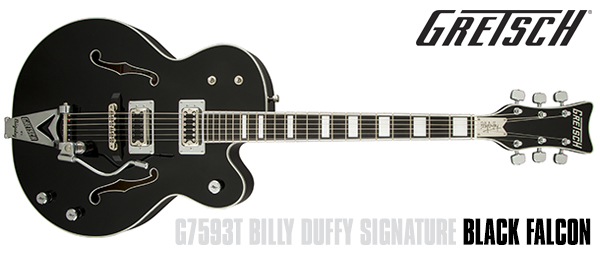 As you can see it's the same spec as my Signature White Falcon with all the same hardware but with a beautiful black gloss finish. Like my White one it plays like a dream 'straight out the box' and I've been using it extensively during the recent run of shows with The Cult.
Expect to see plenty more of this black beauty when we take our new album 'Hidden City' out on the road worldwide in 2016. And if you want to grab one of these for yourself you'd better hook up with your local Gretsch Dealer quick as they're likely to sell out fast."
Billy – December 2015