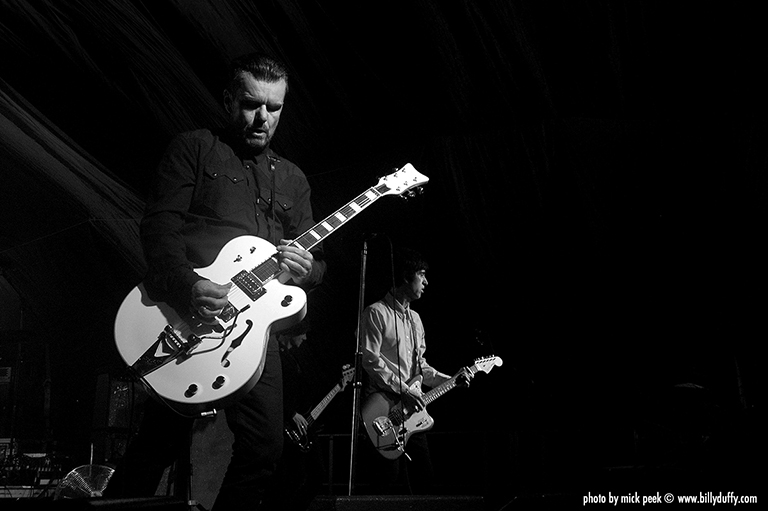 "Any of you who have been following my updates for a while will know that one of my oldest friends is Johnny Marr from The Smiths.
We first became buddys back in the 1970s in Manchester and both have been lucky enough to have successful long careers making music and playing guitar.
What was strange was that despite all those years of friendship we'd never played live together until April last year when I joined Johnny onstage for the encore during his show at the Fillmore in San Francisco.
I had a great time and we both agreed that it would be good to do it again when the opportunity cropped up. With me living in California and busy touring with The Cult that has taken a while to come around but last Friday it happened.
I've been back in the UK catching up with my family and friends here and Johnny had a headline show at the Moseley Festival in Birmingham.
On the Thursday I met up with Johnny and his band and we had a run through of the two songs that I'd be guesting on. They were the same as last year in Frisco; the first was 'I fought the law', the 1958 classic by The Crickets' Sonny Curtis popularized by the Bobby Fuller Four and most famously The Clash. And the second was 'How Soon Is Now' which is probably the most famous song by Johnny's band The Smiths and recently voted at number 6 in the BBC Radio 2's 100 best Riffs of All Time. Ironically Johnny has been playing 'The Hop' (Theatre of Hate) in his usual set but as it was a festival set he left it out. That was a shame as although it was Kirk Brandon's song I played and wrote the riffs on it while I was in the band.
The rehearsal was fun and Johnny's band are great lads and all good musicians too so it sounded ace. On the Friday the nightmare drive from Manchester to Birmingham in the rain was a reminder of two of the main things I've been happy to leave behind since moving to California… the weather and the horrible traffic!
Once we arrived it was all cool though as the festival was at a lovely park and there was a great crowd. I like those smaller "boutique" festivals as they're fun both to attend and play.
Backstage I bumped into BBC Radio DJ Janice Long who was comparing the festival. We go back a long way and she's great and has always supported The Cult and my music. It was funny though coz she didn't regognise me (with the beard and new look) which I spotted. So I waited until after I'd jammed with Johnny before saying hello then teased her about it… which she confessed on her Radio show on the day after!
As for the show, Johnny and the band were on fire and I loved getting up for my spot in the encore. What was sweet too was that we were both playing our own signature guitars… me on my Gretsch White Falcon and Johnny with his Fender Jaguar!
Will it happen again? Probably when our busy paths collide and maybe next time we'll get to do 'The Hop' together!"
Billy – Sept 2014