When The Cult 'Electric 13' tour rolled on through Nashville in August Billy took the opportunity to head on down to the Gibson Custom Shop with his pal (and Cult touring guitarist) James Stevenson. Like a 'kid in a sweet shop' it wasn't long before Billy was signing himself up for a new Les Paul to be built to his exact specifications! Billy's tour guide for the day was Gibson's Steve Christmas.
Billy; "I noticed that I had a day off in Nashville and as Steve has worked with me on a couple of guitars before and is a good friend I thought it would be good to go along and see him at the Custom Shop. Both James and I are big les Paul fans so we just went down there for fun. Obviously I'm known for the 'White Falcon' but even before I could afford a Gretsch I had a Les Paul because all of my favorite guitar players pre Punk played them. Infact most of my favourite punk rock guitarists played them too! So the Les Paul was my favorite small solid body guitar and still is to this day. It was just a great day out for any guitar nerd and I certainly indulged my inner guitar nerd!"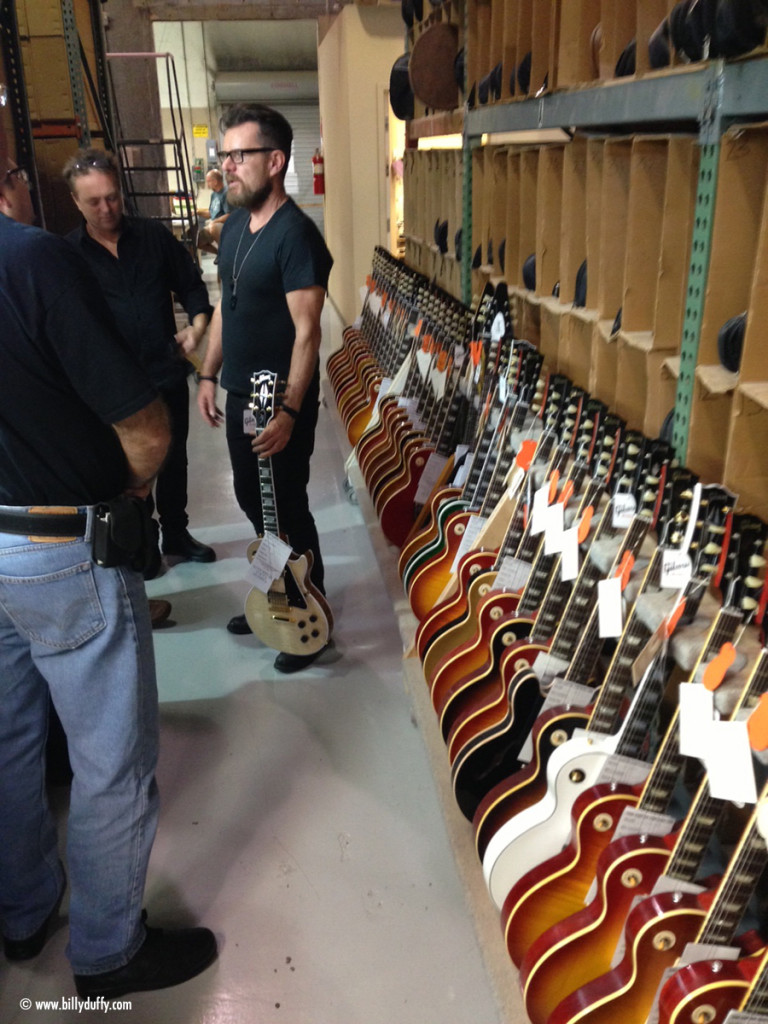 Steve; "This shot features myself, Billy, James, and Tom Weber (Billy's guitar tech) at the beginning our tour of the Gibson Custom Shop. Ironically we are standing in Final Assembly area, which is the department that installs the electronics, wiring, etc at the end of the guitar production process. Billy is holding a Les Paul Custom in Antique Natural which was pulled from the completed guitars on racks which have passed our quality control and are ready to be sold or shipped."
Billy; "While we were there Rick Gembar, the boss of bosses at the Custom Shop showed us some of their original 1950s guitars. They had stuff from various famous guitarists, like Jimmy Page, that they've done re-issues of. Then they were kind enough to say is there anything you want. I said I have a few Les Paul Customs, I have the gold tops I've been using, but I don't have a Flame top one. They then said "we'd love to make you one!". I think what had got me thinking on the Flame Tops was that a friend of mine is a collector and dealer in vintage 1950s high end Les Pauls that sell for six figures and he has one. I did once own a 1959 Les Paul but I sold that to Bob Rock and I think he still has it. The thing was I never particularly got along with that guitar and sometimes a guitar can be collectable but you don't like the feel of it or the tone. I could of kept it as an investment but I just moved it on. So whilst I appreciate them as almost 'art' in themselves and understand the collectability and vibe I don't own any now. Anyway my pal had a couple of guitars made by the Gibson Custom Shop that were identical copies of his 1950s ones so that he could play them as he doesn't want to play the ones that cost hundreds of thousands of pounds on the road. Some guys take them on tour, but very few, and they're the ones who have the ability to protect them.
The Flame Tops were legendary guitars as they were made in the late 1950s with a flame maple top and were the holy grail because people like Jimmy Page, Eric Clapton and the Allman Brothers all played them for a time. They noticed that they had a very 'soulful' rich, thick tone so they used them for the blues. It became almost a cult thing (if you pardon the expression). It's basically a sunburst finish and the grain in the maple on the top shows through. They became really collectable because there was only a limited amount made in the 1950s. So the one I had built is based on the 1958 one which a lot of people consider to be the prime year."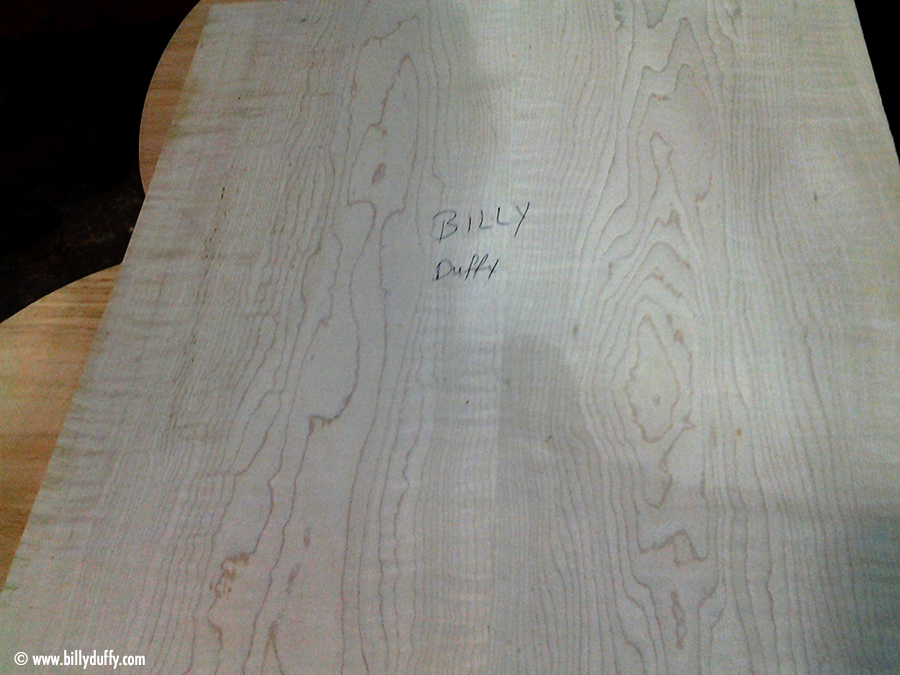 Steve; "In this photo you can see the maple billet that I selected for Billy's 58' Les Paul Reissue. Billy was very specific on what he wanted and he asked for wood reminiscent of the original Les Paul's from the 1950's. Back then maple tops were not heavily "figured"; so I selected a maple billet that had a predominantly plain appearance, but with some slight "figure" in the pattern of the wood grain."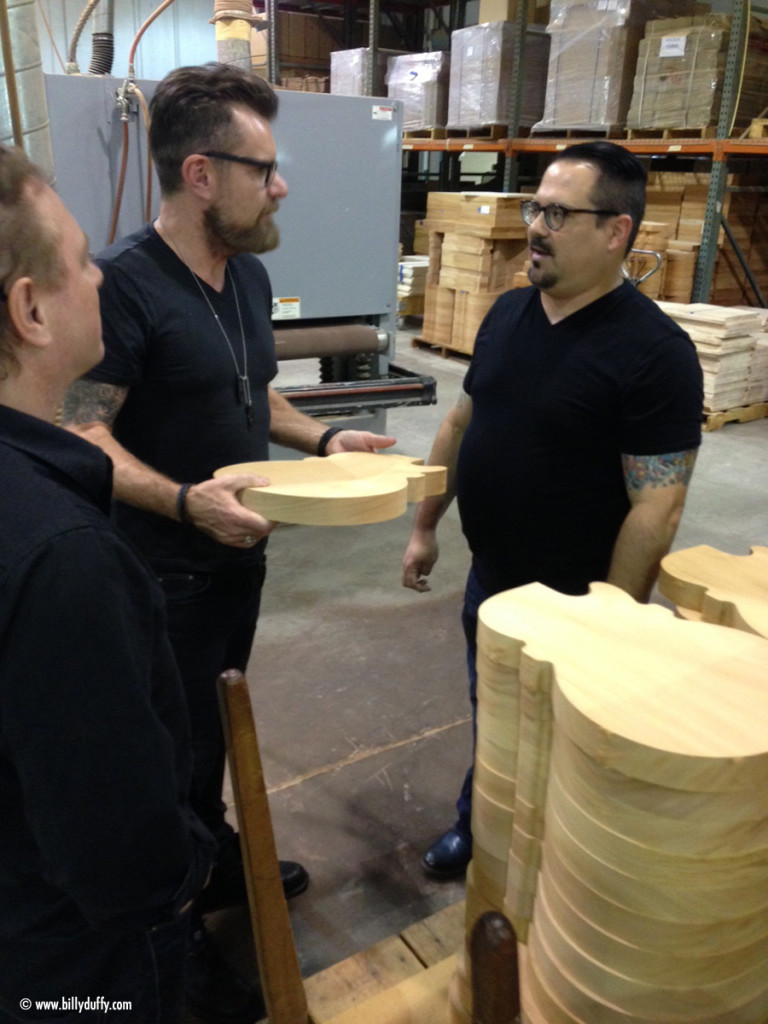 Steve; "James, Billy & myself standing in the Rough Mill which is the area where all of our wood is received in, processed and cut. I am showing Billy the differences in weights of mahogany backs for the Les Paul's. The biggest part of the weight of an instrument is in the weight of the piece of mahogany used for the back of the guitar. All of our historic Les Paul's are made to the original specifications of the originals from the 1950's & 1960's and most historic mahogany backs weigh between 8 – 9 lbs. The backs of these Les Paul's are sold, no weight relieved carving. I have found over the years working with artists on custom instruments that very few want a guitar on the heavy side. Most guitarists want a light Les Paul, they don't want a "boat anchor" around their neck when they are on stage, so the weight of the guitar is key. I've found the magic weight has always been 8 lbs (or less) but wood less than that is also quite rare. I had stashed away, for over 5 years, a mahogany back that was solid yet weighed only 6 lb. 5 oz. This is the lightest mahogany back for a Les Paul that I have ever come across in almost 16 years at the Gibson Custom Shop. I was waiting for the right time and the right artist that would appreciate having that piece of mahogany used on a Les Paul and Billy was the one. He said to me "done", "it's mine" and there you have it. We had the perfect union for the hand-picked maple top; an ultra-lightweight mahogany Les Paul back. A perfect marriage for Billy's custom 58' Les Paul Reissue!"
Billy; "I got onto a tip about getting the lightest one they had which was just me being a bit crazy on the day and we all had a bit of fun doing it!"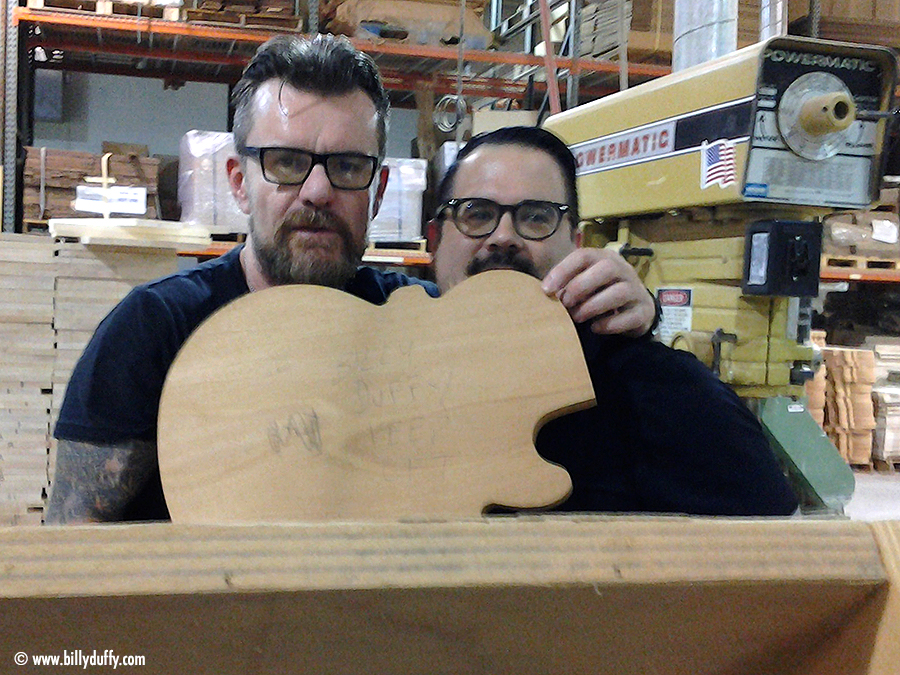 Steve; "Myself & Billy standing in the Rough Mill. Billy wanted to get a photo with this amazingly lightweight mahogany Les Paul back. Of course I am the short one!"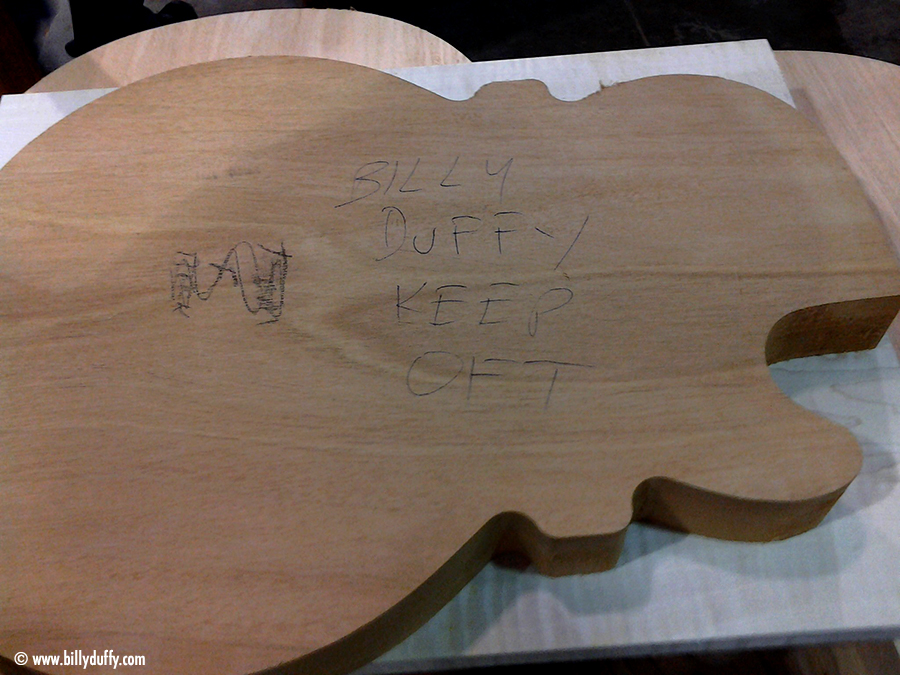 Steve; "The magical 6 lb. 5 oz. mahogany Les Paul back used on the custom 1958' Les Paul Reissue "VOS" for Mr. Duffy. The patterns in the wood grains show how the tree was cut and sawn. This particular mahogany back was flat sawn which is predominantly what the Custom Shop uses. Hands off everybody it's Billy's!"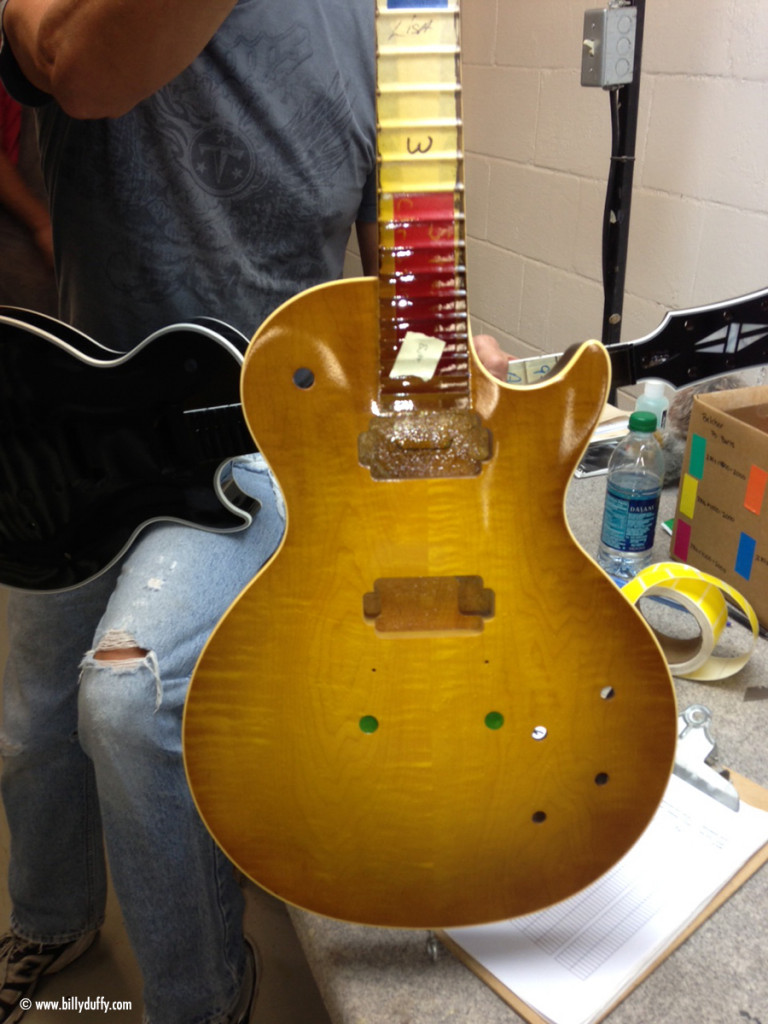 Steve; "Here is Billy's '58 Les Paul Reissue VOS in our Finish Department on the inspection station. It has had all eight coats of lacquer applied (six Base Coats & two Topcoats) and is now on our Finish inspection table. The inspection process is very detailed. We are looking for any potential flaws from sinking in the lacquer to an 'over spray' that would cause the lacquer to have 'dips' or 'ripples'. You want the lacquer to be as 'smooth as glass'.
The Gibson Custom Shop uses nitrocellulose lacquer which was first used in the 1920's by General Motors on automobiles and they used it for about 30 years. These days "nitro" lacquer is predominantly used on wood products, furniture mostly, but also on many musical instruments and it provides a hard, but flexible and durable finish that can be polished to a high sheen."
Billy; "I chose a vintage Lemon Burst for my guitar as you can see here."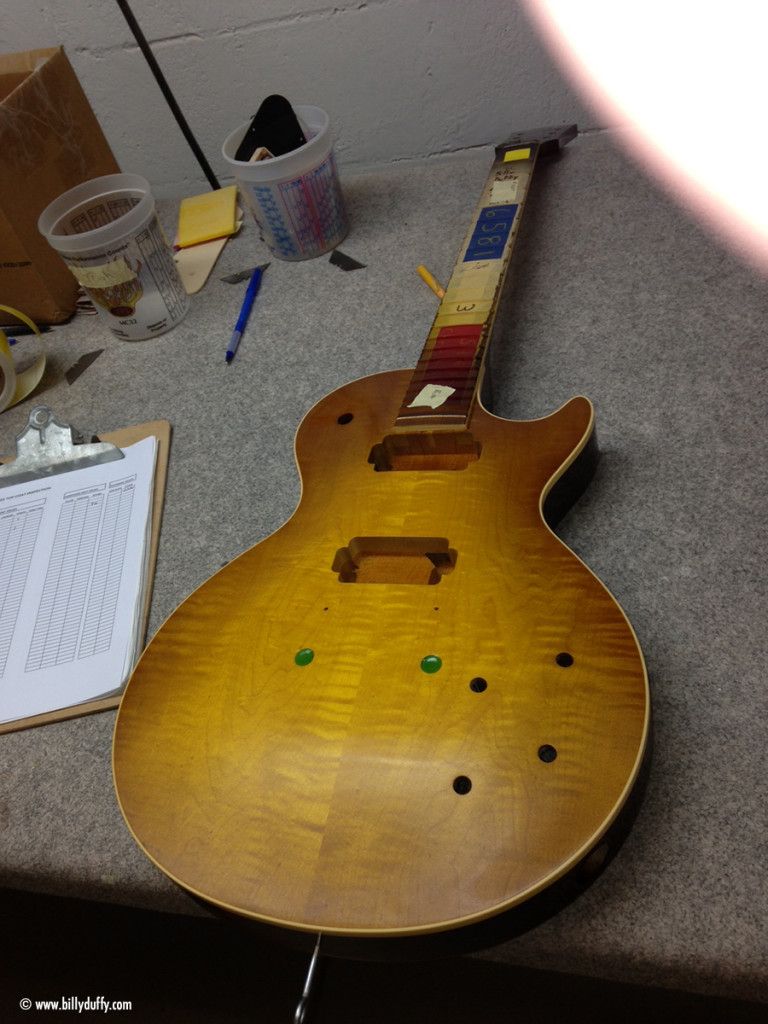 Steve; "In this shot you can see that there is a piece of red and blue masking tape on the neck. Written in white on the blue tape is a number that coincides to a engineering and manufacturing spec sheet that I wrote for Billy's guitar. Basically, you cannot adhere a spec sheet to the wood as the guitar goes through the carving process, but you can attach a piece of tape. The tape travels with the guitar through the manufacturing process and in each individual department of production the employee will see the tape with the 4 digit number. This tells the worker that there is something unique/custom about the guitar. We have books positioned on the manufacturing floor with copies of each special order whether it be for one guitar, like Billy's, or runs of 25, 50, 100, or more. The employee will go to the book find the appropriate order # written in bold numbers in the left hand corner of the spec sheet and see what, if anything, is unique or different that would apply to their individual job. The red tape that you see on the guitar specifies that the guitar is a historic model. In Billy's case, a 1958 Les Paul Reissue."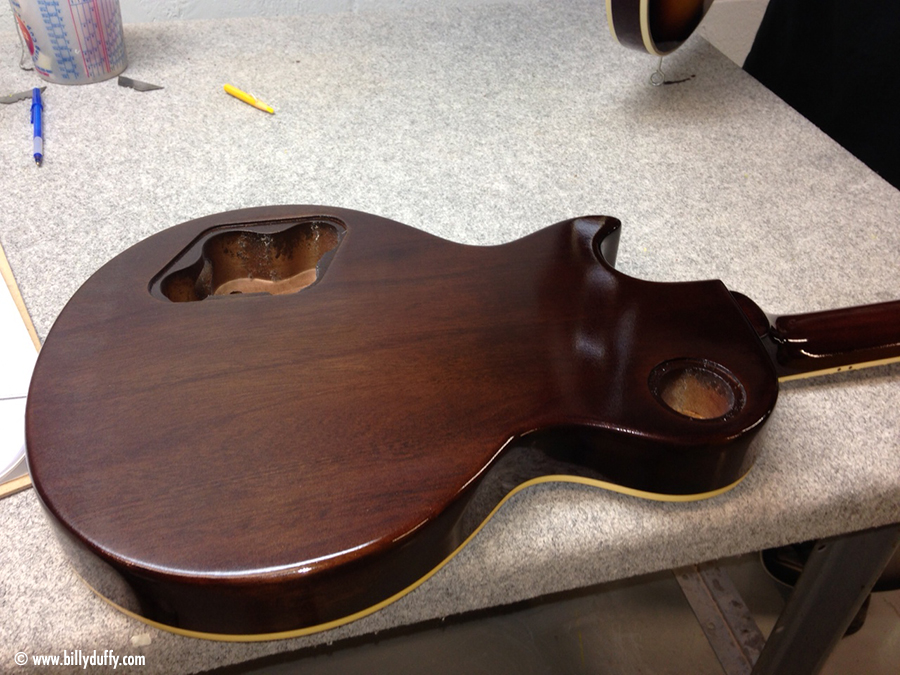 Steve; "In this photo you see the back color of the guitar. Billy was quite specific in that he wanted the back to look predominantly brown, not the traditional red aniline red of the 50's Les Pauls. In fact he did not want red at all in the finish. So, we created a unique finish application process to achieve this result. And this is the first time we have ever done it this way. Under most circumstances you would apply wood filler to the mahogany back, neck & rims of the instrument before going into Finish to be sprayed. Here we did the reverse in we sprayed Vintage Brown lacquer on the mahogany first. The guitar then came out of Finish and we applied a Walnut wood filler by hand over the Vintage Brown lacquer. Thus achieving the desired effect that Billy wanted which was a dark brown color back, but not so dark that you could not see the wood grain pattern of the mahogany. As you can see we achieved this."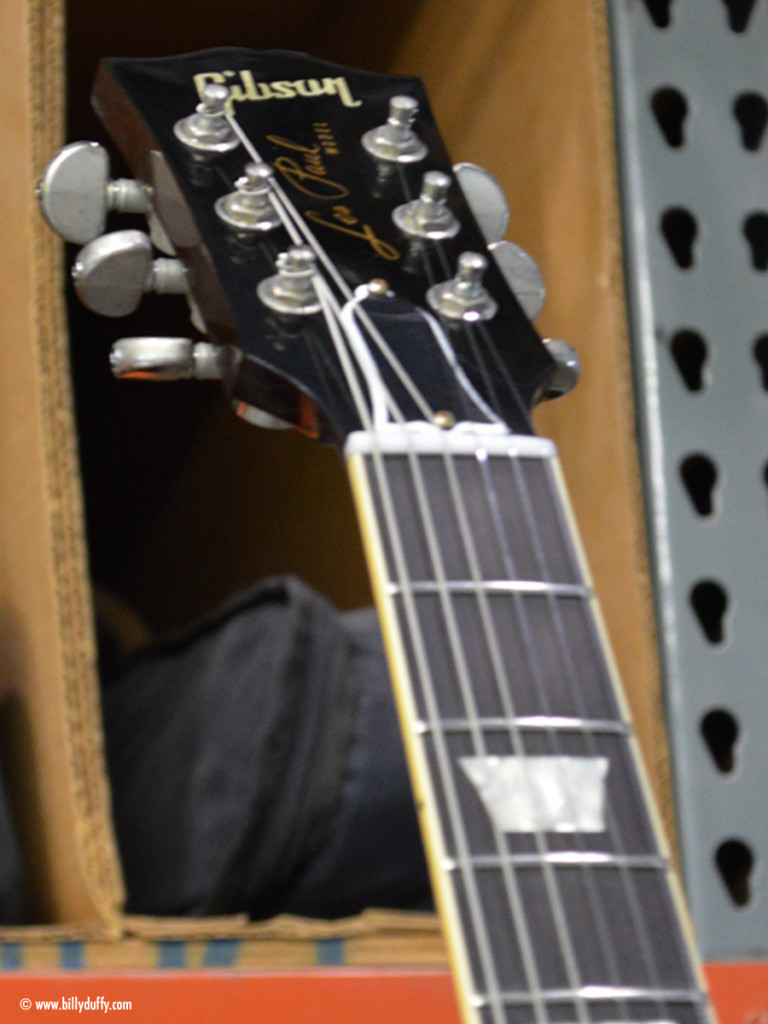 Steve; "In this photo you see the upper neck/headstock of the instrument. For most people the darker the Rosewood fingerboard the more it resembles the instruments that we produced in the 1950's & 1960's. Therefore in keeping with the desired effect for this '58 model I hand selected the darkest Rosewood fingerboard I could find; with a straight wood grain, and a dark and consistent color.
For the tuners Billy wanted Grovers installed and what is interesting about this decision is that musician's prefer the durability of the metal Grover tuning keys to the historic, plastic Kluson style. They will not crack or break like the Kluson and the much stronger & dependable.
What I also find interesting in this decision of Billy's is that iconic English guitarists like Jimmy Page, Keith Richards and Pete Townsend also preferred the metal Grover tuning key on their historic Les Paul's. Jimmy's iconic 59' Les Paul Reissue #1 & #2, Pete's Les Paul Deluxes he played in the 1970's and Keef's famous Les Paul Reissue with a Bigsby all had the metal Grovers."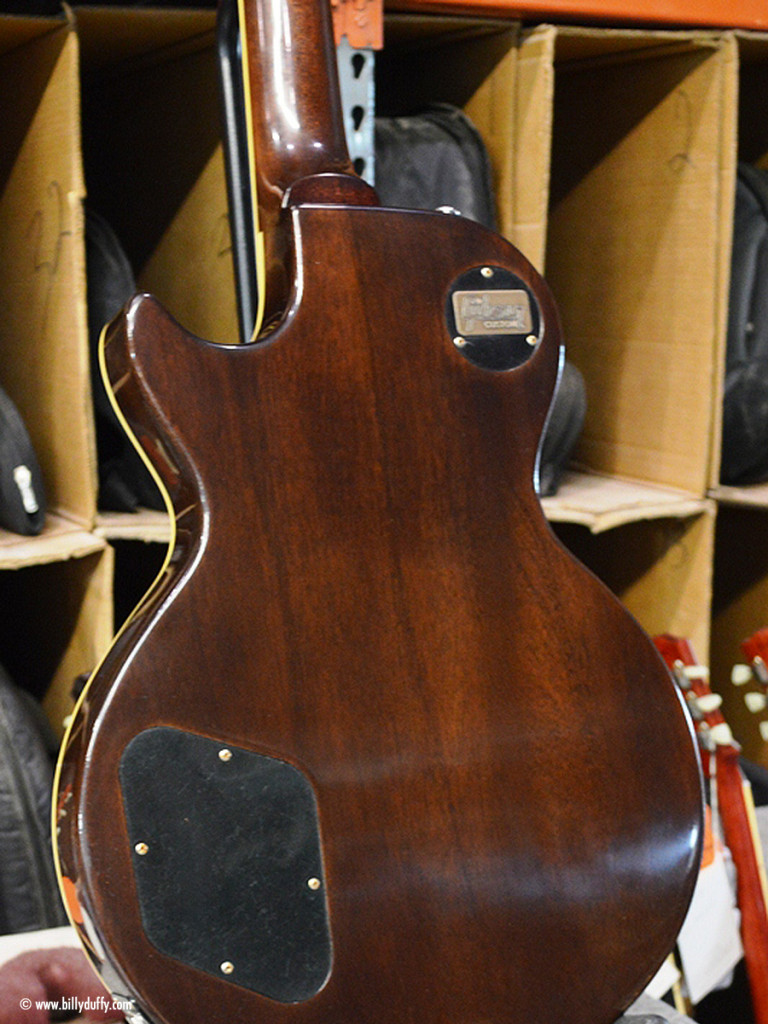 Steve; "Again, another photo of the back of Billy's 58' Les Paul Reissue. You see the rich, dark Vintage Brown finish; but it is not too dark where you do not see the unique wood grain pattern of the ultra-lightweight mahogany back. When applying the Walnut wood filler you can see how the pores of the mahogany take filler application. In essence we are attempting to fill the pores of the mahogany and seal them so that once the nitrocellulose lacquer is applied the finish is smooth. The deeper the penetration into the pores of the mahogany the darker the color. So, that is why you see some areas of the back of the guitar appear to be darker and others lighter."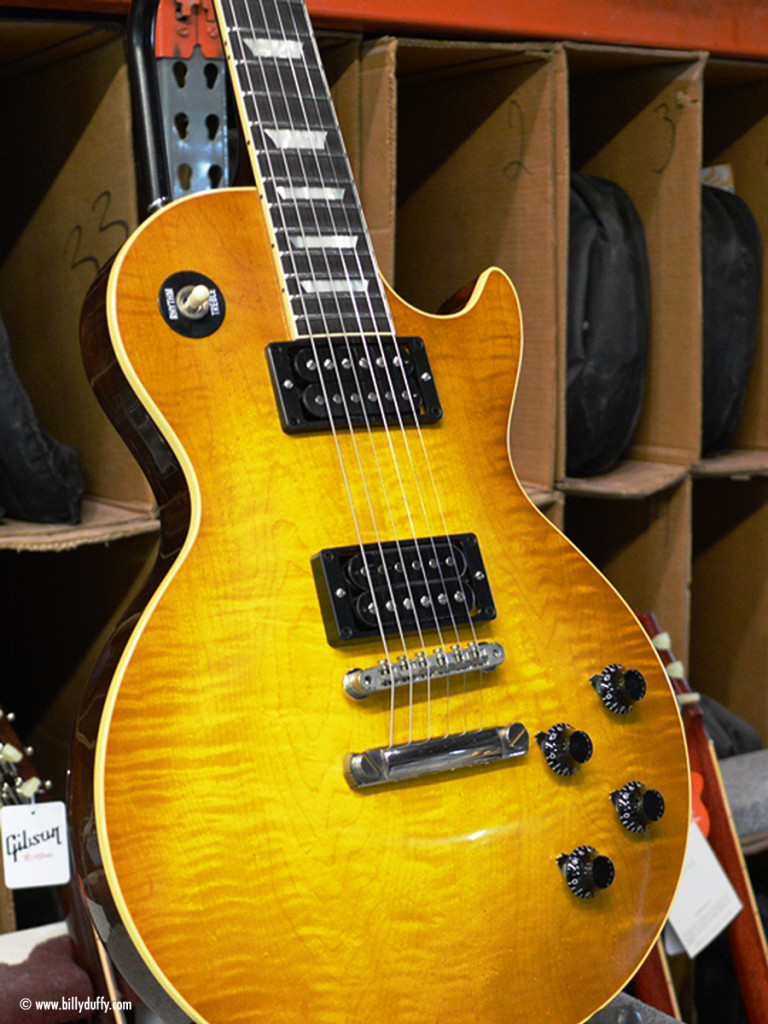 Steve; "The guitar is completed and has passed inspection. The beautiful Faded Lemon Burst finish, the Exposed, Double-Black 57' Classic PAF Humbucking pickups, Black Tophat knobs, and "Aged" Nickel hardware were decided by Billy himself. Billy was hands on with every decision from selecting the wood for his guitar, to the appointments of electronics and hardware. The final outcome, a historically correct 1958 Les Paul Reissue "VOS" to Billy Duffy's personal specifications!"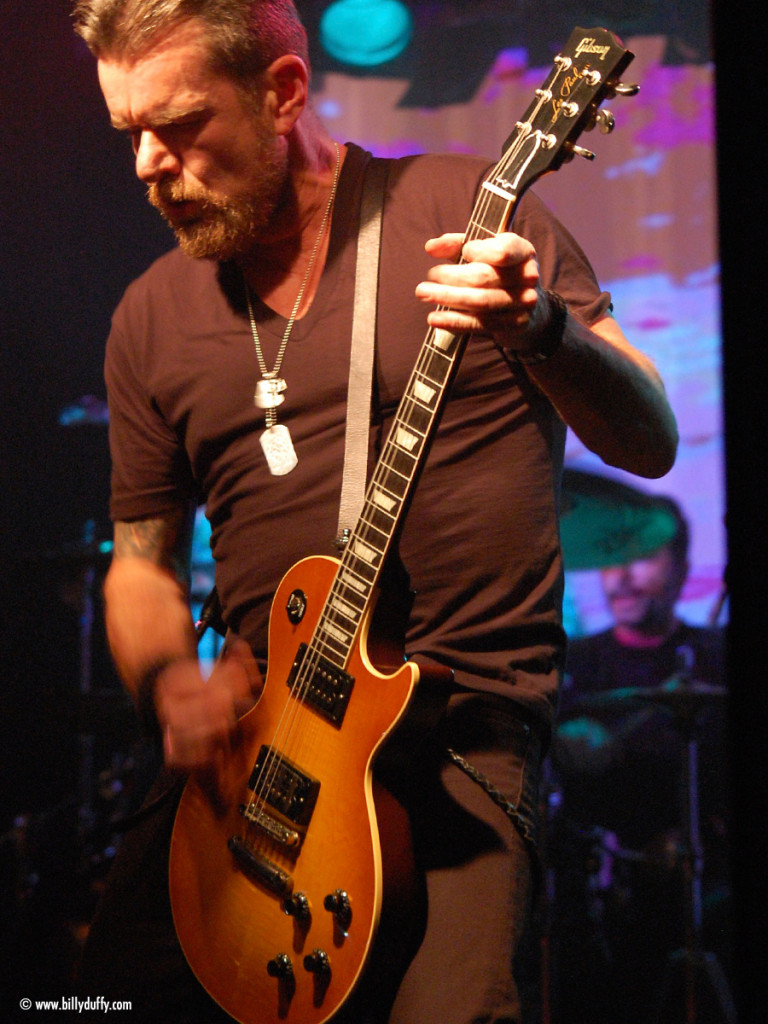 Billy; "So to the end and this picture is me using it live with The Cult on the 'Electric 13' tour in England. I've been playing it on the tour and found that whilst it's lighter in weight it's  actually darker in tone than my other Les Pauls. Something that people probably don't understand is that guitars are not all the same even when they're the same model. It's really great for several of the heavier tunes in the set and it really is a lovely guitar. What's amazing is that a few months ago it was just lumps of wood and bits of metal and parts and now it's beautiful guitar and one of my prized collection. So anyone heading to one of the shows in December keep an eye out as it will be making an appearance at those too!."
UPDATE 2017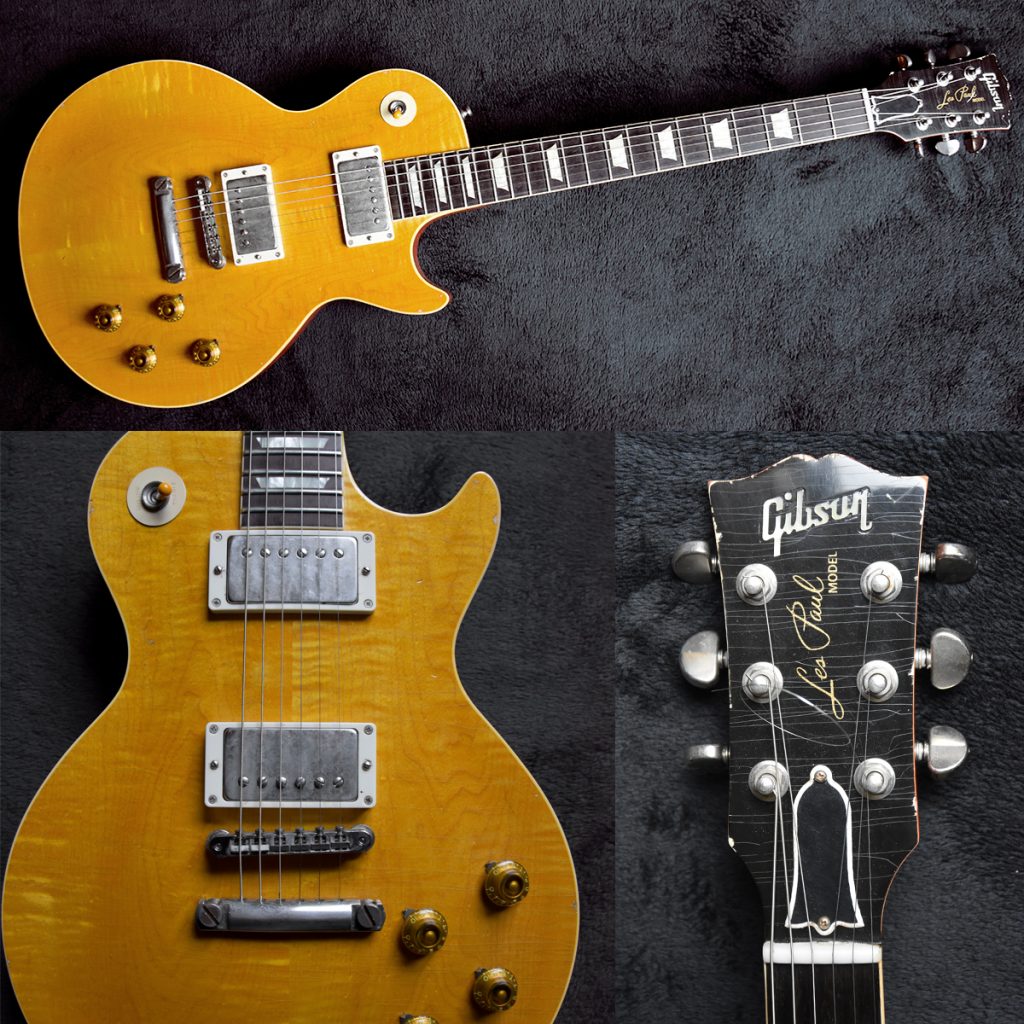 .
"In 2015 when I was using this guitar on the recording of Hidden City with Bob Rock, I mentioned to him that whilst loving the sound I'd been thinking about making a few changes to its look. I had chosen the actual lightweight piece of wood, which was great for the sound, but I'd never been over keen on the sunburst finish as it was too red.
Bob highly recommended using Gord Miller of GM Vintage Restorations in Vancouver Island who specialize in ageing guitars. They've worked with some of the biggest names in rock after initially doing a custom job for Paul Stanley of Kiss.
For my GM update I really wanted it to have more of a true vintage '58 look so that's what I got them to do… changing the lacquer to remove the "burst" and make it more of a flat lemon drop colour whilst "ageing" it by adding some beautiful patina. The black hardware used on the first version I had made was also changed at this point to fancy Japanese "Montreux" reproduction parts with 1950s authentic looking knobs and pickup covers. As it was custom built for me it never had a scratchplate fitted as I always take them off my guitars.. haha"
Billy – November 2017

Original interview by Mick Peek – November 2013 © www.billyduffy.com 2013 – All rights reserved. No part of this article may be reproduced or transmitted in any form or by any means, including photocopying and recording, or by any information storage and retrieval system without the prior written permission of the publisher.