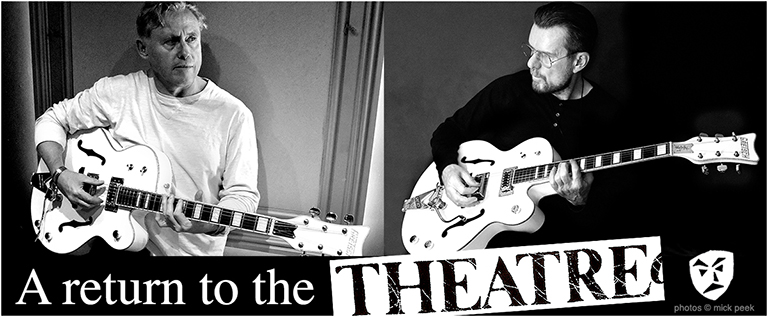 –
Formed by singer and songwriter Kirk Brandon in 1980 Theatre of Hate had three successful singles before going into the studio to record their debut album 'Westworld' in 1981. Produced by Mick Jones of The Clash the album cemented the band's position as one of the most influential bands in the UK and Europe in the early 1980s.
Following the recording of the album Billy was recruited to play as a second guitarist and appeared on 'The Hop' single in 1982 before leaving the band in April 1982.
Theatre of Hate split in 1983 and Kirk along with band members Stan Stammers (bass) and John Boy Lennard (Sax) formed Spear of Destiny while Billy got together with Ian to form Death Cult.
On November 25th Cherry Red Records are re-issuing a 3 CD deluxe version of this seminal album including the original recording, a live show from 1982 and collection of unreleased tracks including some with Billy. To celebrate this release, we've got Billy and Kirk together for an exclusive billyduffy.com interview…
How did it come about that Billy joined Theatre of Hate in 1981?
KB: How it happened was, I was at the 'Whisky A Go Go' club in Wardour Street, London. Someone knew I was looking for a guitarist now the original guitarist Steve Guthrie had left the band. This same person pointed out Billy and said, he's a guitarist and an introduction was made.
What were your first impressions of Billy?
KB: He had a huge smile on his face, and it turned out had a great sense of humour. Very Manchester. I asked him 'Do you play guitar?' He replied 'Yeah' with a ironic cheeky laugh. We immediately got on and after a short time I said simply come down to our rehearsal room 'The Sunday School' at the Elephant and Castle. I thought, he's pretty confident and by the sound of what he said he must be a pretty good player.
Billy, had you seen Theatre of Hate live before you met Kirk?
BD: No, but I'd heard them on the John Peel show… 'Rebel Without a Brain' specifically and was quite intrigued by the sound of the band, Kirk's voice and their general "left of centre" arrangements which sounded different to a lot of stuff about at that time. I remember being fascinated by the song and it's title which lead to me trying to find out more about them. I then saw an image of Kirk with the blonde spiky hair in one of the music papers. I thought he looked like a rock star… there was a slightly Fifties, James Dean, matinée idol undercurrent and that made the song title make more sense to me.
What did you think when you actually met him?
BD: My recollections are that when we first met at the club and it was a brief "Hi, how you doing?" conversation and just exchanging information about the audition. Then prior to the rehearsal in Elephant & Castle he came to my flat that I was sharing with Howard Bates from Slaughter & The Dogs. At the flat there were a couple of things that we seemed to bond over…. one was a picture I had on the wall of a Bull Terrier which turned out to be the type of dogs that his dad had and then we got talking about Gretsch guitars. At the time I had a Gibson Les Paul Jnr which is a very basic one pick up guitar and pretty much the antithesis of the White Falcon. I'd never seen Kirk play so didn't know he played one but the conversation got onto what would happen if I got the gig and I said "I'd buy a Gretsch cos that's the type of guitar I want next!" I'd recently seen Matt from Bow Wow Wow with one and it looked fantastic but had liked them since seeing Neil Young with one when I was a kid.
Was it a formal audition?
BD: It was an audition initially and I was getting on well with everyone then they said can you step outside a minute… they then had a quick meeting and when I went back inside they said "now it's a rehearsal"!
KB: Yeah, Billy came down to the rehearsal place and immediately fitted in, liked by everyone in the band. It turned out he was pretty nifty on the guitar and got the kind of left field direction of the songs and the off the wall timings. He went on to make great contributions both live and in the studio.
Billy, how important was joining Theatre of Hate to your career?
BD: For me at that moment in my life that was the turning point… metaphorically speaking where you reach a crossroads in your life. I had a very cushy job working at at Johnson's (clothes store in London) which was well paid, great fun and I loved the fashion side. But deep down I'd always wanted to be a musician and it was like the perfect situation, this opportunity to join this great band. I could have just gone "nah… it's too much trouble … too much effort… I can't learn 14 songs in 7 days…" but even though it was kind of uncertain and not a sure thing it was life changing for me because I gambled everything I had on Theatre of Hate and me being able to make that work.
You are both well known for playing Gretsch guitars, so Kirk what inspired you to first pick up one and which is your favourite model?
KB: I suppose the look of Gretsch guitars immediately brings the 1950s to mind. Eddie Cochran being the most famous along with Chet Atkins. It seemed such a cool shape and big, compared to the much smaller Les Pauls and Telecasters of the period which most people were using in the 1980s. By using a Gretsch it seemed to say you harked back to the great originators of the 1950s. There was a Rock and Roll link by simply picking one of these up and slinging it around your neck.
My favourite one is my 1961 6120. It plays 'faster' and is perfect for my Neolithic hands. Dissatisfied with the amount of 'poke' coming out of the bridge pick up one day, talking with Billy, he suggested getting the pick up overwound as he had done. Seemed a good idea at the time. So, I had this done. Placed it back in the body and it sounded terrible. Then about a year later with nothing to lose, I had the pick ups reversed in position. The overwound one was now in the neck position. It sounded absolutely brilliant, incredibly 'creamy' and completely full bodied. I use it in that neck position literally every time I play it… rhythm or solo.
BD: I don't remember suggesting that to Kirk but I do remember telling him that I'd had my White Falcon pickups suped up 'cos it just wasn't loud enough for me onstage alongside the Les Pauls that I was using. I do remember when I first went to audition for 'Theatre' he had a very unusual set up in a single anniversary Gretsch which was like a green semi acoustic and it only had one pick up which was in the neck position which is very, very unusual. He got the 6120 afterwards which is a much more expensive guitar… it's quite plain looking compared to the White Falcon but it's meant to be the best sounding Grestch guitar there is.
Billy, your first Theatre of Hate show was the Futurama festival in September 1981… can you remember that one?
BD: What I remember is that between the audition and the first gig was only about a week and really quick. As I mentioned before, I was also working full time at Johnson's so had to go in and tell the boss I as giving up this very, very nice job to "run away with the circus". Prior to joining 'Theatre' I'd been playing with 'Lonesome No More' and whilst they weren't pub gigs the most I'd played to was like 1500 people supporting 'The Only Ones'. Also we were doing weekends or odd dates so I could do the full time job as well. Now I was off on a proper tour and the first gig was the Futurama 3 Festival Stafford Bingley Hall so I was a bit freaked out at how big it was. The gig itself was a blur but I do remember that because I had to learn so many songs, so quickly, I didn't know the them by name. While I played I had pieces of paper on the stage floor with the chord changes and some basic reference points like "the one that goes like this…" and "the one that starts like that". Remember it had only been a week of rehearsals so it was a bit of a panic, pretty scary and I suppose a trial by fire!
Probably more important than the actual show was that I drove Kirk and the Manager Terry (Razor) to and from the gig in my old Ford Cortina Estate. It was late when I was driving back to London from Stafford and and unfortunately I briefly fell asleep at the wheel and nearly ended up killing us all which would have ended two careers very quickly!
That was soon followed by a trip to Europe…
BD: I'd never been abroad before apart from a school trip so to go Berlin, Amsterdam… Scandinavia I loved it all as it's what I'd dreamt of doing … going to all these countries… playing great music… havin' it!
The Berlin gig was a really weird night but fantastically interesting because it was in a circus tent just by Checkpoint Charlie on some wasteland. Blixa Bargeld's band Einsturzende Neubauten … the collapsing new buildings… were on the bill and the opening act was a drumming circle of recovering heroin addicts!
Did you know that show in Berlin was to recorded? (later to be self released as 'He Who Dares Wins')
BD: Theatre of Hate were a true indie 'underground' band and when I joined I had a basic idea of their history… like how they'd made their own records with money that they'd earnt from gigs and t-shirts. But being in the band was quite an eye opener and steep learning curve on the nuts and bolts of the post punk indie music world. I was pretty quick on the uptake to learn what you had to survive so I knew they were going to record it in an effort to combat bootlegging of their gigs. I just hoped I didn't ruin it for them because to be totally honest they were great and it was only my second gig with the band. Knowing it was being recorded only added to the pressure and it felt pretty scary but it's one of those things where you either collapse or pull through it.
That said I felt confident I could help Kirk because whilst he was great on the guitar, singing and playing guitar together is more difficult so with me there he could just relax a bit and focus more on being the singer and just play a few guitar parts.
What was your favourite Theatre of Hate song to play live at that time, Billy?
BD: They were challenging songs to play as, like Kirk mentioned, they had unusual time signatures and time changes so I struggled a bit… just because it was alien to the regular type rock and punk rock that I'd learnt growing up. My whole world of how songs were put together was turned upside down by joining Theatre of Hate because the bass was more of a lead instrument and then of course we had a saxophone, with John Boy, so it was more like a Roxy Music additional melody. The guitars had their lead moments but they weren't in any way bluesy solos or anything rock related they were more cinematic Ennio Morricone type riffy things. So, a lot of the time I was doing rhythm with the interesting unique time signatures.
My favourite song was always 'Original Sin'… I don't know why but I always looked forward to playing that one … oh and 'Legion'. I liked 'The Wake' a lot too… there was a lot of great songs. To be honest the biggest thing I remember about joining the band was when they said "oh you've got to learn this song"… I was like 'wow, that's good"… then there was 'Nero' and I was like "that's really good too" and so on. 'Westworld' was like the commercial breakthrough song but to me all these other songs in the catalogue were genius… 'Judgement Day'… 'The Klan'… 'Incinerator'… 'Poppies'… I could go on. At the time I thought it was all really good stuff and I still stand by that today.
Southern Death Cult supported Theatre of Hate on tour. Did you have any involvement of picking them, Kirk?
KB: We played a gig in Leeds and one of the guys loading the gear out afterwards was Ian Astbury. At the end he gave me a cassette tape of his band 'Southern Death Cult' and asked if I'd give it a listen. I remember Ian had dyed long hair and a nose piercing looking very unusual for the time, a genuine guy then, as he is now. I took it away and listened and thought it was brilliant thinking they would obviously go on and develop into something pretty awesome. Ian's voice was absolutely spot on and I said to our manager Terry (Razor) to put them on as support on the next tour to get them some deserved exposure. I felt they really needed to be heard.
When they did come on the tour I wasn't disappointed, they hit it off immediately with the Theatre of Hate audience. After which we put them in Wessex Studios in North London and recorded a few tunes.
In an often quoted reference, people described Theatre of Hate as the 'cowboys' and Southern Death Cult as the 'indians', silly I know but there was a grain of truth to it looks wise.
Billy, what were your memories of Southern Death Cult on that tour?
BD: I was the token Northerner in Theatre of Hate as it was pretty much London lads (with John Boy from Canada) and Kirk said "there's a bunch of your lot from up North coming on the tour and they're really good so you should check them out". I remember being with Stan Stammers watching them at Keele University and I've often been quoted as saying how amazed I was. The band were great and I was literally gobsmacked when I saw the show… how unusual and powerful it was. They were different from us and like Kirk said "Cowboys and Indians"… but complimentary in the sense that it was like two ends of a spectrum. They were a bit more Gothic, a bit more Adam & The Ants and obviously Theatre were a bit more militaristic… like The Clash.
Kirk had (and still has) an amazing voice… unique… stunning and it was the same thing with Ian so I was like "woah".
I also remember that Terry, Kirk and all of us were very patriarchal to Southern Death Cult and we wanted to help them succeed which created a very great feeling of community on the tour. Me and Stan (Stammers) even went to see them at the Rock Garden in Covent Garden, London and we ended up doing the sound and lights because they didn't have anybody!
Ian seems to think I was popular with them as I always had cigarettes but I think I got on with them because of the Northerner thing too!
Kirk, did playing with The Clash and then recording 'Westoworld' with Mick Jones have any influence on your signwriting?
KB: The Clash tour was amazing and it would have been possible to do a film on it unquestionably. It was a tour that you felt privileged to have been on… every day was like being in a Scorsese film. It took us around Europe and was totally beyond brilliant.
Every night it was possible to see a legendary band in their prime doing their thing, every night different.
Mick without doubt opened my eyes to recording and production in a very big way. Mick is a genius, literally.
BD: Whilst I didn't play on the 'Westorld' album I was part of the sessions for the follow up album that didn't come out at the time. We recorded 'The Hop, 'Assegai' and a bunch of other songs for what was going to be 'Eastworld' and they were with Mick Jones so I have my own memories. I also did the second Clash tour with Theatre too and like Kirk says it was amazing to watch them be 'The Clash' every night!
What's your favourite track on the 'Westworld' album, Kirk?
KB: Favourite track I guess has to be 'Do You Believe In The Westworld'. It's a question perhaps bigger today than it was in 1982. This dystopia we find ourselves in, almost as helpless voyeurs, is now unstoppable. It is its own mad self fulfilling prophesy. All the science fiction novels have come true, perhaps not exactly, but close enough. Orwellian government, banks and corporations run and distort our world.
Was 'Do You Believe In The Westworld' on Top of the Pops your first TV appearance?
KB: Before Billy joined we'd had a few TV appearances before it, 3 in fact if I'm right.
My memories of Top Of The Pops were a bit grim… they had a 'prompter guy' who used to shout, swear and threaten the young people around the TV set in West London. He cowed them like livestock. It was the all-powerful BBC. It wasn't like the imagined prime time music TV show that every band in the country at the time wanted to get on.
BD: Yeah it was my first TV appearance and like Kirk says it was exactly not what you'd think from how it appeared watching it. We were quite shocked by how the tiny audience was shepherded around by these arrogant BBC guys. You were also made to sit in the BBC for hours and hours on the filming day and they wouldn't let you leave… literally sitting in a empty room with, ironically, no TV… nothing!
On that appearance I played guitar on the actual recording of 'Westworld' that was on the show. It was re-done at Wessex because the rules of the TV and the Musician's Union dictated that if you went on television then you had to re-record the song… some kind of union thing. Theatre of Hate were a fairly new band at that time, and a bit naive in some respects, and what we didn't know was that it was common practice to switch the TV recording tapes with the originals. Every time you record a record you do a version with no vocals and most 'established' bands would wait until the union rep was in the pub and then swap the album or single version for the one done on the day.
Kirk would have still had to sing live but it would have been over the actual album backing track but we actually recorded it again in 4 hours with me on guitar! So that version on TOTP is not the version on the original album but I'm quite proud about how well it sounded. It's now available on this re-issue so you can get to listen to it and hear for yourself how it's different from the album version.
Watching it back now I'm terribly embarrassed, not about the playing but about me watching the TV monitor screens all the time while I'm playing… well miming!
It was also the first time that I went in the recording studio with Theatre too… a special stand alone session just for TOTP.
One big thing for me personally was that it was the moment in my life when my family and friends back home thought I'd made it. To contextualize it, coming from a working class background, being a musician wasn't really a proper job but getting on Top of the Pops was a big, big deal at that time. My mum even took photos of me on the TV as there were no video players back then!
What's your favourite song that each other has written?
KB: The Cult 1985 song 'Rain'…. the reasons being with which the ease which Billy plays the riffing. It sounds so natural as if no force is applied, period. And obviously Ian's very 'up' singing. Again sounding effortless. A truly great song.
BD: I've covered loads of Theatre of Hate songs that I love in the earlier question but, taking my guitar player hat off for a minute, the one song that I didn't mention from a vocal point of view is 'Anniversary'. That was a very powerful song… a little bit off the wall but very, very special. The way Kirk sang it… and consistently every night when we did it on tour.
But, in truth I mentioned all those other songs and as a 'fan' there weren't many TOH songs I didn't like actually!!
I also thought he had a good run when he did Spear of Destiny and 'Rainmaker' was particularly good and I liked that as a slightly more overt rock thing. I thik he did that transition from Theatre to Spear pretty well and it made a lot of sense to me.
In 2003 you got back together to tour the UK in the group 'Dead Men Walking' along with Mike Peters (The Alarm), Glen Matlock (Sex Pistols) and Slim Jim Phantom (Stay cats). How did that come about?
KB: Historically, it was an idea Mike Peters, myself and Liam (Feekery) came up with. Since those days Mike and I have gone our very separate ways. Liam and I have just rejuvenated it with a new line up of Jake Burns (Stiff Little Fingers) and Dave Ruffy and Seggs (The Ruts). I am so glad we have it back together again, this line up is very musical, would be great to get Billy onboard for a few shows, he would love it I am certain.
BD: I had a very good time doing DMW and I particularly liked it when it was the acoustic version as it was kind of thrown together… a few blokes with acoustic guitars and a lot of attitude! I always enjoyed playing the Theatre of Hate songs and I also had a really great time it when I got up and played 'Westworld' with 'Theatre' when they played with The Cult a few years ago in London.
Whether it's with Theatre of Hate or Dead Men Walking I'd like to think I'll do that again but timing wise it's difficult for it to work out, especially with me living in California and them doing their stuff mostly in the UK.
But, I like to jam with other people as it's good to keep my hand in and I think from this interview you can tell I'm a big Kirk Brandon fan as I believe he's like a literal white blues man… a complete musical savant… so hopefully you'll catch us on stage together in the future!
Finally Kirk, Theatre of Hate have periodically played together and released records but the last album was in 1998 so what inspired getting together for this years 'Kinshi' album?
KB: 'Kinshi' has been a long time coming and as many have said, overdue. It has taken virtually 8 years to finally finish. It was mainly because only some of the riffs/chordings I've written were suitable for Theatre of Hate material. It had to be inspired stuff in the first place. Luckily, it has come together in bits and pieces but is now finished. The proof as they say, is in the pudding. I/we are very pleased with it. Some exceptional stand out songs that both our fans and the few critics we have played it to are really into. Next year will see the album get a full label release and some pretty extensive touring is planned to help promote 'Kinshi' far and wide.
Theatre of Hate will be touring the UK in March 2017 with Stiff Little Fingers.
You can pick up the Deluxe Version of 'Westworld' here
And 'Kinshi' here
More info at www.kirkbrandon.com
Interview by Mick Peek – November 2016 © www.billyduffy.com 2016 – All rights reserved. No part of this article may be reproduced or transmitted in any form or by any means, including photocopying and recording, or by any information storage and retrieval system without the prior written permission of the publisher.