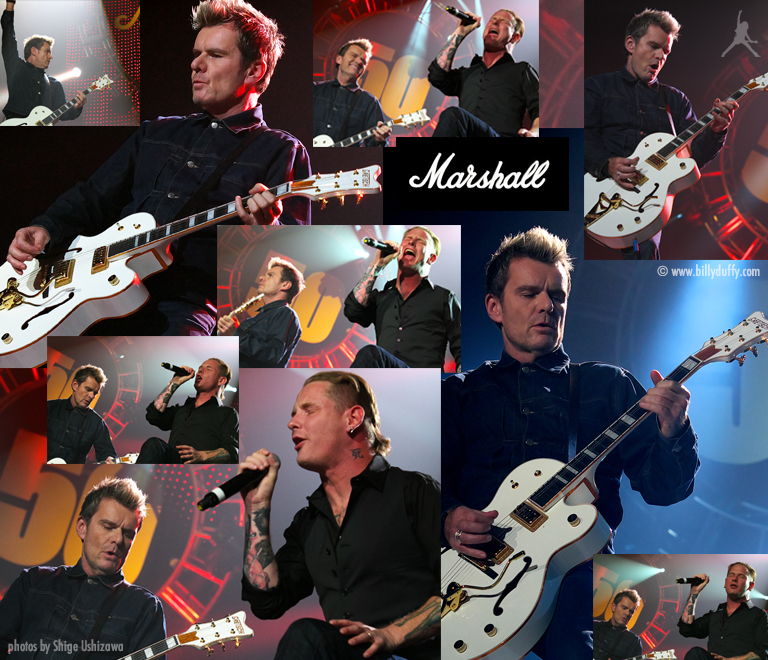 Last September Billy appeared as one of the special guest artists at the Marshall 50 Years of Loud at Wembley Arena, London UK. The concert was a celebration of not only the legendary amps, but also a tribute to the recently departed brand creator Dr. Jim Marshall.
Billy was in great company as a whole heap of the world's top guitarists paid homage to a man that helped them find their sound. The lineup consisted of guitarists Zakk Wylde (Black Label Society), Kerry King (Slayer), Yngwie Malmsteem, Joe Satriani (Solo, Chickenfoot), Doug Aldrich (Whitesnake), Paul Gilbert (Racer X, Mr. Big), Phil Campbell (Motorhead), drummers Nicko McBrain (Iron Maiden), and Mike Portnoy (Adrenaline Mob), bassists Glenn Hughes (Solo, Black Country Communion), Andy Fraser (Free), and vocalists Corey Taylor (Slipknot, Stone Sour), and Tim Ripper Owens (Dio Disciples, Yngwie Malsmteem) with the house band of Musical Director and guitarist Chris George, powerhouse drummer Brian Tichy (Whitesnake, Foreigner) Adam Wakeman (Ozzy Osbourne, Black Sabbath)- keys, and Jaz Lockerie – Bass.
Holding the whole proceedings together were hosts British comedian Al Murray and drumming legend Nicko McBrian.
This is Billy's story of the event…
"I got involved though Paul Marshall who is Jim Marshall's son and who's been a long time friend of The Cult and mine. He asked me to get involved quite a long time before the event actually happened, even before Jim's death in April 2012. It was originally planned as a 50th Anniversary event for Marshall Amps but it turned into one celebrating Jim's life.
When I agreed to do it I didn't even know who else was going to be on the line up but I just thought, Marshall, the British amps that I've loved using for a lot of years so yes I'm in.
Between agreeing to do the Marshall event and it happening The Cult 'Choice of Weapon' tour details were finalized and it turned out we finished the European leg in Krefeld, Germany the night before. So on the day I flew to London which should have been fairly straight forward but with flight connections I ended up arriving at Wembley late for my own sound check!
I went straight to the venue from the airport in a car with only my suitcase and I didn't even have a guitar. Gretsch in London loaned me a White Falcon which I had someone meet me at the gig with. It was a G7953 with the gold hardware production model but the irony was that my actual Signature Guitar prototype turned up a few days later in England for me to sign it off for Gretsch. So if it had been a few days earlier I could have played the gig with the prototype because it came and it played and sounded great.
When I arrived backstage at Wembley they had already been sound checking for 6 hours and, like I said, I'd missed my actual slot. So I snuck on stage in the middle of the all star Jam which was the hilarious sight of about nine different guitar players all doing 'Smoke on the Water' with my mate Glenn Hughes singing. I literally plugged in my guitar and joined in playing.
All I was concerned about was making my guitar tone sound good for my bit later but then I realized they were all playing it in a different key!
Only guitar players would really understand how hilarious this was as every kid knows how to play 'Smoke on the Water' but there I was not tuned to all the other musicians on the stage. Because my guitar was borrowed it was tuned in standard 'Concert' tuning whereas everyone else was tuned down half a step which is what most rock bands do live. So as I was doing it I had to transpose the song into a different key which was a pretty funny moment especially being surrounded by all different shapes and sizes of guitar players and of course I was the only guy with a semi acoustic.
It was a great event with lots of different shapes and sizes of guitar players… it was like guitar zoo! When you go to the zoo and you see all the different animals and they're all very different in their habits … well it was a bit like that only we were all guitar players, just all very different.
After the run through of 'Smoke on the Water' all the other guitarists left the stage and as a favor to me the house band stuck around to run through 'Lil' Devil' with just before they opened the doors. Then half an hour later I did it for real with Corey.
The way that it works at an event like that is that there's a 'house band' with a musical director (in this case it was a guy called Chris George) and his job is to co-ordinate the musicians to make sure that everybody's comfortable and the house band (who were all excellent musicians) know everybody's songs so that they can just walk on and do their bit on top. That's exactly what happened at the Marshall gig and Corey was the right choice as just loves singing rock so I think he wanted to do The Cult stuff with me.
I first hung out with Corey when I met him in 2001 when I played at The Summer Sonic Festival in Japan with The Cult and Slipknot were on the bill too. Then I got to know him much better and become friends over the last few years mainly through jamming on Cult and other rock stuff with him in Camp Freddy.
Me and Corey were the first actual known guys on after the house band and the compare and we did 'Lil' Devil' and 'Love Removal Machine'.
The biggest thing I remember about the actual gig was being struck by how big the stage was. That might sound strange as I'd played Wembley a few times before with The Cult but at the Marshall gig the house band all stood behind a certain line on the stage and there was only me and Corey out front, whereas with The Cult all our gear was set up to fill the stage.
I remember walking out and thinking "Jesus, this is a lot of acreage!". I didn't have the time to think about it going badly but it really did go great and captured a lot of energy. Corey was buzzed 'cos he's a big Cult fan and loves singing the stuff though I think he was just worried about doing the songs justice. Often if I'm playing the guitar parts for someone else's song I want to do it justice… I want to be me but I want to honor what they did. Singers are the same. No singer is ever going to sound like Ian but they want to do justice to the song and make sure the fans get a good experience. Corey was really happy 'cos it genuinely went down really well.
After I'd done my bit I hung out for a bit with some of my mates who were on the bill. I knew several of the guys playing… particularly Nicko from Iron Maiden and Glenn Hughes from Deep Purple. Zakk Wylde's been a good buddy of mine for years and he was amazing that night, stunning. It was quite special too as I also met Andy Fraser, the bassist from Free, and anybody who knows me knows I am a huge Free fan.
The only downside was that I had to leave before the end so missed out on getting back onstage for the 'Smoke on the Water' mega guitar jam at the end… but at least I got to do it in the sound check… even if I was in the wrong key!
All in all it was a great atmosphere and a fitting celebration of the life of Jim Marshall."
Billy Duffy – March 2013