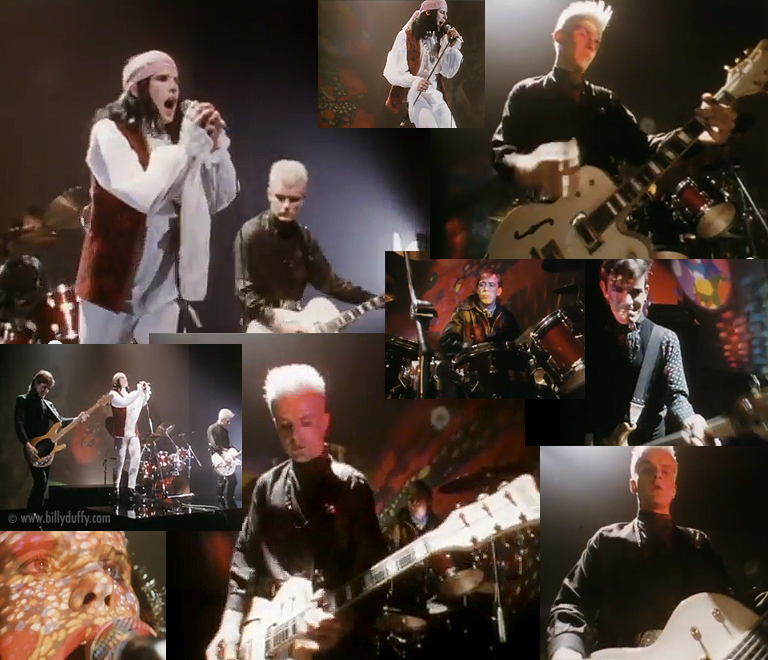 "The 'She Sells Santuary' video was our second attempt at making a music video and it was our first big budget one costing the princely sum of £25,000, which was a lot of money in those days. 'Ressurection Joe' only cost £5,000 but I really didn't like that one, I was really embarrassed by the acting bit, I was hardly in it and all I ever said on the shoot at the time was "when are going to get to play music in this video?". Therefore my first experience wasn't that great and I thought it was kind of comical but with 'Sanctuary' we went for something much better, that was more obvious with a performance video on a stage set.
We'd hired a theatre in Wimbledon and everything was set, a team had been assembled and it was all wonderful. We were told to show up in the morning with all our stage gear though we didn't have to take amps as it was just about capturing us playing, remember, we looked pretty glorious in those days!
We all showed up in the morning and obviously this was a massive amount of money, our first big shoot and after a while everyone was like "where's Nigel Preston?… there's no drummer!". Time was ticking away, we're waiting to start filming. The main problem with him not being there on time was that generally they do the big crane shots of the whole stage first and then capture individual close ups later, as the priority is to get the band looking good. You couldn't shoot Ian, the singer, with no drummer sitting behind the drum kit! So we started panicking as we didn't know where Nigel was; you have to remember that in those days there were no cell phones, this was 1985, there wasn't even pagers then either.
This was a real concern as we only had the one day booked for filming, everything had been hired in, the director, the crew, the lackies, sandwich makers and towel folders… all that retinue of nonsense that went along with making a video in those days. For us it was a gamble too, you have to remember that whilst Beggars Banquet were paying for the video it was ultimately the bands' money as they were 'loaning' us the money to make it.
I'd known Nigel since my Theatre of Hate days, when he was the drummer in the band towards the end. We knew he had some 'lifestyle' habits that were a little bit challenging but we were trying to work around that addiction type of stuff. He was a great drummer, a really good friend of mine, a lovely guy but he was prone to crazy stuff happening. So with him missing the only option for the shoot seemed to be to get our trusty drum roadie, Tim Green (who is featured elsewhere in this website too) to sit in and pretend to play drums.
At that point our managers, Ian Grant and Alan Edwards, called up because they were aware of the problem and they said "Mark Brzezicki, the drummer from Big Country, is coming into town to do a session and he can stop off and just mime if you really want". Also by this point in the day we'd discovered that Nigel had been arrested at 7am that morning in North London driving a car that wasn't his, which was interesting as he didn't have a driving licence either at the time. I can only image what someone would be doing out in the wee hours at that time of the morning, what type of things you would be procuring but I don't think they'd be anything relevant to a video shoot. He certainly wasn't getting his hair cut or getting some fancy clothes, which is what you'd normally do to get yourself together for a video! Unfortunately Nigel was either held in prison in Holloway or in a cop shop somewhere in North London so we couldn't get access to him for the shoot that day.
Anyway, we ended up using Mark Brzezicki who came and sat in for the shoot. It was very a prophetic and important moment for the band because Mark came in, we just put a leather jacket on him, he sat down, he listened to the song, banged out the beat, we took all the shots we needed and then he left. We were like "He's a nice chap". We'd never really met him properly before, though The Cult had opened for Big Country on a tour at the end of '84 which was the first time we'd played big arenas. The band were great, the crowds were great and we had the same managers as them, so that was the connection there.
So Mark sat in, did a great job with no fuss and obviously that was the final straw for Nigel in terms of him being a liability in the band. There had been many drug related bombshells that Nigel dropped on us before but that was the one that ultimately lead to his demise in The Cult.
We loved Nigel and thought he was the best guy in the world but he unfortunately had that rock'n'roll casualty personality so you almost felt it was inevitable that he wouldn't come to a good end. It's a real shame that he's not around anymore as he died in 1992.
Obviously at that point 'She Sells Sanctuary' had already been recorded with Nigel on the drums but we'd had some problems with him in the studio too. His drinking had affected his performance, though with a bit of work we overcame that so it didn't effect the final recording. We were about to start recording the 'Love' album but with Nigel was out of the band we got Mark in to play drums because he was a session player anyway.
So Nigel is the drummer on 'Sanctuary' but he is not the drummer on the rest of the 'Love' album as it's Mark Brzezicki, which is the irony of all ironies that the drummer in the video for 'She Sells Sanctuary' didn't play on the recording of that track but he played on all the other songs on the album that it appeared on!
Soon after we finished the 'Love' The Cult we booked to do our second appearance on the TV show 'The Tube' with Jools Holland. Mark was going to sit in on drums because we hadn't hired a permanent drummer, as it was before we got Les Warner. We rehearsed with Mark, flew up there but the TV engineers union went on strike and the show was cancelled. Therefore we couldn't play and ended up just sitting around for the day. That meant we never ever played live with Mark at the time of 'Love' though much later, in 2009, he did get on stage with us at the Albert Hall for the 'Love' anniversary show. Mark and Jamie came on for the encore and they did 'The Phoenix' and 'Sanctuary' with us, which was a treat for the fans and us too.
Because we were all so happy with how the 'Sanctuary' video turned out we then went on to use the same director, Tony Van DenEnde, on all three videos from the 'Love' album. I still love this video, the angles were nice, we looked good, it captured a bit of smoke and a bit of flag waving from Ian and it kind of had that magic. For me it ended up being a classic video."
Billy Duffy – January 2013
Watch the 'She Sells Sanctuary' video here