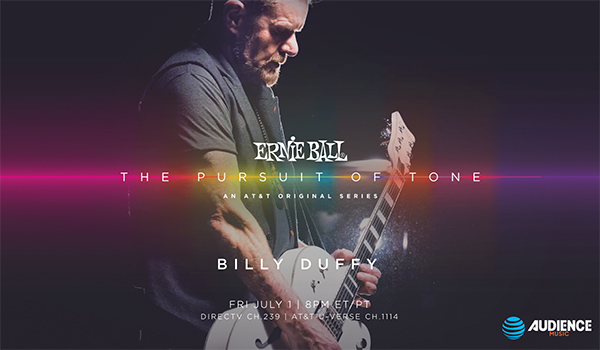 "My relationship with Ernie Ball goes back a long way in that I've used their strings since forever. In fact, I honestly can't remember ever using any other stings in all the years I've been playing, right since high school. I even said at one point "Does anyone else even make strings?". So, back in January when they invited me to do a signing session on their stand at NAMM I was happy to go along.
While I was there I hooked up with Dustin Hinz from Ernie Ball who I knew from when he worked at Guitar Center and was responsible for getting The Cult on the Guitar Centre Sessions in 2010. We were one of the early pioneers of that show and it went on to be massive with tons of episodes. Anyway, he said "I'm working on this series of shows called "The Pursuit of Tone" for Ernie Ball and would I be interested?" He told me that it was a partnership between Ernie Ball, Direct TV and AT&T here in the States and it features different types of guitar players in hour long episodes. What appealed to me was the fact that it's not really so much technical as about the passion for playing and gives an insight into the psychology of the guitarist… a more humanistic look at it I suppose. Even the title seemed just right as obviously the 'tone' thing has always been really important to me and everyone who knows me knows that I'm always trying to push the envelope and get the guitar to sound better and have more feeling. I'm really more of a gut player than a technical one.
So, once I was in I met with Dustin (who was producing the show) and the director Haven Lamoureux and as each episode is tailored to the individual guitarist we discussed what the content would be. They were like "what are you into… how can we depict that with the resources and budget that we have and when's everybody available?". Lucky the stars aligned and it came together in a cool way…. I was in Los Angeles…. The Cult were playing… and then I had a couple of days off afterwards when I could do more shooting. In total it was a three day shoot and a perfect combination of art, reality and practicality. I was also happy to do it as I thought just like the Guitar Centre Sessions they'll curate good people … like Mike Ness from Social D was in the pilot and right before me is Buddy Guy, who by coincidence was on the Guitar Centre Session right before The Cult.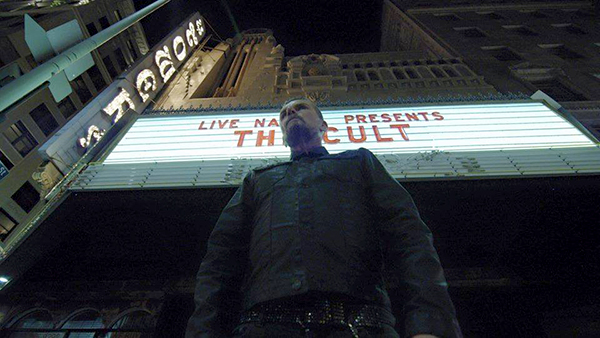 We kicked off the filming on the day of The Cult show at The Tower Theatre in Los Angeles which was around the launch of 'Hidden City'. Ian and the band were really supportive which is a testament to how cool the team working on the filming were as they they trod all over that Cult gig.
Then the other two days were the counterpoint to my playing and focused on the background like what I like to do when I'm not playing guitar. They filmed me riding my black Triumph in Malibu which is something I do as I love the wide open spaces and freedom of the bike. Riding in southern California down the Pacific Coast Highway in lovely weather is always fun… and doing it for a purpose was great!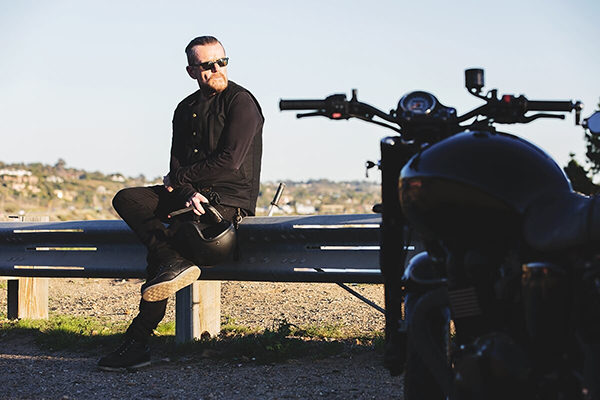 We also went and shot in 'Norm's Guitar Shop' in the valley, where an old friend of mine works, and is a place I frequent from time to time on the look-out for cool vintage guitars. As we wanted to cover what inspired me as a kid like when I was going to record stores in Manchester and flipping through vinyl we filmed at Amoeba Music on Sunset Boulevard which is just about the only record store left in LA!
I think one of the things I liked about filming 'The Pursuit of Tone' was having enough time to express myself. Talking about where I came from… what inspired me… giving people an insight.  I don't want to over labour the story about Manchester punk and pre-punk but it was a good opportunity to just document it on film. With the 40th anniversary of punk the interest in that era has multiplied almost from an anthropological point of view.  The truth is that's why things in my music are slightly different from other bands who grew up in different places who might play similar stuff but their identity and music are quite different.
Looking back on the filming it was a lot of fun which it hasn't always been as those things can be super tedious but these days the process of making videos and this kind of stuff has become a lot quicker. I think with the digital equipment it's more user friendly so there's less people involved and less fuss. It was a very busy three days, I will tell you that, full on with a lot of filming and it was very time consuming… but in a good way.
I trusted the guys at Ernie Ball… Dustin and Haven were really cool and did a great job making me feel comfortable which ultimately got the best out of me. I'm not just saying that, they genuinely made the process really good so I think they're going to get good art.
After the filming was over they wanted me involved in the editing but as I can't stand looking or listening to myself I let my manager Tom Vitorino look at it on my behalf. He made some very good suggestions about the cutting to make it more dynamic. It can be a bit dry when you're just talking to a guy on camera because it's a visual medium… so for example like when I'm talking about Manchester in the 1970s Tom suggested it would be handy to have some pictures from the era so people can see it rather than just hear me. More importantly he had the objectivity when watching it rather than me looking at it getting all embarrassed.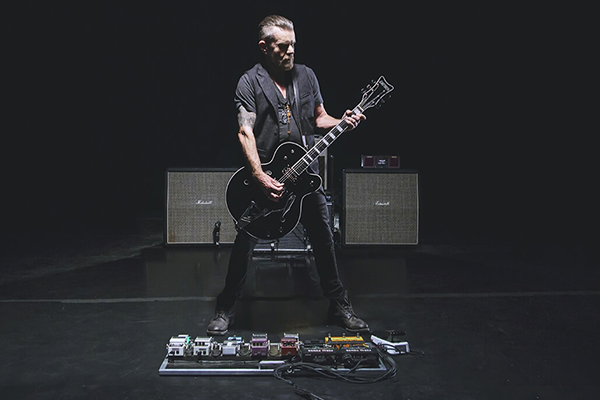 I think the problem goes back to when I made that reality TV series 'Married to Rock' and I  saw one clip of me in the car when I'd had too much caffeine and I thought "I look like a complete buffoon", so after that experience I was like "No… never again". It also means I've not seen the finished show, because I won't watch it, but Tom and everyone who has seen it were really impressed and it's not about Billy Duffy it's about exploration of music and tone.
So, enjoy the show and let me know what you think. "
Billy Duffy – June 2016
Watch the trailer here…
Billy Duffy 'The Pursuit of Tone' airs on Friday 1st July at 8pm ET/PT
on DIRECTV CH.239 and AT&T U-VERSE CH.1114