"Thanks to everyone who took the time to send in questions and it's been fun answering some of the best ones. In fact there were so many that I will be running at least two parts to this story so if your question isn't here keep checking back as I may get to it in the next round.
Before I get into the first ones there were a couple of re-occurring questions that its easier to answer up front.
Firstly "Can we play in your town, city or country, as we haven't been there for too long." In answer when we plan a tour or run of shows we need to obviously take into consideration the logistics of getting from venue to venue as well as the financial aspect of the costs of putting on a tour. Whilst we'd love to get to everywhere that we have fans these aspects have to be considered and unfortunately that means that some places we can't get to as often as we'd all like.
The other popular question was "Why isn't X, Y or Z song in your set list?" When you consider the sheer number of songs that we've written over the years there will always be ones that never make it into a set for a whole ream of reasons. I've previously covered how set lists get put together and you can read that here… "
The louder you scream the faster we go
Billy  x
July 2014
So now to your questions…
Q. Hi Billy, you've written some pretty cool guitar rifts but is there one particular riff by another guitarist that you wish you had written?
Thanks Amanda :))
Billy: "There's many, but the first one that comes to mind is 'Alright Now' by Free. I say that because it's a guitar riff that's so good that you don't need bass guitar at all… just guitar and drums. That's why that one springs to mind because it's so effective.
Q. Do you ever write your material on acoustic guitar?
Darrell A.J. Ducharme
Billy: "Hardly ever, in fact I can't think of one song that I've written on an acoustic and it's never something that I reach for when I writing. Thinking about it, it's possibly because most of my songs have been written on my White Falcon which is usually sitting around the house and as its a big hollow body it sounds almost acoustic when it not plugged in.
I usually write on my guitar but sometimes I write riffs on a bass and just one time I wrote a song on a piano, which was  'If' on the 'Ceremony' album. For songs with acoustic on them I work that out after I've written the actual song on an electric."
Q. What did you have in terms of guitar lessons? I've heard a lot of folk say they just picked up the guitar and that was it but when you read between the lines they were a classically trained guitarist or pianist. Did the punk mentality shine through.? Chris Bray (also asked by Adrian Alden)
Billy: "When I first started with friends in my high school band it was literally jamming and learning off each other. In fact I was in a band before I could actually play!
I learnt chords from The Animals 'House of the Rising Sun' and bizarrely the first thing I ever tried to learn to play on guitar was slide which I was terrible at but it seemed to me that it was something that you only needed one finger for!
I originally learnt to play lead guitar by buying a magazine called 'Improvising Rock Guitar' which came with a flexi disk on the front of it. I remember that the guitar player was a guy called Pat Thrall and there were two songs, one was a 'Black Magic Woman' Carlos Santana type homage and the other was a little more blues rock.
This is a bit of a confessional now… after 'Electric' and before 'Sonic Temple' I felt that I wanted to improve and challenge myself so had a kind of 'lesson'. Up to that point I had just made it up as I went along but at that time I felt that I didn't have enough knowledge of how lead guitar should be done. I met a guy called Kurt (who I'm still friends with) who was playing with Steve Jones at the time. He was also a guitar teacher and I went round to his house and I wouldn't call it a lesson as such but I just wanted to be shown a few things and new ways to approach the guitar. When I suggested getting together to jam I think he was a bit freaked out by it as I was already a pretty successful guitarist at that point. I didn't want to be so arrogant to think I'd got it all figured out so we just jammed and I learnt some stuff off him."
Q. Hi Billy do you have a device that you save riffs on for future use because you must have times that are productive. CTID
Andrew Hamilton (also asked by Jesse Sanchez)
Billy: "Yes that's exactly how I work. The riffs just come up when they come up and these days I just record them onto my iPhone and name them. I can have 40, 50 ideas, maybe more, just stored on my iPhone but I never sit down and think "right, I'm going to write a riff today", they usually just come out and I reach for my phone and think "that's interesting, where did that come from".
In the past I used a Sony Professional Walkman which was a cassette Walkman that had a really, really good quality stereo mic built in. I still actually own it and I actually stumbled across it the other day in the deep recess of a closet.
So I'd record my riffs onto tape with that and The Cult (like most bands back then) would pass cassettes back and forth. Rehearsals would be recorded on cassettes too.
But times have moved on and The Cult have definitely hit the digital age as now I can email my iPhone recordings to the guys."
Q. Looking back over your time in bands when do think you had the best haircut?
Chris Wood
Billy: "This is very good question as I think how good your haircut is in rock n roll is as vitally important as to what guitar you're playing! I've had some horrors over the years and at times been forced to go public with transitional hair dos.
As for my best haircut I liked my platinum blonde haircut on the 'Love' album I thought I looked pretty sharp there. Not eating very often also helped with the cheekbones to show off the haircut!
I also think that the one that I had in '94 was pretty good, blonde, long on the top, short on the sides from the 'The Cult' album period. I know there' a lot of photos from around then where it looks good."
Q. I love the artwork surrounding you and The Cult. What is your favourite piece of visual art connected to you? Can I also ask in the wider field of music, what is the most moving and memorable images?
Andy McDonald
Billy: "That's difficult as so much of our artwork has been so good and Ian has been instrumental in that. Thinking about it and not coming from an egotistical point of view but from my personal standpoint I'd say 'Sonic Temple'. I think that the concept of that album worked really well and that helps make it my favourite. We wanted an image that defined where The Cult at the time… a full bore, living it rock band, having it best as we could. The album cover needed to say that but in a kind of cool way. That iconic image of a guitar player with his hand in the air, ready to hit the big power chord was inspired by working with Ian and the English art guy Nick Egan, who'd worked with us on a bunch of stuff before. Looking at what would be iconic I thought of The Who's Pete Townsend who I'd seen live and thought he was amazing and there's lots of photos of him jumping in the air, the windmill, doing his stuff. I felt similarly about Jimmy Page but the photos of Townsend visually spoke to me and said "this guy means it, this is real visceral rock n roll". So we took that and mixed it with the imagery of  'The Free Story' which was a rare album, an import, that I had when I was a kid and it featured a cartoon of the band's gear in a spotlight on the stage, and similarly Freddie Mercury in the spotlight on the cover of the first Queen album. So that was the concept behind the 'Sonic Temple' cover.
I also love the photos of me on the sleeve of the 'Love' album, the whole image of the psychedelic biker with the white hair, leather pants, Triumph belt. That was strong from a personal level.
As for other band's stuff there's just too many to pick one. From back as a kid seeing record sleeves and just going wow… that was part of the magic of music and the cover just inspired you. My head just starts whirring when I think of all the imagery I've loved, even just as a kid… The Stooges 'Raw Power'… New York Dolls, The Pistols… I even liked some of the hippy sleeves from Hipgnosis, I couldn't stand the music but loved the sleeves because they took my mind visually to another place.
How much inspiring music artwork I've seen in my life is another story about and maybe I'll do that for the site when I've got more time!
Q. What's one of the craziest things that have happened to you while on tour?
Greg Graf
Billy: "Generally crazy things don't happen to me but probably the one thing that jumps out as most memorable was the crash in The Cult tour bus in 2012. If you look at that from an outside point of view you'd go "wow that was pretty scary" but it all happened so quickly that I wasn't sure what was going on until it was already over. It's weird but I'm sure that's how other people feel when they go through similar experiences. It happened at night and at the time I was really ill with chronic food poisoning. I was so ill that I was having one of those nights where you get the chills and the sweats all night long, curled up in a bunk on the bus and I almost felt like I was going to die from that, then I hoped I was going to die so the bus crash would have been a blessed relief from the way I was feeling!
It happened in Croatia and the bus driver fell asleep at the wheel which was ironic as it was just after we'd had a two day rest in the beautiful town of Split. To get there we'd had a couple of long, horracious 24 hour bus drives through Serbia and Hungary. When we got to Croatia we'd chilled out by the beach and it was a really pleasant experience followed by an amazing gig at the Spaladium Arena.
After the show we got on the bus to head to Slovenia and I don't know what happened, the poor bus driver must have got too relaxed on his days off because he fell asleep at the wheel. The countryside on the coast of Croatia is very hilly and a lot like California with the ocean on one side and a lot of mountains on the other. We were just about to go over a bridge and we hit a rail, thankfully that stopped us going over the edge as if we had there would definitely been fatalities because the drop was massive. The driver was in shock after as obviously he'd have been just as dead as the rest of us. In true rock n roll style the show went on and we played that evening in Ljubljana.
So it wasn't our time and we're destined to make another record!"
Q. What, if any, kind of ear protection has allowed you to still gauge pick attack, hear the highs, and save the ears?
Jeff Krisel
Billy: "I used to be excessively loud, especially when I was drinking but I've tempered that a bit now. I have my ears checked periodically and I have normal hearing for a guy of my age so thankfully there's been no permanent damage.
When we do a lot of gigs back to back or if a stage is particularly noisy I'll use cotton wool balls or occasionally very low quality ear plugs. Volume on stage is dictated by the drum kit as being an acoustic instrument it's as loud as it is, particularly snare drum and cymbals, so everything gets set onstage with that in mind and that is heightened if it's a small stage and we're crammed together.
Generally I try not to use in-ears and most guitar players don't use them either. The interaction between you, the guitar, the stage, the cabinets, that's really organic. At least certainly for the kind of music that I want to make and when you start using in-ears it's like listening to music on your iPhone and I can't engage. If you look at a video of Jimi Hendrix at Monterey with him, the guitar and the amplifier that sums it up that interaction better than I could ever describe.
I once tried using them and ended up pulling one out and then I was blasting one ear which was crazy, so never again.
Q.  What's printed on your dog tags that you wear around your neck?
Jak Pare'
BD: "I've been wearing these black ones lately that Ian got made on the internet for the Love Live tour. They're stamped metal and a take on what a real military dog tag would be with the name and date of birth but done in a rock n roll way featuring THE CULT and our formed date.

The silver ones are mostly from Chrome Hearts, a Jewelry company based in LA, who I've been friends with since the mid 1980s.
These ones I got when I played the opening party of their store in Vegas in the 2000s. It has their logo on one side and the other says 'Fuck You', which is not my sentiment it just appears on a lot of their designs.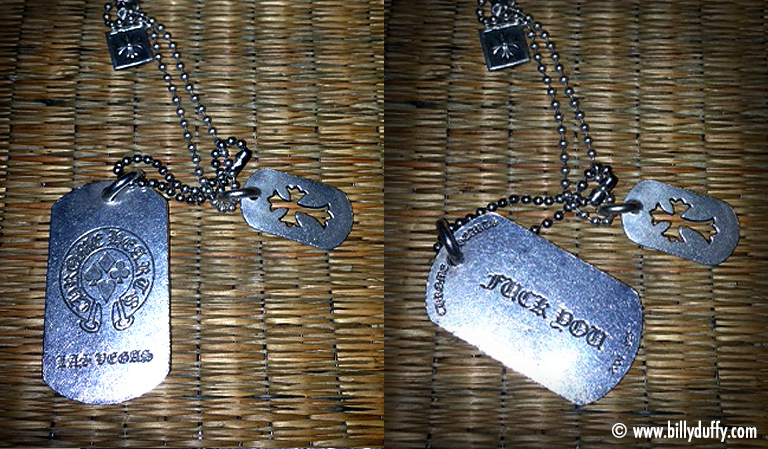 These ones have a Union Jack on the front and the reverse says 'God Bless Steve Jones' which is a sentiment we can all get behind!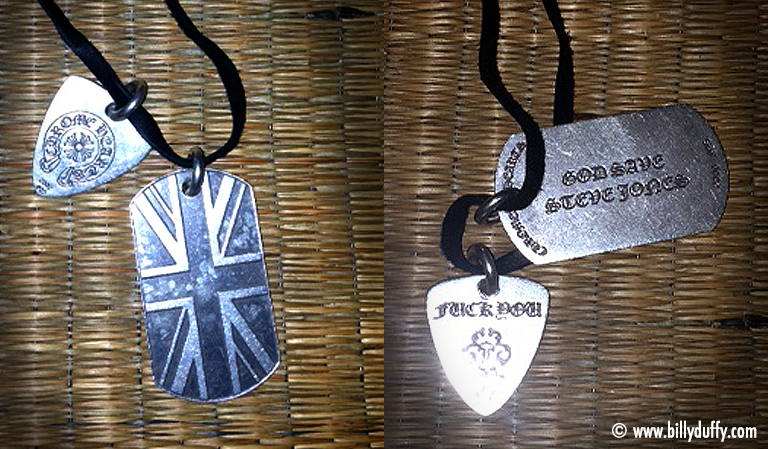 This set were a gift and I don't think I've worn on stage before and they're from Vivienne Westwood and feature 'Too Fast To Live Too Young To Die" from the pre Seditionaries', Let it Rock Era. I like these because they connect me back to London and the Kings Road and that era of my life
Q. One of my favourite Cult albums is BEYOND GOOD AND EVIL. We know that you guys recorded near to 60 songs during the sessions for BGE that are held up by Atlantic…Do you guys and us have a chance of ever getting the tracks left out released/available in any way??
Julian R. Knihs
Billy: "With that being the first album after a few years break it took a while for me and Ian to click with the new guys, Matt Sorum (ex Guns n Roses) and Martyn LeNoble (ex Porno for Pyros). We had one song 'Libertine' which was the only song we had initially and that's not even on the album but it ended up as an additional track on the Australian and Japanese release.
There definitely weren't 60 songs recorded though, there were a few sketchy ideas that we stared but never got completed. Like all albums there are a few odds and sods left over and I know there were 2 or 3 songs left unfinished but they were just pieces. I can remember one of those was called 'Silver and Gold' but it was unfinished so never released.
That album is unavailable now which is a shame cos I'd love to see that out again as it's definitely one of our heavier, darker albums and appeals the type of fan that likes that certain feel."
Q. Do you sometimes get fed up playing old hits like "She Sells Sanctuary" live on stage?
Tankred
Billy: "I never get sick of playing 'Sanctuary', ever. There are certain songs that we're not as fond of playing and all for our own personal reasons. For me some songs are not as easy to play as others or they're more demanding on stage usually due to the way that they were put together in the studio like with different guitars in one song.
But 'Sanctuary' and 'Rain' we never tire of playing those, never in all the years there's like a magic between the band and the crowd, and thinking about it probably the same for 'Wildflower' and 'Love Removal'."
Q. Huge fan (just like many others). I was wondering what is your favorite feature of your signature White Falcon? Rock on!
Chuck Sedey
Billy: "All the Falcons that Gretsch make are great guitars anyway but I think for me it was getting them to make my Signature edition with the silver binding. Historically the White Falcons have been made with Gold binding to match the gold finish hardware but on my 'Sanctuary' Falcon that gold had worn away through years of playing to expose the silver beneath. That inspired me to push for that on my model and the fact that it worked so well in the white and silver is what made it so special for me."
Q. If you were putting together a tour festival with 4 other bands to be included on the bill, which 4 bands would you choose and why?
Mike Miranda
Billy: "The Beatles, Led Zeppelin, Free and The Spiders From Mars would be my fantasy four line-up. Basically from a selfish point of view they are the four bands that I've loved but was never able to see live with the original line ups in their prime. Bowie in the Ziggy period with Mick Ronson on guitar would be magic and when I say the Beatles I'm visualizing them in the post Rubber Soul period when they'd all discovered drugs and grown beards. I was never really a fab four kind of guy but I liked that creative tension towards the end. I'd love to have seen a full gig by the roof top band from 1969 and seen who punched out who first!"
Q: Hi there Billy, in my eyes and probably millions of other Cult fans you are the best guitarist in the world, but who is your favorite?
Andrew Kemp
Billy: "I've actually been thinking about that lately and I have to say that over the years I've spoken a lot about my various guitar heroes (Page, Ronson, Thunders, Jonesy etc etc) but one I've never name checked that I'm finally going to do is Jimi Hendrix. It goes without saying that a great guitar player needs technical ability but to me he is an encompassing combination of all the facets of guitar playing that are more than that… being at one with the guitar, fearless, inventive, sexy, aggressive, violent, dangerous! Those things are embodied in part by most great guitar players but he had them all. When I see him on film in his full flow he was kind of amazing… so literally today its time to honour Jimi Hendrix and his god like genius!"
Interview by Mick Peek – July 2014 © www.billyduffy.com 2014 – All rights reserved. No part of this article may be reproduced or transmitted in any form or by any means, including photocopying and recording, or by any information storage and retrieval system without the prior written permission of the publisher.