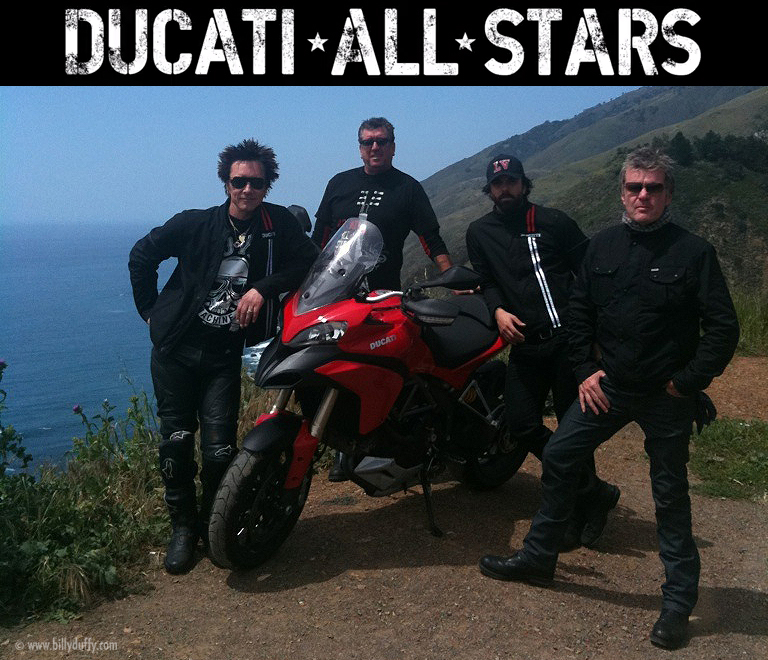 "The idea for the Ducati All Stars originally came from Billy (Morrison) and Jonsey (Steve Jones) who were both part of the Hellfire Canyon Club, which is a bunch of guys in LA get together to ride motorcycles around for fun. Anyway they put the idea to Jason Chinnock who works for Ducati and is a massive music fan and he pulled it together. Initially the All Stars was an 'Electric' thing involving one or two gigs that I wasn't involved with but then I got involved and we decided to take it on the road as an acoustic tour.
The idea was that we could promote the new upgraded Ducati Multistrada motorcycle by us taking a road trip from Los Angeles up to Seattle and stopping at several bike dealerships on the way and doing intimate acoustic shows filming it as we went along. It was a bit like the 'Camp Freddy' thing, a fun band of guys who rode bikes and who could play.
We did the rehearsals in my house as I've got a reasonably big living room and everyone just came along and we sat around and jammed the songs out. It was a really good vibe and it started the whole thing off really well. I'd just moved into the house and I really liked having all my friends over and doing something organically really good with them. We worked out the arrangements of the songs communally as everyone was a pretty gifted muso, but we didn't want to spend too much time worrying about the music as it was more of a fun thing. The whole deal was more about the bikes and us actually riding them between the shows. It was then like a 'cocktail party' at the dealerships to show off the Multistradas but made all the better by the fact that they'd been ridden there by a bunch of rock stars, riding them as they are meant to be ridden up one of the most beautiful places to ride a bike in the world, the west coast of the States.
The think about Ducati is that it's kind of a 'boutique' brand and like Triumph they attract a certain kind of hipster crowd. All the dealerships were great, really fun places, the one in Portland, Motocorsa, was like a nightclub with Espresso machines and a whole Italianate style vibeOne of the best gigs was in San Francisco at a really cool store called Monroe Motors. It's been around since the late fifties and sells Ducatis, Triumphs and obscure but cool bikes and all the hipster San Francisco riders hang out there. It was amazing and San Franciso is one of my favorite cities in the world.
The following morning we stared of by doing a photo shoot with the guys then we drove over 350 miles to a place called 'Weed'! It's amazing there is actually a place in California called Weed, it's right on the border with Oregon and they even sell T-Shirts there that say "Yes, it really is called Weed". On that part of the trip was we were lucky though 'cos we missed snow by just a day, and I'd never ridden a motorbike in the snow before, but they'd cleared the roads.
Me, Jonesy and Billy were on the Multistradas whilst Frankie (Perez) rode his own Ducati Streetfighter up, I don't know how he did that, as it's more of a café racer. As well as us four on the bikes there was also a chase van with all the equipment for the gigs and some of our luggage but we rode the whole distance up there. We did 2,000 miles in seven days on the bikes plus six gigs starting off in Santa Barbara and finishing off in Seattle. The amount of riding we did varied as it was dependent on the location of the dealerships but we did over 350 miles one of the days.
We did some amazing riding in Northern California but we ended up nearly freezing to death when we got to Weed 'cos we mapped out the journey but nobody took into account the time of year and elevation of the mountains between California and Oregon.
The weather was mostly great apart from the snow up at Weed and then the drive between Portland and Seattle was absolutely torrential 'English style' rain bouncing off the road. It meant you couldn't see clearly which was pretty scary. What I can say is that three out of the four guys rode the entire journey but one guy at that point, in the rain, sat it out in the support truck and got Jason from Ducati to sit in on his bike for the last leg! I'm not willing to state which guy it was… but it wasn't me but if you want to know who it was then watch the videos below!
We obviously obeyed all the posted speed limits at all times… in inverted commas and nobody go caught speeding. There was a hierarchy of rider ability and the need for speed. Anybody that rides motorbikes on long journeys knows that, there's a sort of routine and procedure almost like a law of bikers about how you ride together to keep it safe and let each other know if there's cops ahead, speed traps. The Multastrada was amazing especially as I did 2,000 miles in one week and I didn't get a single sore muscle!
The gigs themselves were great, really informal in the workshops at each dealership, with only 100-200 people literally sat on the floor and us with acoustic guitars. We did around 40 minutes each night and played a bunch of covers including 'Pinball Wizard', 'Wish You Were Here' 'Sympathy for the Devil' 'Rebel Yell' and 'Fire Woman' as we had to do a Cult song of course. Jonesy did a version of 'Motorbiking' the Chris Spedding song too. I didn't sing any songs soI was basically the lead guitarist for all the songs we played, I had to know all the tricky, fiddly bits 'cos the other guys were singing. As well as singing Franky had a little percussion set up too.
In the early eighties I could ride a bit 'cos my old girlfriend at the time had one and I learnt to ride on her motorbike but I was a poor rider. Then in 1987 I met Jonesy when I was in L.A. recording with The Cult and he had a Harley and was living the dream. He was the guy that really turned me onto motorbikes. That actually lead to me moving there in 1988 and basing myself out of LA, that impression of meeting Steve on his Harley and in those days you didn't even need to wear a motorcycle helmet. It was very free and easy and you barely had to pass a test, you could ride a big Harley on a learners permit. It was completely the opposite to Britain and that freedom, lack of red tape, lack of health and safety really appealed to me. It was very significant to me and with the Ducati trip we came full circle. I still ride with Jonesy, its one of my hobbies, I'm not claiming to be a big biker guy like hi though as he's got five bikes and I've only got one!
Since the Ducati tour I've not ridden as much as I'd like as I've been hyper busy all over the place with The Cult but looking back I have to say It really was one of the best things I've ever done in my life, I had so much fun and I'm so happy I did it."
Billy Duffy – January 2013

The Ducati All Stars – Acoustic Shows
Billy Duffy
Steve Jones
Billy Morrison
Franky Perez
Apr 17/2010 – Ducati Santa Barbara, Santa Barbara, California
Apr 18/2010 – Moto Italiano, Santa Cruz, California
Apr 20/2010 – Munroe Motors, San Francisco, California
Apr 22/2010 – Ducati Eugene, Eugene, Oregon
Apr 23/2010 – Motocorsa, Portland, Oregon
Apr 24/2010 – Ducati Seattle, Seattle, Washington
Ducati All Stars – Videos