On Sunday 20th May 1984 The Cult played a show at the Lyceum Theatre in London, UK. The show was recorded and filmed and later released in the UK as a free album with initial 30,000 copies of the Dreamtime LP and also as side 2 of the Dreamtime cassette. In November 1996  'Dreamtime Live at the Lyceum'  was remastered, and the full show released on video and CD.
On the 30th Anniversary of the show we asked you for your memories and here are a few of them…
"I was there and did most of the tour, and can't believe it's 30 yrs either but still some of the best memories of my life, hitch hiking around the country from gig to gig (can't do that any more!!) sleeping n washing up wherever we could, what bloody fabulous times, wish it could have gone on forever !! Thanks much xxx"
Alison McLaren
"I went to 11 of the 13 date tour including the Lyceum gig ! For me The Cult at there best . I had an amazing time following The Cult all over the country an witnessed some incredible gigs ! RIP Nigel Preston who was a fantastic drummer! thanks Billy ,Ian , Jamie , an Nigel!"
Simon Gilmartin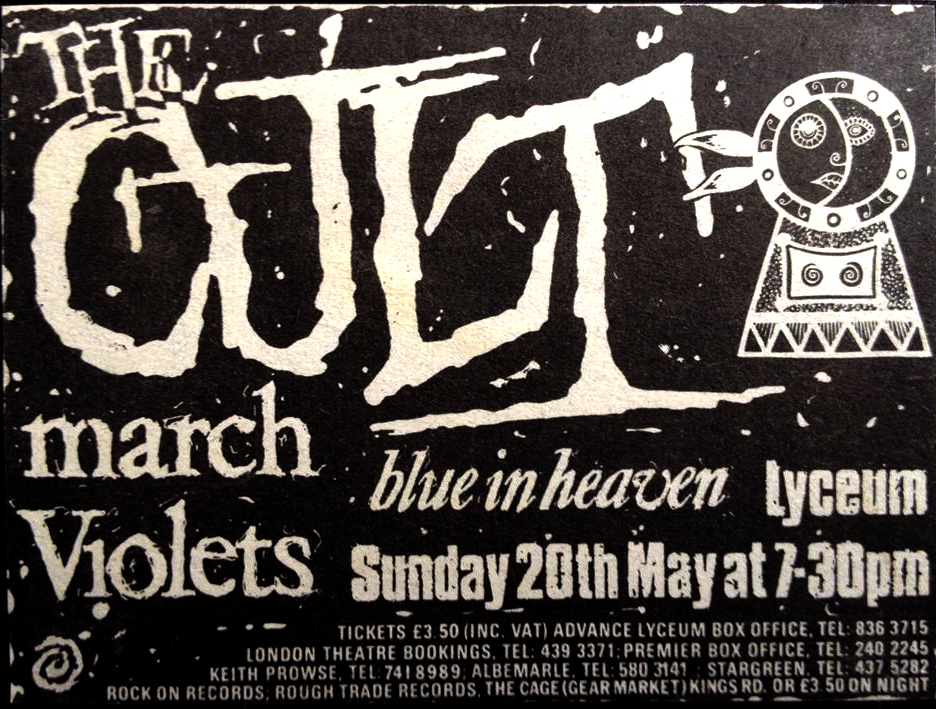 "Incredible that it was 30 years ago. I was there with my friend Maggie. Loved the Lyceum. We were young at the time – just 15. Got there when the doors opened – went straight to the front and got a couple of pints of snakebite and blackcurrant. As with most nights like it, came away slightly crushed and a bit bruised from being up against the barrier. We are just about visible in the video at the front. Gigs before that were SDC with Bauhaus, Brixton Ace and St Albans. Then too many to mention since. Bought every album since but Dreamtime is still my most heartfelt album because I was growing up with it."
Alison Niemira
"I was there and remember it well, here's a few pics I took from the circle, brilliant gig…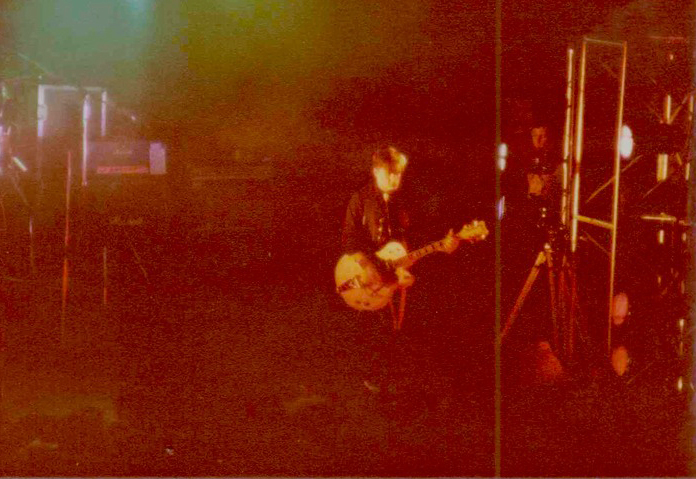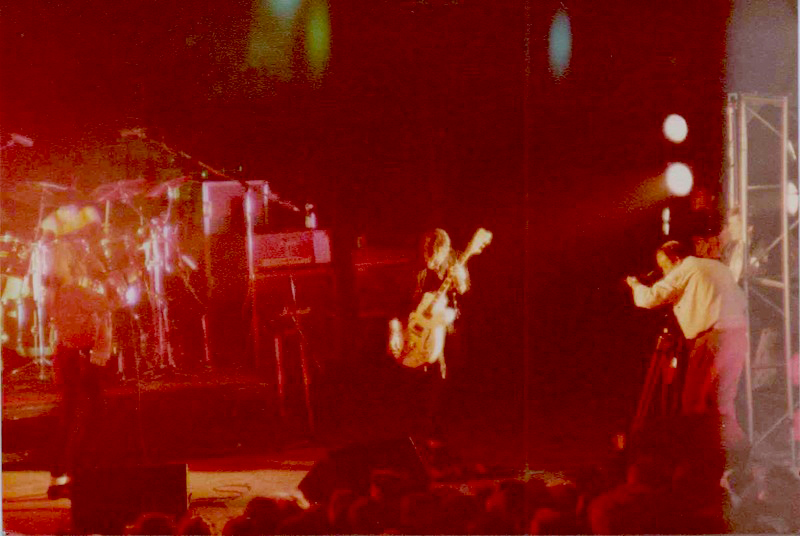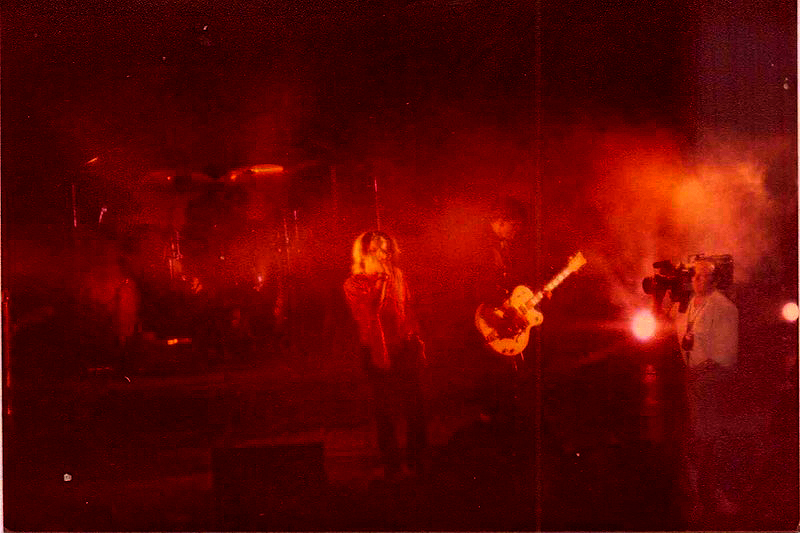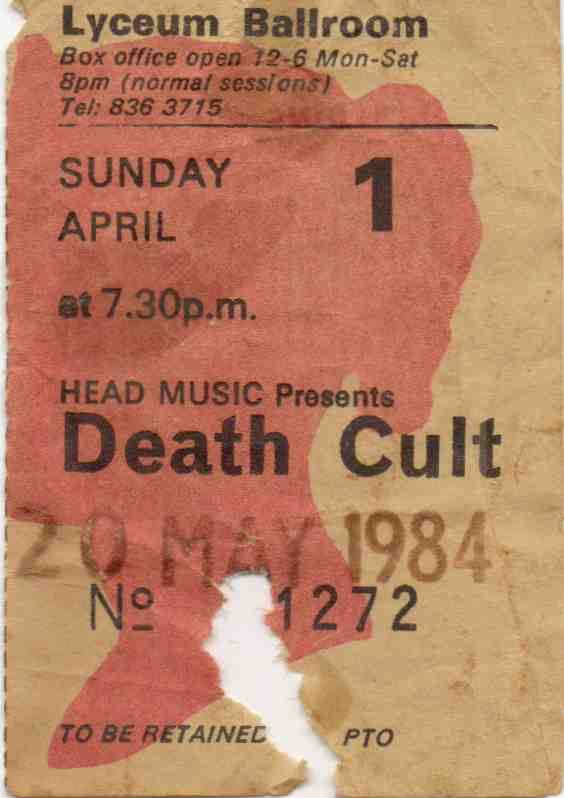 This is all that's left of my ticket stub, the date is stamped on as it was originally meant to be a death cult gig but then the name change came about but the promoters had already printed the tickets. I still remember Ian's rant…"we played our fuckin' hearts out for you tonight, the least you could do is show some appreciation…and you people at the back, or something like that, then the best version of Moya ever. Cant wait until altfest."
Keith Lawrence
"Went with Mick Peek, Dave Ralf, Lyndon Dempsey and loads more of the Crawley boys, on the live album just before the band come on you can hear some loud git giving it the la la la la la la la la, that's me, brilliant gig!"
Andy Roscoe
"As always up the front gave Billy my leather jacket to put on stage so I could mosh…always handed it back personally after, so I knew no encore!"
Lyndon Dempsey
"The Crawley boys where there and you can hear us singing at the beginning of the live recording..la la la la.. yes what a gig… my god now I feel old!
Lee Ahearn
"I was there I remember seeing you in muck donalds before the gig by Charing Cross station. Didn't the gimmick get left off the video?"
Stuart Barrett
"I was there. ….it remains one of the best gigs I've been to…the atmosphere was electric and as good as the recording was it was impossible to capture essence of how good the cult were that night…..great times."
Dinger Dinga
"Still one of the best gigs I ever went to still got my ticket.and to me the best line up of The Cult .its 30 years ago Dreamtime should get the deluxe box set treatment like Love with the gig remastered on dvd..just saying like."
Phil Beefy Bergin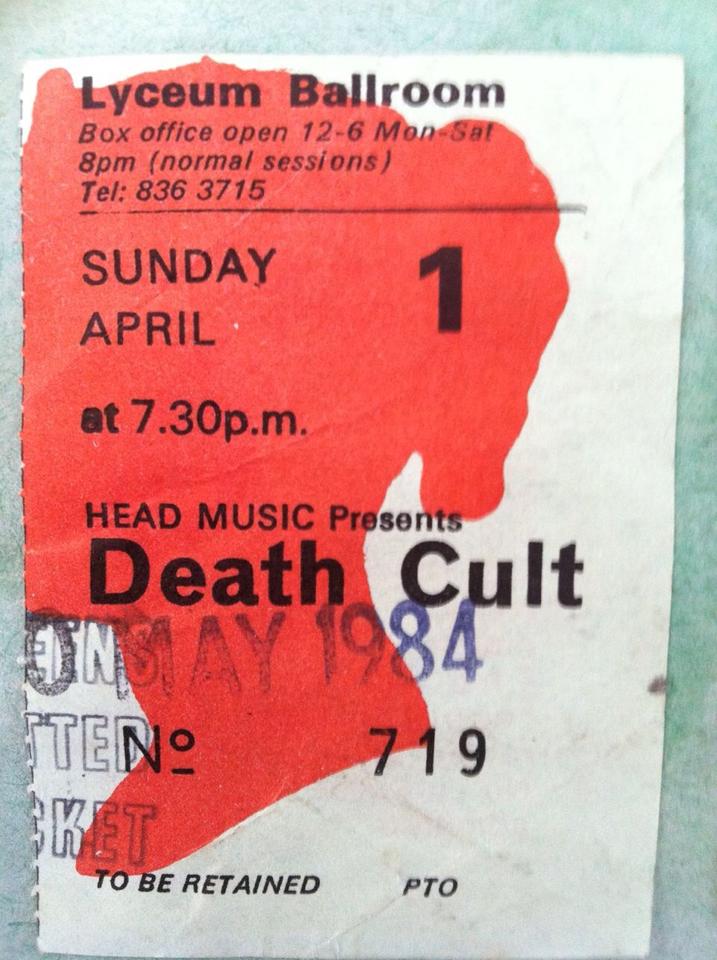 "It was my first Cult gig, the ticket as you can see still had Death Cult on it. I think I saw Stan Stammers at the bar. Great gig, and I still go whenever there is a UK show."
Pete Corse
"Best gig of my life and I have been to a few don't have a ticket stub was on the guest list x"
Annette Guner
"I was there and many more afterwards. I was just 17. here is my story of how it all began. The opening track was 83rd Dream. Four crows nailed to a wooded post, bleed upon a barren field. Ian walked out resplendent in his red soldier's jacket; blond and black hair, and stars and stripes war paint.  It was a shamanic site. Back then Billy looked much as he did in Theatre of Hate. Low slung White Falcon, slicked back black hair and as cool as yer like. If I remember correctly, the second track was The Gimmick; a much under rated Cult track, backing vocals supplied by BD's then girlfriend.
What stood out about this show, apart from obviously the awesome gig, was the camaraderie of the crowd and their empathy we the band. Back in the early/mid eighties, bands had crews, just like the top boys involved with football fans. An elite of die hards who nailed their colours to a band and were fiercely loyal and protective of their band. When we had arrived outside the gig at around 4pm The Cult's crew were easy to spot. A ramshackle bunch of crimped haired sub Goths and bleached flat tops, dragging kit bags and sleeping bags. I got chatting on one whilst blagging a light; an Asian kid called Riaz whom we immediately re-christened Rizla. (He is still my friend today) Other Cult posse members included Mary Biker, a year or two prior to becoming a name himself as the front man of Gaye Bikers on Acid.
As the gig ended and the crowd were finally heading to the exits, sweat soaked and elated, Ian Astbury suddenly strolled out once more and said, 'Fuck the house lights off.' And BD suddenly kicked in the Southern Death Cult track, Moya. The foyer of the Lyceum suddenly reversed and came spilling back into the auditorium. It can only be described as a life affirming gig.
Myself and my girlfriend had a pretty unenviable night ahead of us. Our coach home was not until 9 am and we didn't have a pot to piss in, never mind a window to throw it out of. We hung around in the relative warmth of the venue until someone through us out. As the lights began to be turned off, Ian Astbury suddenly appeared on the main floor, wine in hand, and his usual broad smiley grin. He was wearing my dollar coin Buffalo neck chain and I was wearing his t-shirt from the first gig of the tour. We had a quick chat and I remember his beaming face as he told us that The Cult were about to do their first shows in America. 21 feeling like 21 sometimes."
Ian Hunter
http://ianhunterauthor.blogspot.co.uk/…/live-at-lyceum…
"Yeah I was there Billy, have to say not the best night of the tour, but all the usual suspects were there, still got this on an old VHS videotape. Craig, Twisted Nerve xx"
Craig Paterson
"Hi Billy…I remember it well, it was brilliant…can't quite believe it's been 30 years since we were flatmates in Acton too!"
Judi Watkinson
"15 years old and had no idea what I was about to experience! My mate Conrad got me there and we had two cans of lager each on the way there and 5 cigarettes between us (I'd pinched them from my Dad)! I'd also borrowed my Sisters black eyeliner and one of her scarves! I had no idea that I was about to see a band that I'd only ever listened to a couple of tracks from but would still be as excited about seeing 30 years on! I listen to the album (and still have the limited edition vinyl) at least once a week in the car or on the train and the hairs on the back of my neck stand on end when I hear it! I went on to see The Cult 15 times or more since then and most recently in Hammersmith and despite being a corporate whore now, when I listen to that album on my commute into London I can't help but smile to myself and think how bloody cool I felt that night and how 30 years on and hundreds of gigs later, that gig is STILL my favourite ever!"
Charlie Hayhoe
If you were there too and have any memories or pictures you'd like to share here too then please email them to info@billyduffy.com.