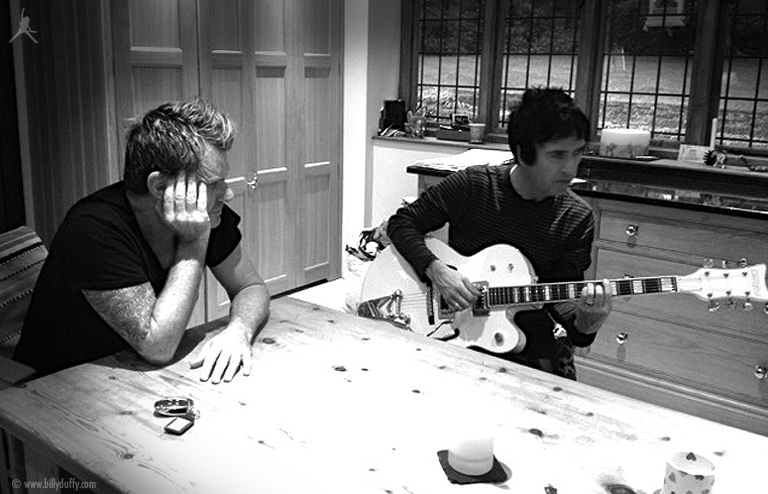 Billy and Johnny Marr have been friends since they met whilst at school in Wythenshawe, Manchester in the 1970s and amazingly they became two of the most influential guitarists of the last 30 years. In an exclusive interview for billyduffy.com we caught up with them both to grab an insight into their lasting friendship…

What's your earliest recollection of each other?
Johnny: "I first met Billy at Rob Alman's house where he was rehearsing with his mates who were in a band. Rob and Billy were best friends and were very clued up for such a young age, and very knowledgeable about rock music right across the board. I was very young at that point in 1976, I was thirteen, twelve even, and its amazing how accommodating they were towards me, I think they were amused that I was so keen. Anyway, Billy was very cool and we've been friends ever since. "
Billy: "Those early band rehearsal at Rob's house were a bit of a social gathering point, Johnny lived across the street and just started turning up. I was 15 at the time as Johnny says he was three or four years younger than us which at that age was quite a big gap. Everyone else there was from my school but Johnny was very alert, smart and inquisitive for his age and I remember him being very engaging and very eager to learn too.
With any kind of gang you either fit in or you don't. I use the term gang loosely but we were a group of lads, some in the band, some mates, but the common bond was a love of music. Coming to a band's rehearsal and behaving inappropriately would have been very awkward but Johnny just fitted in. Its fair to say that Johnny had an insatiably appetite for observing what was going on, asking the right questions and hanging out with the right crowd. At that time I felt quite paternal toward him and I sold him the first amplifier that I'd bought."
Johnny: "Yes, I remember it was a Falcon 15.

What was it like hanging out then?
Johnny: "Billy really knew his stuff about guitars and was an expert in what he liked. Everyone had their own sort of specialist subject and that influenced their style and playing. Rob loved Neil Young, another guy liked Nils Lofgren. Billy was into Paul Kossof, Mick Ronson and The Who. I was into Rory Gallagher. We all had our own particular thing and were pretty serious about it. We analysed every guitar player around and when the American bands came on our scene that really turned things around; Rob got into Tom Verlaine and Billy really liked Johnny Thunders. I got into James Williamson. It was like a salon for aspiring young guitar players; encouraging and competitive in a good way, very funny too."
Billy: "At that time everybody wanted to be a guitar hero. For 90% of us guys around that was the coolest thing that you could aspire to be. Not many people had the talent or the inclination to be a singer but we all felt that with a lot of hard work you could probably do something as a guitar player.
In that era I was in my last year at high school and it was a horrible time economically in the UK. The job prospects were pretty much zero and it was a rough time. This was the social background of why Punk took off so much in the suburbs. So, it was either be a guitarist or be a footballer… but I was barely first choice left back for the school team!"
Johnny: "Billy was already good and had his own thing. He was very conscious of his sound, which was unusual at that age, and he was determined to be as good as his heroes.
He was also determined to get out of the suburbs, he and I had that in common and I think it made us different from everybody else in the long run, that determination, maybe desperation. We also both have a strong work ethic. It's a working class thing."
Billy: "Our gang was a bit of a mix though as it reflected the blend of Brookway High School. Half the kids were middle class; living in semi-detatched houses and parents with cars and the other half working class. Me and Johnny were definitely the latter, Irish descended and on the rung down the social ladder. We probably didn't think of it in those terms at the time but in retrospect I had a sense of desperation to follow my music dream as the only other 'real' option was to go into the building trade like my dad.
The game changer though was Punk. Up until then just to play a gig at the local youth centre would have been great and I can't over emphasise that it was a fantasy to think of making it big. But when Punk came along I started to believe that it could happen to me, that maybe I could really make it big."

Johnny, is it true or an urban myth that Billy introduced you to Morrissey at a Patti Smith gig in 1978?
Johnny: "Billy did introduce me to Morrissey at the Patti Smith show in Manchester. I met up with him and Mick Rossi from Slaughter & The Dogs, and Howard Bates who played bass with Slaughter. It was a pretty brief hello."
Billy: "Unlike Johnny I just don't really remember that gig specifically as I went to so many at that time so they all blur a bit into one another. I remember Johnny being part of our gang that would meet up outside gigs but we didn't all go to the same ones. We'd pretty much go to any gig we could sneak into in Manchester at the time as we just didn't have the money to pay for the tickets. I saw Iggy Pop at Manchester Apollo with Johnny and remember going to see Jayne County (& The Electric Chairs) at Manchester Poly with Morrissey.
One memorable night was going to see the Talking Heads with Morrissey. It was at Manchester University and you needed to be a student or be signed in by one but no one would sign us in. Jerry Harrison (Talking Heads keyboard player and guitarist) saw us standing on the steps and got us both in to the gig!
It was early punk days and we were pretty much interested in any bands from America and New York, especially anything connected to the (New York) Dolls… hence The Heartbreakers, Iggy Pop, Patti Smith, Talking Heads, Tom Verlaine, Television, Richard Hell and the Voidoids, that whole scene."

Can you remember the first time you ever saw each other play a real gig?
Billy: "In early 1979 after the bit of the split happened with the gang I moved to London with the 'Studio Sweethearts' guys but I still went back to Manchester a fair bit o visit. I remember going to see Johnny rehearsing with 'White Dice', the band he was in with Rob Allman and then going out for a drink but I can't remember if I ever saw them play live or not.
Then very early on in 'The Smiths' career, before they'd hardly played any gigs, possibly pre record deal, Johnny came to see me in 'Theatre of Hate' in Sheffield. He travelled across the Pennines with Mike Joyce and Andy Rourke (who I vaguely knew, even though he was younger than me, because he went to my high school). They were just beginning to form themselves into the band they would become and at that time Johnny had the quiff, the Gretsch and the Fender Twin… it was very 'quiffy!' So we hung out backstage and it was great keeping that Mancunian connection. So that's when I knew Johnny had got together with Morrissey which was all good poetic stuff because that's what I'd started and he'd sort of taken over and made it more real!"
The first actual gig I remember seeing Johnny do was with 'The Smiths' when he played London Palladium in October 1986. It was interesting because I went backstage but there'd been a bit of a falling out between me and Morrissey, all via Mick Rossi. It's 30 years ago so a bit hazy as to why, but my understanding was that Morrissey reckoned 'Studio Sweethearts' had stole some of his lyrics or lyrical ideas."
Johnny: "The first real gig I saw Billy play was at Manchester University (now Academy 2) when he was with 'Lonesome No More' supporting The Only Ones. They were all in Johnson's gear, which was the shop on the King's Road where Billy worked. He was playing a white Les Paul custom. I think that period when he was in 'Lonesome No More' and kicking around Soho as an eighteen year old was his apprenticeship for being in a big band and taking it to the next level, which is what happened when he joined 'Theatre Of Hate'. He had the guts and drive to leave home and get to London and slug it out to play in a decent band. "

Did the fact that you are fellow Manchester City supporters influence your friendship?
Johnny: "City fans are usually a certain type. I do say that with pride."
Billy: "I totally agree with Johnny you do have to be certain type of person to follow City!"

What is your favourite Guitar that the other owns?
Billy: "When 'The Cult' had broken up in the mid 1990s Beggars Banquet asked me to make some demos but all of my equipment was in the States. Johnny kindly lent me a couple of his 1950s Grestch's which were incredible. One of which was a 6120 which would have to be my favorite guitar of his that he owns but I don't think he ever played that on tour with 'The Smiths'. My second favorite guitar of his that he owns is an early 1960s black Fender Stratocaster which he bought off me!
As for guitars that he's known for playing with 'The Smiths', for me as a fan I always thought he looked great with the wine coloured Gibson Les Paul with a Bigsby on it."
Johnny: "The Gretsch White Falcon Billy got when he joined Theatre Of Hate. It brought out something in his playing and his sound that he might not even have known he had until that point. You hear it on the first 'Death Cult' album. That guitar took him into a new phase."

You're both well known for your many distinctive guitar riffs but what is your favourite played by each other?
Johnny: "There are quite a few, I liked 'Go West' a lot when it came out, and 'Wild Hearted Son', which could only be him. I think 'Rain' is my favorite. You know it's him straight away."
Billy: "I can't be original on this as I have to go for 'How Soon Is Now' which is incredible with the combination of slide guitars and the tremolo and I think was an act of contemporary genius at its time. What Johnny's doing is very rootsy but he did it in a way that fitted the era perfectly. I think that one song took 'The Smiths' in a completely different direction and got them out to a more of a rock audience, not that they needed it though. That's my favorite but I also really like 'This Charming Man' as that really illustrates Johnny's fast finger picking style and shows off his strengths as a player."

Again you both have a reputation as a great live performer but what's the best gig you've ever seen each other perform?
Johnny: "The Cult at Manchester Arena on the 'Ceremony' tour. I think there were some tensions going on some level that Billy managed to both tap into and transcend at the same time. I don't think I've seen anyone else do that, not so well anyway. He's always been really good live. "
Billy: "My fave Johnny gig was that first one I saw of The Smiths at the Palladium…. the band was at its peak and the crowd interaction was mental…"

You've been friends for a long time so have you ever considered forming a band together?
Johnny: "We've always had our own paths to follow which crosses often over the years, but we've never thought of being in a band together."
Billy: " For the vast amount of time I've been with The Cult and Johnny's always been increasingly busy so the only chance we'd had to directly collaborate was on the song 'The Good, The Bad & The Ugly' for an NME compilation album.


Johnny also played guitar on a Cult song called 'North' which is an obscure song from the period when we recorded 'The Cult' album in 1994. It was a high tempo song that wasn't traditionally Cult like and Johnny's name just came up as being right for it. So I asked him and he was kind enough to throw some guitars on it. It was fun but we were never in the same studio, we just sent it to him, he did his stuff and sent it back. It didn't end up on the album though but it did appear on the 'Rare Cult' box set in 2000.

Johnny: "We should do something live though. We've never played a song on stage. That would be good, especially as we started out together as kids."
Billy: "Yeah, it would be really fun to play live together and I'm sure that at some point in the future that will happen. Recently we got together at Johnny house when I took my prototype White Falcon round for him to try out. I got the chance to play a bit with him and Nile (Johnny's son) which was really cool."

Finally, any memory or story we've not covered just waiting to be shared with the world?
Billy: "When I moved to London in 1980 I was working at Johnsons (clothes store) in the Kings Road and Johnny had got a very similar thing at X-Clothes in Manchester.
I was part time in the shop and the rest of the week in their warehouse, shipping clothes out and dealing with wholesale clients. I remember Johnny and Angie (the future Mrs. Marr) came down to look at the range and buy in bulk for X-Clothes which was pretty funny. Its ironic we were both on a similar path trying to make it in bands whilst working in fairly cool clothes shops to supply ourselves with the required outfits!"
Johnny: "Back in 1977 when I was 14 and Billy was 16 he sold me the Falcon amp I mentioned earlier. I dragged it the couple of miles down the road to my house and when I went to plug it in I discovered that he'd put his pink shirt in the back of it for me. I'd been hassling him about that shirt for weeks. It was a really nice thing to do. It kind of sums him up; he's very considered, thinks about things, but doesn't make a big deal about everything. He's always been cool."
Billy: "I've got one last thing I want to share about Johnny too. I've always been very much a traveller without a solid home base whereas Johnny has always created this kind of nest. It's almost like he's recreated Keith Richard's house 'Redlands' which was a centre of musicianship and creativity, a home base for him and his friends to hangout. The biggest thing I've got from Johnny is knowing that there's that kind of place where I can go too. Where somebody that understands me from way back when I was 15 but who's also had the life experience that I've had. That's the greatest thing for me, to be able to go and hang with Johnny and have cups of tea in his kitchen and chat about music and football and share our experiences. He's always got an open house, a kitchen, a cup of tea and the time for chat in a down to earth way regardless of how busy he is!"

Johnny Marr's solo album 'The Messenger' is out now and you can see him live on tour in the UK in March and the US in April and May. For more info visit www.johnny-marr.com

Interview by Mick Peek – February 2013 © www.billyduffy.com 2013 – All rights reserved. No part of this article may be reproduced or transmitted in any form or by any means, including photocopying and recording, or by any information storage and retrieval system without the prior written permission of the publisher.