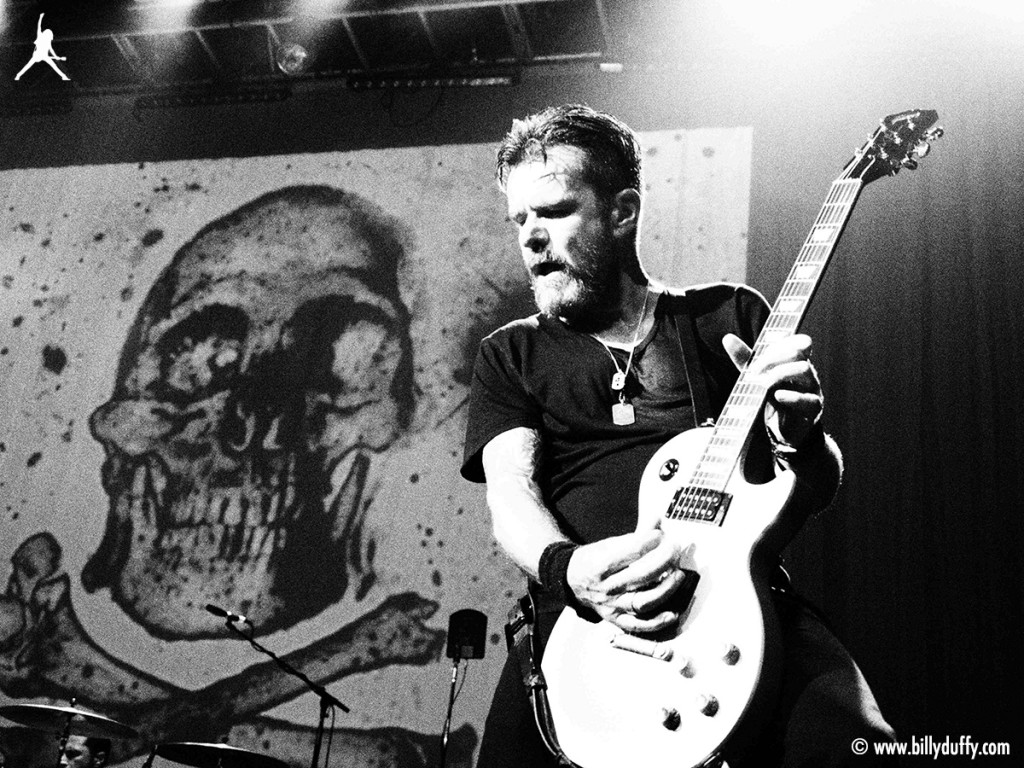 "I have to say that this tour is the most fun I've had on the road that I can ever remember! I'm genuinely having a tremendous time, the whole vibe around the band is great and together with the audiences it seems to have gone up a notch.
This is a hard tour in terms of the schedule and it's a longer than we've played for a while (over 5 gigs a week for six and a half weeks with a lot of travel on a bus ) but there's a positive energy and the vibe is amazing.
It feels like we're onto something really, really good and we're all having more fun with it. We've been selling out the majority of shows and the response at the end of each gig has kind of erupted. It's just that magical combination of the right thing at the right time for both the fans and the band.
Also similar to the 'Love Live' tour  the crowd turn up each night knowing exactly what's coming in the first set, as they know the order of each song on 'Electric'.  The exception is 'Zap City' (off the 'Peace' album) replacing 'Born to Be Wild' but it seems common knowledge that we've made that switch.
These gigs now have like a ceremonial feel where the set starts really strong with 'Wild Flower', 'Peace Dog' 'Lil Devil' and the flow of the evening has a great energy. With the additional second set of songs taken from the rest of our career we have been playing for over two hours but it's strange because when I'm on stage it doesn't feel that long because I'm enjoying it so much! We may on the odd occasion in the past have played a longer set (like a time at Brixton Academy in London one summer where it was an exceptional night and we just kept playing and playing) but this is the longest set we've ever toured. And I can say that at the moment we certainly have no intention of cutting any material.
At the time of writing this we're 14 gigs into the tour and we're all getting along really well. There's been a couple of line up changes in the personnel in the Cult camp for this tour and everybody seems to have a smile on their face. It's really energized the band behind the scenes as we have a new tour manager, Tony, who's doing a great job and having James (Stevenson) back in the band as the touring guitarist has also been great.
Both James and the departed Mike (Dimkich) are dear friends of mine, and guys that I'd known socially outside The Cult before they played with us on tour. The thing is that the live touring guitarist is a tough job as they're not really in the band as such and they're not part of the creative process in the studio because that's what I do. We don't need another guy creating guitar parts for the records its for the live sound only. In all honesty I think that Mike needed to stretch his wings and do something different where he was embraced at the core of the band, which he has done now in Bad Religion. With James he really wanted to come back and play with The Cult and he'd played with the band on tour back in 1995. So its not like he's a completely new entity and he came in this time understanding exactly what was required from The Cult. They're both excellent guitar players so it's not a question of ability it's just a question of timing and where a person is at in their life.
Mike and James come from slightly different musical backgrounds, so whilst all three of us have the same musical taste I think maybe there's a slightly different philosophy.  James, like myself, is slightly Pre Punk and Mike is probably Post Punk. I think that's key, as even though James was in Chelsea (one of the first ever Punk bands in the UK) his love of pre-punk music is a lot like mine. Also I think that James being English and my age group means he intuitively knows what I'm looking for in the sound of the second guitar on stage. He's a Les Paul player too and we all worship at the altar of Steve Jones as our Punk Rock God but we also love Mick Ronson (from Bowie) Mick Ralphs (Bad Company and Mott the Hoople), Jimmy Page, Thin Lizzy et al. We all worship at that altar of the litany of Les Paul guitar players from the 70's.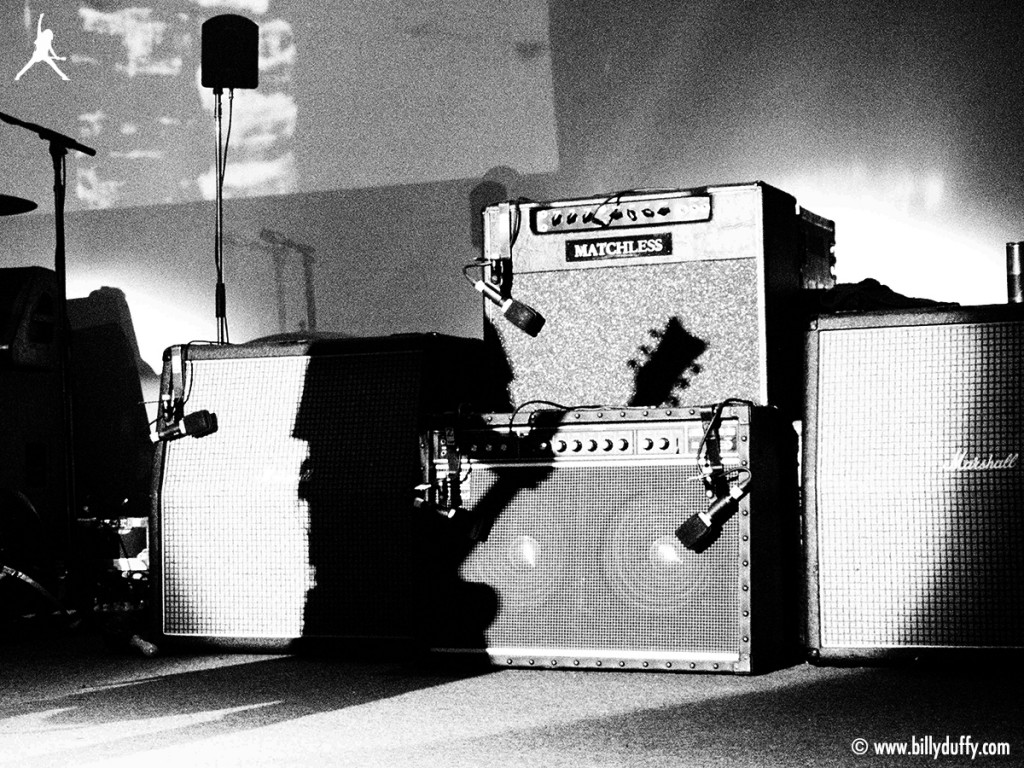 On a gear front if you've been to one of the gigs you might have noticed that my back line looks smaller than on previous tours as I've made it more compact and I think I've got the best guitar sound I can ever remember getting! That's another reason why I'm so happy on this tour, I've got an amazing guitar tech who I work really well with and we're constantly tweaking minutiae of the rig to improve the sound. It's strange because it looks less but it's exactly the same amount of sound.
Behind the visible back line of my Matchless DC-30 and Roland JC-120 Amps and Marshall Cabinets I've got a couple of amps that I bought from a boutique amp maker in Los Angeles called Dave Friedman. They've replaced my historic Marshall JCM 800s which I've put out to pasture. They are basically in a field with a donkey having a retirement because I don't want to road tour them anymore! I'm also using slightly different Marshall Cabinets from the last tour, ie the top cabs rather than the bottom ones but everything else is basically the same stuff. On the last tour people would see three Marshall Cabinets but one of those was a dummy anyway and didn't have anything plugged into it. It was just the spare incase one of the others had a disaster and I used it to visually boost the stage setup.
I'm ecstatic about my sound at the moment and I think I'm playing as well as I've ever played for a long while, probably back to the Sonic Temple/Ceremony period and I feel like I'm really on the top of my game. I'm not saying that in an egotistic way it's just that I feel I'm able to really deliver what I want to achieve each night.
Another stand out point for me on this tour is, that along with the other guys, I've also been really enjoying the VIP Meet n Greets that have been taking place. From talking to those of you who've come along to these it seems as though you've been really enjoying them too and the response has been great. It's amazing for us how much people seem to be enjoying the 'fly on the wall' behind the scenes experience of coming in and watching the sound check. That varies day to day as it really is part of the work we have to do in making sure that everything is set up right for the show and people seem to really like that part where for us its just 'a day at the office'.  After the soundcheck they also get to meet the band and hang out then they also get into the gig first so that they can choose their location for watching the real show too."
Billy Duffy – August 2013