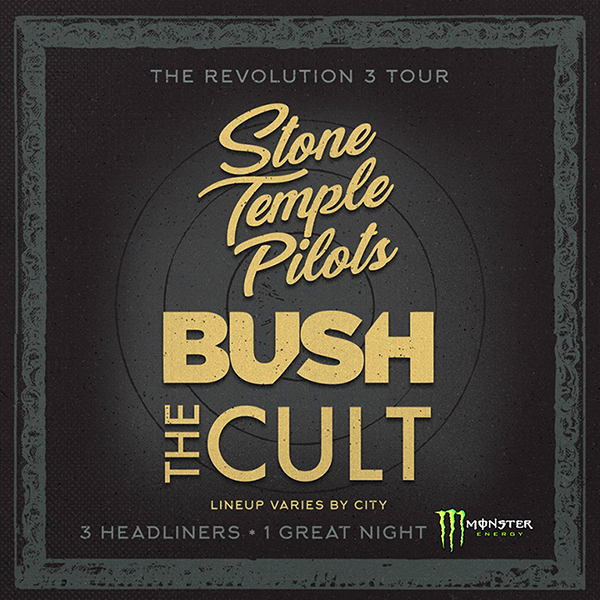 There's a Revolution coming …
As I've been hinting at for a while there was a whole bunch of live shows being lined up for this year but it can take time to get organised. What I couldn't share was the reason this tour was so much more complicated was because it's a triple headliner that sees The Cult heading out across the US both Sone Temple Pilots AND Bush!
I think now you'll understand why it's been so complicated getting sorted and Tom (our manager) said "Just emails for this tour is 7500, not to mention calls, meetings, etc.
…even getting three people to agree on pizza toppings takes a minute!"
So far we've announced 20 shows, mostly amphitheatres, and the eagle eyed of you will see there are a few gaps in the dates so all I can say is watch this space….
It is being billed a 'Revolution 3 Tour' and will see each group perform a full set in a different order each night on the "revolving headline run" and as Ian said to Rolling Stone about the tour… "We look forward to celebrating glorious summer nights of responsible (and irresponsible) hedonism with all of you."
On a personal level, playing with Stone Temple Pilots will be great as I've grown close with the Deleo brothers through playing with them at Kings of Chaos shows so I'm looking forwards to seeing them on the road and enjoying their sense of humour. I'm really happy for them that they found a new singer are able to go out and play new music plus the back catalogue after the tragedy of Scott Weiland.
I also know the Bush guys but the reason why I first became aware of them (and followed their career) is that their original bass player, Dave Parsons, basically took over my job Johnsons clothes shop in London when I left to join Theatre of Hate and then he followed the same route into the music biz a few years later!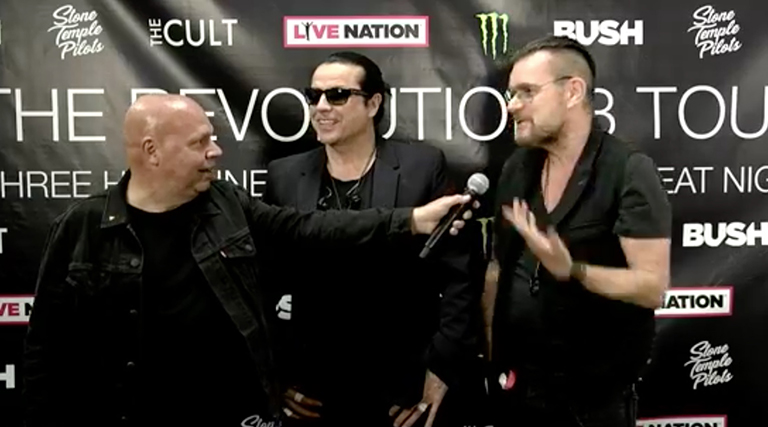 On the 3rd April there was an exclusive intimate launch party for the tour in LA which was a great night. Each band got to play 3 songs live highlighting the Revolution 3 theme. The event was livestreamed by Billboard and you can watch a playback here…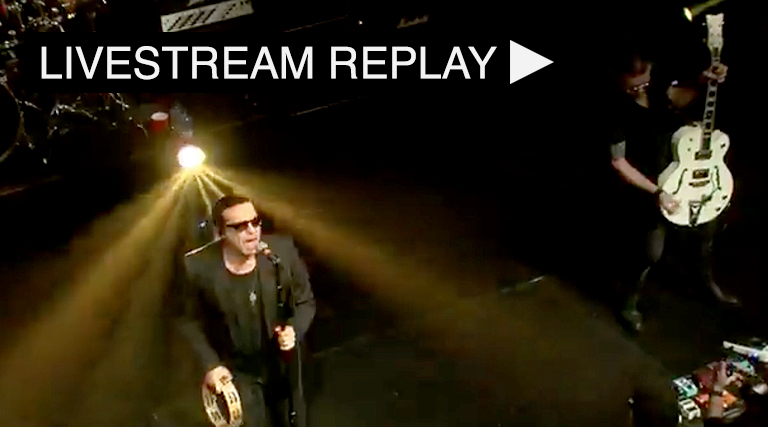 After the show I had great time socialising with all the guys and it was nice to re connect with Gavin and Robin from Bush and lots of friends who showed up to support the launch of the tour.
I met Paris Jackson who was super chill and even exchanged a few nice words and a hug with my original bandmate Mozzer 😉
To make it even better I got talking to Chris, Bush's guitar player, and turns out he is a City fan… from America… hahaha and a top chap.
So goodtimes ahead for the summer 🙂
Tickets are available now and you can pick them up here…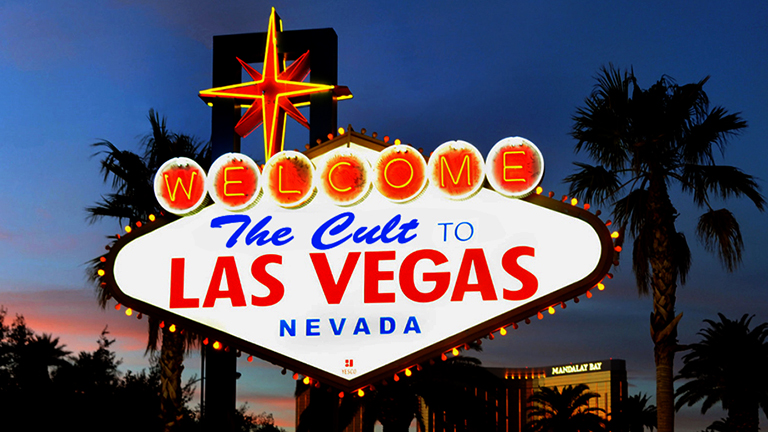 Viva Las Vegas
In addition to the 'Revolution 3 Tour' we've added a headline show of our own when we stop off in Las Vegas to play Downtown Rocks on 14th July. This is part of the Freemont Street Experience and the thing about playing Vegas is it's different every time as there are so many people passing through you and you never know what kind of crowd you will get. In this case it's a free outdoor gig so it will be a fun and exciting change from playing indoors at the Casinos which is the normal thing to do.
–

Another Charity Bash…
It might seem that I'm constantly playing at charity events, but it always depends on my availability because if I'm half way round the world with The Cult it can't happen… but if I'm free I'll always try and help a good cause.
That's the case when on 16th I'll be joining a whole bunch of great musicians for the 'Above Ground' event in LA raising money for Music Cares which supports mental health awareness and specifically suicide prevention among musicians.
What makes this show interesting is that the ensemble will perform two iconic albums in full… 'Velvet Underground & Nico' and Adam & The Ants 'Kings of the wild frontier'. There will also be a guest appearance by the Ants original guitarist Marco Pirroni and like a lot of the guys from London back in the day we have some good history.
I first became aware of Marco in 1977 when his band The Models supported Johnny Thunders in Manchester and I was jealous to see him playing Johnny's actual Les Paul yellow TV junior (it was also the night that Johnny started my lifelong association with Dunlop Herco picks by giving me one before the show).
That jealousy turned to lust when he sported a White Falcon when he joined Adam & the Ants and I can say that along with Matt from Bow Wow Wow (who also played one) made it my guitar of choice.
In 1985 Marco was the guy that me and Ian hung with backstage at Live Aid and in 2009 he joined us backstage after The Cult LOVE LIVE at the Albert Hall when we talked about his collection of Les Paul Juniors and White Falcons (which he used to great effect on the classic 'Kings of the Wild Frontier' album).
So now to wait for the Revolution 😉
Billy x