"Well I've been back home in LA for a few days now and getting myself sorted for the next set of 'Electric 13' dates as I head off with the band to Australia this week.
Don't forget you get regular updates and pics from the tour on my Facebook page so if you haven't already followed me there what are you waiting for!
I know I talked about how much fun the tour was in my last update and it just carried on getting better. I can't wait to get back out there as we really were on fire and I feel I'm playing as well as I have in my career.
I've loved seeing all the great pics that people have sent in for the the 'Electric 13' section of my site, like this one here from Mike Lamuth…
If you've got any tour pics that you think are good enough to be included here send them through to info@billyduffy.com and we'll use the best.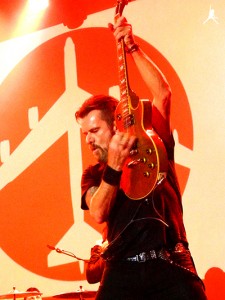 Towards the end of the tour my quest for the perfect tone kicked on even more when I added a new Combo to my back line in New York and you can read more about that here…Vox AC-30
This was the first trip out on the road for my 'baby'… the Gretsch Duffy Falcon! I'm still getting over the fact that I've got my own signature guitar and it just plays beautifully live. Usually when I get a new guitar I have a bit of work done on it; remove the pick guard, change pick-ups and tuning pegs etc but as this was built to my specification it arrives from the Gretsch factory just perfect! I think anyone who has been to the show so far on this tour will have heard it's spot on… and looks the part, if I say so myself!
Obviously with the 'Electric' album originally being recorded on a Gibson Les Paul the only way to get the authentic sound for those songs is to play them on one. There are some guitarists who only ever play on one type of guitar and others who have a few and swap out a lot onstage but I've always found that I can pretty much do everything I want with a combination of the Falcon and a Les Paul.
Talking of Gibson, whist I was on tour me and James Stevenson had a little trip to their Custom Factory Shop in Nashville. The guys there kindly offered to build me a new custom Les Paul. I've been getting regular photo updates of it's build and once it's finished I'll put them on billyduffy.com as it's really interesting to see all the stages that go into creating a custom guitar.
It's not all been a break while I've been back though. On 9/11 I was really honored to be asked to play at the 'Heroes Helping Heroes' charity event at House of Blues Sunset. For my bit I did 'Lil' Devil' and 'Rock n Roll All Night' with Mark McGrath on vocals and 'Rebel Yell' with Billy M signing. The rhythm section was fantastic with Blasko (Ozzy's bass player) and Tommy Clufetos (current drummer for Black Sabbath and Ozzy ) and who's amazing. I didn't go along to 'wank off on my guitar' I went because it's a really good charity and
it was great to do my bit for such a great cause. The night was topped of perfectly for me when my old pal, Zakk teamed up with Geezer Butler on bass, Tommy on the drums, and were stunning in a 'Sabbath' mini set!!!!!"
x billy
P.S. If you haven't already done so don't forget to enter this comp for a chance to win one of 5 signed vinyl copies of The Cult Electric Peace album via my Facebook page. Click on this banner for more details…