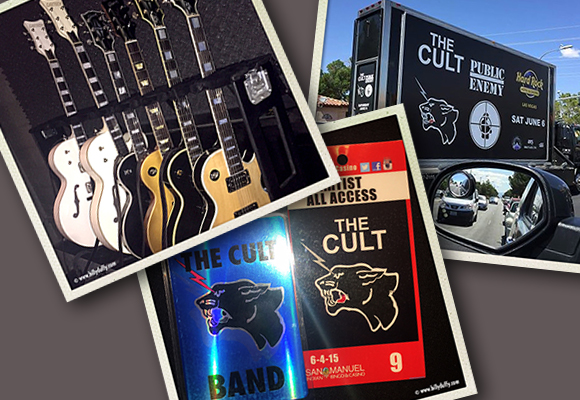 Hey,
After such a busy time working on the new album it was great to get back on stage playing live, even though it was only for a few dates. It was a fantastic four shows and the first featuring our new live line up with Damon Fox on keys and second guitar and Jimmy Ashurst on Bass. It's been in our minds for a while to change up the live show and make some new challenges especially with the new music coming very soon. These shows have allowed us to put a toe in the water in that regard. The keyboards especially allows us to perhaps provide a little more sonic versatility to the Cult's live performances, dare I say giving it more maturity and a platform to grow into the new album moving forwards. It sounded great as the 'new' guys are real pros and excellent musicians as well as fun to be with and we all instantly bonded. To anyone who might think "outrage" at keyboards in The Cult I'd simply remind them that our two biggest tours ('Sonic Temple' and 'Ceremony') both featured a keyboard player (John Sinclair) and the band was great then as we are now. I enjoyed the change and am super excited for the tours to come once the new album is finished… which will be soon as we are very close!!!
For these set of dates it was also nice to share the stage with the masters of old skool hip hop Public Enemy. They're friends of ours from the NYC 'Electric' Rick Rubin days of 1986/7 and I think the audiences appreciated the blend and contrast… I know I sure did!
Some of you with keen eyes who were at the shows (or those with or an internet fixation) will have seen a big new 'Black' Gretsch guitar I debuted in Vegas!!!!!!  I'd love to say more at this point but Gretsch would kill me… watch this space for more news on that.
New Signed Limited Edition Prints – Coming Soon!
Last year we produced the 'Gretsch Trilogy' series of Limited Edition Screen Prints that were sold exclusively via billyduffy.com. Each of the three prints featuring my iconic Gretsch White Falcon were first released to all the people signed up to receive my newsletters and sold out in just a few hours! Coming soon is the new series which celebrate my other favourite guitar… the Gibson Les Paul. We will be emailing details of the new prints soon so keep an eye on your inbox for messages from me so you don't miss out!
New Competition…
In the meantime if you missed out on the limited edition posters last time I'm giving you the chance to win an Artists Proof of the sold out version of the third in the series in this exclusive billyduffy.com competition.
Click on this banner below for more details and to enter…