Hidden City
Well, the big news that you've all been waiting for is finally here and I'm pleased to say that 'Hidden City' the new Cult album has arrived to pre-order with an official release date of 5th February 2016. I'm very proud of it and more so that Ian and I are still making new music in this era of bands constantly rehashing and touring old music.
You can pre-order various white vinyl editions exclusively from The Cult Store.
If you can't wait until February you can download the first track 'Dark Energy' on various sites including in
Amazon USA     iTunes USA     Amazon UK     iTunes UK
Back on the road… Primal Cult & more…
After so much time spent in the studio working on the new album this year it was fantastic to get back out on the stage for a few dates at the end of last month. We kicked off in Austin starting off with the show at Stubbs which was fun and the debut of new bass player Grant Fitzpatrick. I also got to play my new Signature Black Falcon for most of the set including the first time ever I've played 'Firewoman' on a Gretsch.
Here's a pic taken at the soundcheck in Austin with the beauty…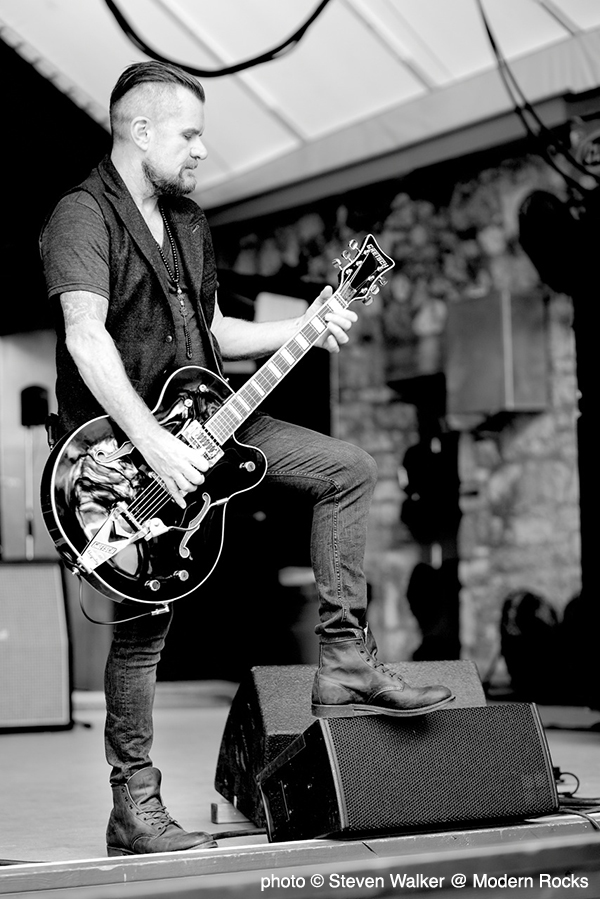 The only downside of the tour was the Voodoo Festival in New Orleans being cancelled. Unfortunately this was beyond our control with the seriously bad weather on the day making the site unsafe for everyone and we were only informed on the day of the show… so apologies to anyone who made the trip.
Next week we're back out on the road again this time for a few dates with our pals from the UK Primal Scream which will be a blast!
We will also be taking 'Hidden City' out on the road around the world in 2016 so keep following thecult.us for latest news on dates….
Modern Rocks Private View…
The night after The Cult show in Austin I had a Private View of Prints & Photos (of me) by my pal Mick Peek at Modern Rocks Gallery. It was a blast… lots of signing and 'selfies' with a really nice bunch of folks, gallery owner Steve Walker is a fellow guitar playing Manchester City fan from England so we had lots to chat about plus I got to see the East side of Austin which was cool!
If you weren't able to make it along to the signing there are still a few of the signed prints and photos available here…
Modern Rocks Billy Duffy Store
Anyway that's it for now and I hope you enjoy 'Dark Energy' and I'll be in touch soon…
billy x