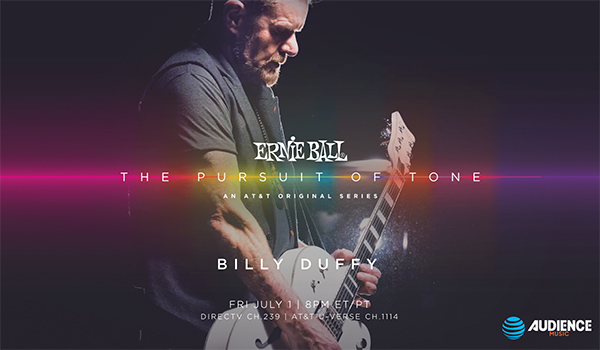 I've been using Ernie Ball Slinky strings since the early 1980's and they continue to be an important part of my guitar sound, both in the studio and live.  This year Ernie Ball decided to honor that partnership by asking me to be one of a select few guitarists to feature in THE PURSUIT OF TONE, a new original documentary series they are producing in partnership with AT&T here in the States.
The one hour episode features me with The Cult at an 'Alive in the Hidden City' show as well as talking about at my musical influences and life away from the band.
You can read about the making of the show here…
Filming my episode of "The Pursuit of Tone
Alive in the Hidden City Rolls On…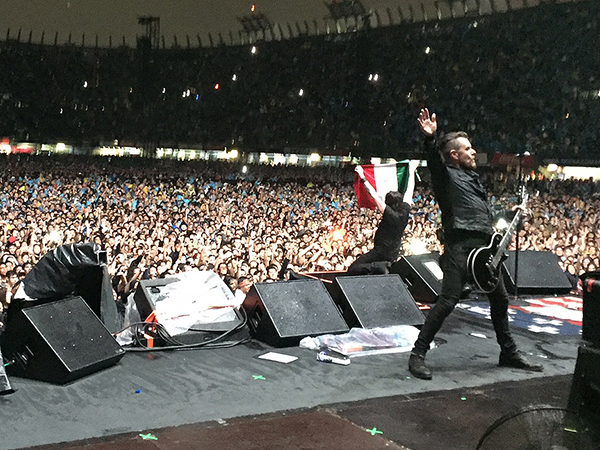 Since my last news update I've had some interesting shows from the stadium ones with Guns 'n' Roses to the recent intimate show at the beautiful winery in Saratoga.
Most of you will know that The Cult gave G'n'R their first big break by taking them out on the 'Electric' tour in 1987 and I've been good friends with Duff ever since. So it was great to be invited to be their special guests when they played Mexico City in April. Despite the torrential downpour ('Rain' was an apt part of the set!) the shows were amazing and the crowd seemed to enjoy our set too.
Most of the 'Alive in the Hidden City' dates recently have been out here on the west coast so not too much travelling but great response especially to the new songs which I think people are much more familiar with now the album has been out for a few months.
Over the next couple of months its less about intensive touring and more focused on playing at summer festivals so it will be great to share the 'Hidden City' songs with new audiences too.
Doing it for the kids…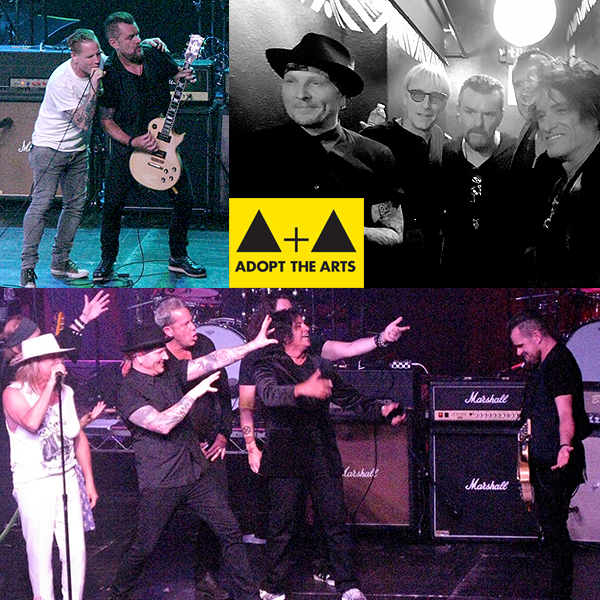 I had a great time on my birthday back in May as I got to celebrate it by jamming some classic tunes and spending time with some great friends and musicians at a charity night at the Fonda Theatre in Hollywood organised by my buddy Matt Sorum.
The night was honoring 2016 Rock n Roll Hall of Fame Inductees Glenn Hughes and Robin Zander and in support of Adopt the Arts, the Non-profit funding arts programs in public elementary schools. On the night I played "Whole Lotta Love" with Franky Perez, "Love Removal machine" with Corey Taylor, the Deep Purple classic "Burn" with the main man Glenn Hughes and Cheap Trick's "I want you to want me" with Robin Zander. Not to mention getting serenaded on stage with a chorus of "Happy Birthday" by Robin, Matt and a bunch of the other guys… that won't happen again!
most important though was it all raised a ton of money for Adopt the Arts so job done!
Restock of signed pick tins…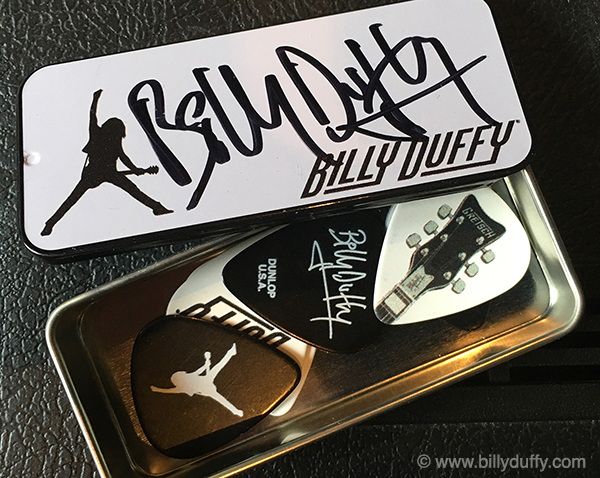 I've been selling signed Dunlop Pick Tins on tour for a few years now and recently looked to add a few to my web store. As my website is run from the UK I signed some and sent them over expecting them to be popular but didn't anticipate they would sell out in one day!
So, I've been busy signing a whole load more and you'll be glad to know that if you cant make it along to one of our shows they are back online now.
Brand new competition…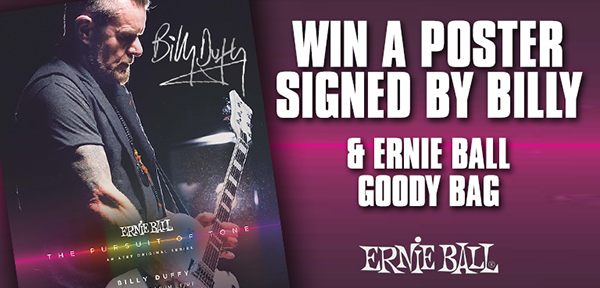 In the last competition on billyduffy.com to win one of my Manchester City FC shirts that I wore onstage with the Cult in 1990 the winner was Paul Smith from Swansea in Wales. So congratulations to him!
So, it's time for a new one and I'm pleased to announce that to coincide with 'The Pursuit of Tone' show we've teamed up with Ernie Ball to bring you this fantastic competition. The first prize is a ONE OFF poster from the show signed by me along with an Ernie Ball Goody Bag. There are also two runners up prizes of an Ernie Ball Goody Bag. You can enter here…
WIN A SIGNED 'THE PURSUIT OF TONE' POSTER 
So that's it for now and maybe catch you at one of the festivals over the summer…
Billy x