Hey,
Just catching up as I've got a few days off between dates. It's been great to get out doing some more shows and they've all been great but I have to give a special shout out to San Diego, man, that town loves The Cult and we had 10,000 out to see us at Del Mar Racetrack which was fantastic.
Also getting to the show was a highlight due to my exciting flight down in a small one engine plane piloted by 'Biggles' Stevenson!
James has been taking flying lessons and his instructor rented a plane in LA then flew up to meet us at an airport next to the Chumash Casino in Santa Ynez, up in the wine country near Santa Barbara. We met him there then James took off as we flew over the Pacific down to San Diego to land close to the Del Mar Racetrack where we did the gig. What was even more interesting is the fact that his instructor is an ex-pat called Harry Murlowski. He's got a great history, as he was a co-founder of the original 'Sniffin' Glue' punk fanzine along with Mark Perry. Later he became the tour Manager of Sham 69 and was immortalized in their song 'Hurry up Harry'!
Harry isn't an actual flying instructor he just does that for friends as his day job is as a qualified professional pilot and he now lives in Southern California having moved there from England 30 years back. He's teaching James to fly because they go back to the punk days in London when James was in Chelsea and Gen X.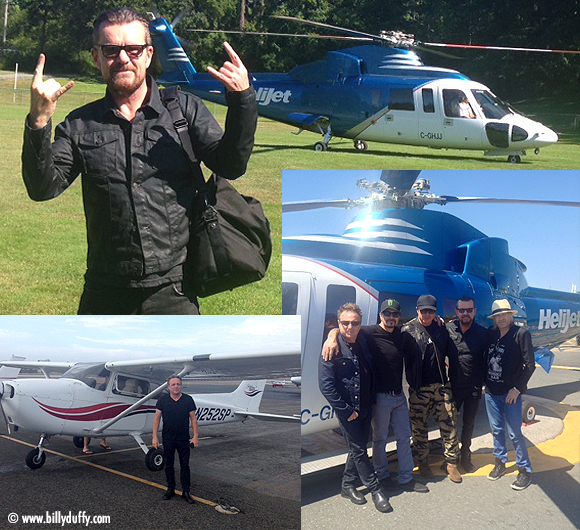 It funny also because the flying down came real soon after we had a helicopter in Canada to fly The Cult into Victoria BC for the 'Rock the Shores festival' in true rock star style!…
all this flying in little machines certainly makes it interesting like 'rolling the dice' a little bit in life!
In my last update I released Part 1 of 'Ever had a question for me… but been afraid to ask?' and now its time for part two. Read it here…
Ever had a question for me… but been afraid to ask? Part 2
It's been great fun to do and hopefully interesting for you seeing some of your burning questions answered. There were still a few more good ones that I've not got round to yet so I'll be putting up a Part III in due course. In the meantime if you missed the previous deadline for questions go to the contact form here on my website and fill in your details with your question marked 'ASK BD' and I'll answer as many as I can in the future.
Some of you may have seen that back in March I took part in the Fender American Design Experience where I created a cool black Telecaster on their website.
I've just seen the guitar for the first time and as you can see in these pics she's a beauty! It was made up to my design spec on the website customizer but as a professional I usually 'fine tune' my guitars so the artisan guys at the Fender Custom Shop are kindly fine tuning it for me. If you imagine it's a bit like taking a standard car and getting it souped up, so I'm sort of having it 'Hot Rodded' to my exact specifications. The Fender Custom shop is a really cool place and there's about 15 dudes and they do all the Fenders for the celebrities and bands like the Chilli Peppers.
Once it comes back from the Custom shop I'll add some pictures of the finished guitar to my site but here's some to be going on with…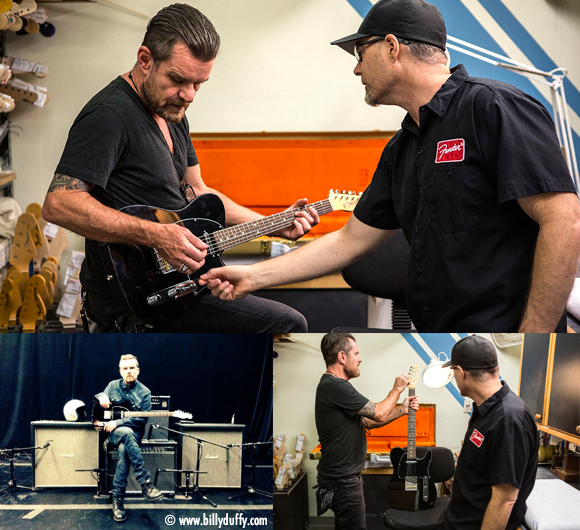 So, back to getting ready for Sturgis and the next run of shows and I'll be in touch with another update soon…
billy x