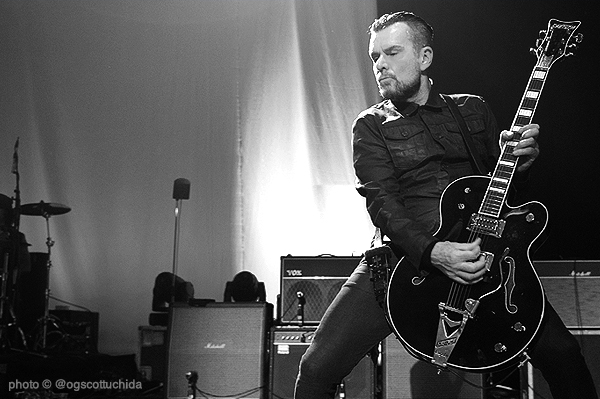 The band was on fire on throughout the Primal Cult tour and lots of people have said it was the best sound we've ever had!
Damon Fox does an amazing job on keyboards (and second guitar) and I think that it's changed the emphasis of the band a bit to create a more mature sound reminiscent of the Sonic Temple and Ceremony era tours. It also allows us to take more chances with the arrangements live and make the whole show much more dynamic as a result.
Grant Fitzpatrick also joined us on bass and as a kid in Australia he grew up listening to AC/DC and The Cult. He's fitted in perfectly as he's a great guy and the band chemistry is fantastic. He does remind me a little bit of Jamie in his style of playing too… which is a great thing.
I've enjoyed playing Dark Energy live even if it is a bit tricky as there's a lot of arpeggiated picking in the chorus. I like the fact that we created it differently from other Cult songs in that this has a big verse, that's like shuffle with a hypnotic riff, and then the chorus is more understated. It's not a classic rock n roll "chorus is the peak"… it's a different vibe but it still functions in the same way, just flipped.
It went down really well on the tour and if you've not got it yet you can download it and the album from various sites it here…
Amazon USA     iTunes USA    Amazon UK    iTunes UK
You can also pick up the 'Hidden City' as a pre-order in various white vinyl editions exclusively from
The Cult Store.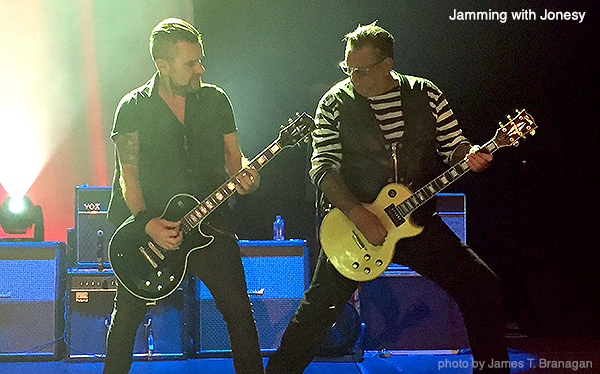 The date at the Hollywood Palladium was special in lots of ways… sold out show… my US hometown gig… and I got to jam with two other great guitarists who are also long time mates.
First my 'Cardboard Vampyre's buddy Jerry Cantrell joined us onstage for a mental version of 'The Phoenix'…  and then Jonsey came on for the encore and a raucous twin Les Paul rendition of 'Love Removal Machine'. We hang out a lot together but it's quite rare that we actually play live so it was a treat for me.
Earlier in the day Ian and I had been guests on his radio show and if you missed it you can listen to the interview online here…
Billy & Ian on Jonesy's Jukebox
The Black Falcon Live & coming to you…
If you made it to any of the Primal Cult shows (or seen pictures) you'll have seen that I've been playing my brand new Signature Black Falcon quite a bit live. Funnily enough the it actually feels better than my White one… don't ask me why but the Black one just feels better!
Even better news is that you will be able to get your hands on your own one very very soon! Check out this teaser for more info…
Signed Posters For Xmas…
If you're looking for a unique present for someone special (or just to treat yourself) there are still a few signed posters and photos available from my appearance at Modern Rocks Gallery in Austin.
Check them out here…
Modern Rocks Billy Duffy Store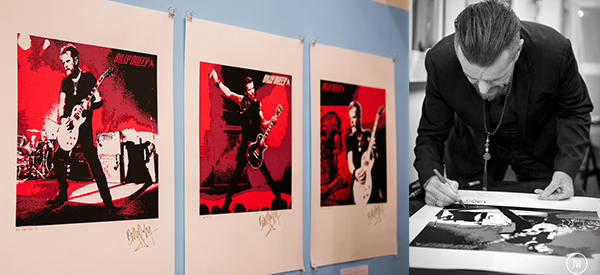 Don't forget to enter this comp to win one of my old Manchester City shirts… as worn onstage with The Cult…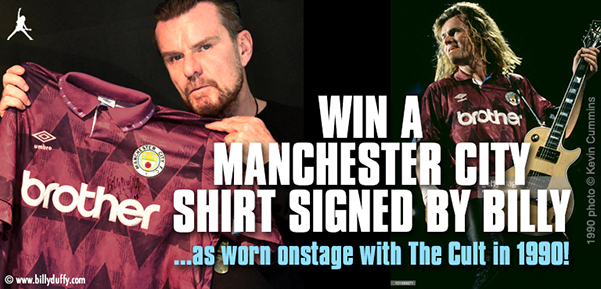 hasta la vista…
billy x