Hey,
Since my last update I've been getting into the groove of things here in California with lots of time spent working on new music and writing more riffs for the upcoming Cult album. This has meant that I've not been as busy hanging out as usual but I've still found time to fit in my motorcycle rides and hiking trips to the hills to get me out of the city plus get up to a couple of other exciting things…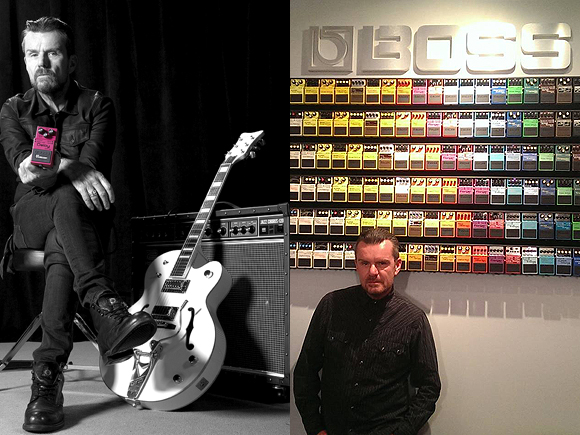 Like hooking up with the guys at BOSS pedals in the re-issue of their classic DM 2 Delay Pedal which is very close to my heart as it helped create the signature sound on 'She Sells Sanctuary'.
You can read all about it's part in the Sanctuary sessions here
My Boss DM-2 Analogue Delay Pedal
I also spent last Sunday checking out Billy Morrison's Art Show at the Village Recording Studio in Santa Monica in aid of Rock Against MS Foundation. It was great to get to support a fantastic cause while catching up with pals like Jonesy, Duff, Blasko and Ozzy all with a great soundtrack supplied by Shepard Fairey, who was DJ for the evening. Interestingly The Village was where we The Cult recorded a few of the tracks on Beyond, Good & Evil, so I know it well.
I followed it up by heading off to see Glenn Hughes' band California Breed supporting Alter Bridge at the The Wiltern. I ended up watching them with with Jerry Cantrell which was a fine way to end the night.
Here's a few photos from the night including one taken by pal Julian Lennon of me after the show with the very talented Andrew Watt from California Breed.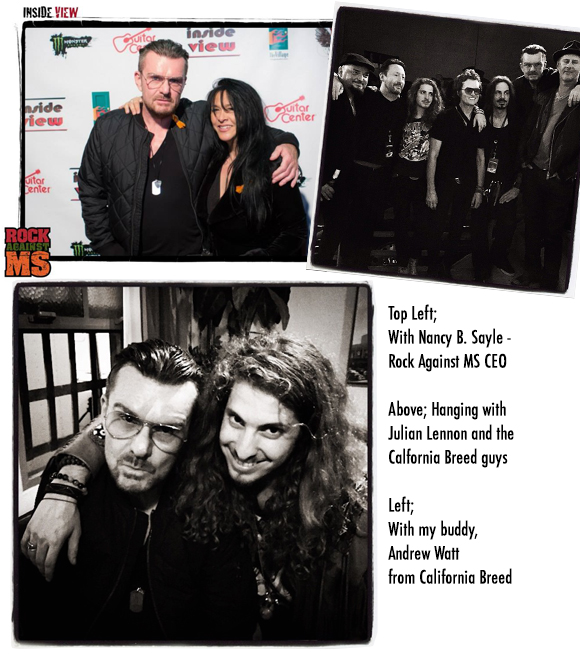 And now the news you've been waiting for…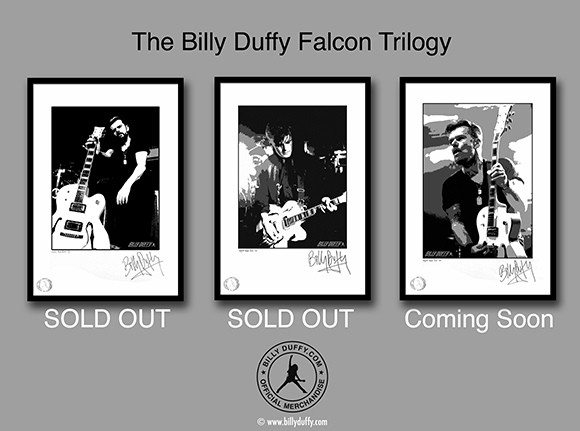 Last year we produced a Limited Edition Fine Art Screen Print exclusively via billyduffy.com and with only 50 available worldwide they sold out in just two hours!!! Then in September this year we released the second in the series, this time in an edition of 75 and again they sold out in just a few hours.
Now I'm pleased to announce that we will shortly be releasing the third and final print in the 'Gretsch Trilogy Series. It follows the 'Gretsch White Falcon' theme of the first two posters and is again designed by Mick Peek from a photograph he took, this time of me on stage during the 'Electric 13' tour.
The edition will be 75 available worldwide and the print will be in three colours (black and two tones of silver ink) celebrating the signature colourway of my White Falcon guitar.
The print will be hand signed in silver pen by me as well as numbered and signed in pencil by Mick. If you are interested in picking up one of these unique items then keep an eye on your inbox as we will be launching them first to people who have signed up to my email newsletter before they are offered for public sale.
Finally here's a heads up that I'm currently chatting to the guys at Gretsch about another exciting new project but it's so secret I'd have to kill myself if I told you 😉
Needless to say if it comes off it will be amazing and you'll hear it from me first on billyduffy.com!!!!
Take care
billy x