Hey,
Whilst it's only been a couple of weeks since my last update I've been so busy that I thought it worth catching up again. After my relaxing break in Spain I arrived in England and its been non stop, but really fun at the same time. Last week I spent a couple of days with Johnny Marr which included me guesting at one of his shows and only the second time ever that we've played live together despite being pals since the 1970s!
You can read all about it here as well as check out some photos from the show…
… "see I've already waited too long"
Last week I also had some good news when I found out that 'Sanctuary' had been voted at No. 32 in the Top 100 Guitar Riffs of all time by BBC Radio 2 listeners. It's great to be up there with a lot of my mates and the legends who inspired us all.
I know that lots of you will be waiting for the launch of my limited edition posters and I've been very busy signing them too so expect an announcement real soon!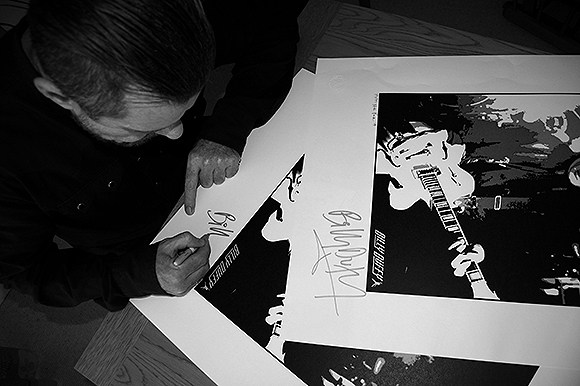 Finally a little plug for a charity event that I'm taking part in as part of Sunset Strip Music Festival. Its called the "Rockitsessions/Orphic – VIPS And Rock Stars For American Heroes" and it's the ultimate Rock and VIP event organized to raise money for The Wounded Warrior Project. You can find out more about attending or biding for one of the exclusive signed items here…
www.pledgemusic.com/projects/rockitsessions
billy x