Creating a new old beauty…
During the making of the new Cult album I saw a guitar the Gord Miller (from GM Vintage Renovations) had worked on for Bob Rock and loved it. Whist I loved the sound and playability of the '58 (created by the Gibson Custom Shop) that was sitting right there in the studio I wanted to make the guitar really look like it was over 50 years old. I also wanted to add the reproduction period hardware to it that initially I had decided not to do when it was made at the custom shop….. so that's what I did and I'm very happy with the results. In essence all the work has been cosmetic but it really looks like its been through a time warp now!
If you are interested in how Gibson created the guitar orininally for me in 2013 you can read the full store with lots of pics here…
MY GIBSON CUSTOM SHOP 'FLAME TOP'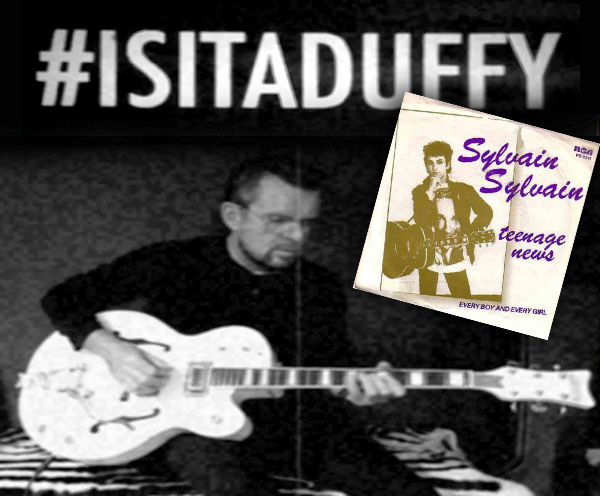 I told you I was making ‪#ISITADUFFY #7 harder and not one person got it! I can understand why though 'cos it's called "Teenage News" and was written by Sylvain Sylvain of the New York Dolls and whilst they played it live in 1975 it only appeared on his solo album as a recording later.
It's very relevant to me as it's one of the songs me and Morrissey's version of The Nosebleeds played when we opened for Magazine at the Manchester Ritz in 1978. Even then we wanted to play the more off the wall/obscure stuff…. none of your obvious covers as it would have been way easier to do a Dolls tune that people knew!…In fact me and Mozzer didn't even play The Nosebleeds only hit "Music School" either haha!!!
Anyway here's number #8 which you should find easier…
WATCH #ISITADUFFY 8 NOW
(Love, Hope) Strength…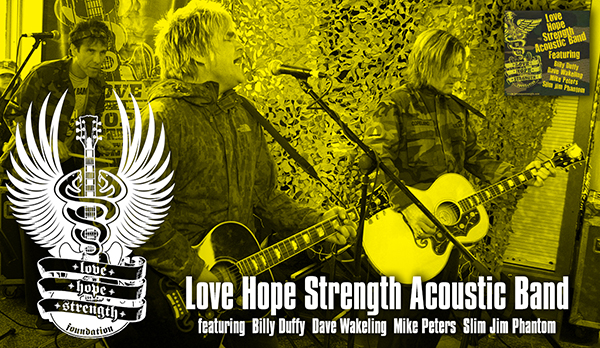 Way back on April 16th 2007, I joined my long time pal Mike Peters to climb up the 1600 steps and stage first ever concert atop the Empire State Building in support of Mike's charity Love Hope Strength. Also in the band that day were Slim Jim Phantom (The Stray Cats) and Dave Wakeling (The English Beat).
This track was recorded live either at the actual mini gig we did on top (after hiking) up or at a show we did in a club in Manhattan later that night, it's a bit of a blur now 😉
Download (Love, Hope) Strength from iTunes here…
Anyway, the Love Hope Strength Foundation is still going strong and you can find out more about it here…www.lovehopestrength.co.uk
Also if you are in Wales Mike is doing a show with The Alarm at the Millennium Centre in Cardiff on October 10th in where he's gonna debut his film 'Man In The Camo Jacket' which is about his fight versus cancer and how that inspired 'Love Hope Strength'.
Your chance to support a good cause…
Whenever possible (and time permitting) I like to be able to support charities and good causes so when my brother, David made me aware that YMCA Manchester need to raise funds for their Inspiring Futures project I was only too happy to help.
So I've donated a Framed Artists Proof of one of my sold out 'Les Paul Red Series' Posters for an online auction.
The Inspiring Futures Project works with Young Carers aged 16-24 who are struggling with education, employment and training as a result of providing care support to another family member and could be forced to close due to funding issues so it would be great if you could take a look at the auction and maybe even make a bid or a donation.
BID HERE
For more information on this project or to support the work of YMCA Manchester please visit…..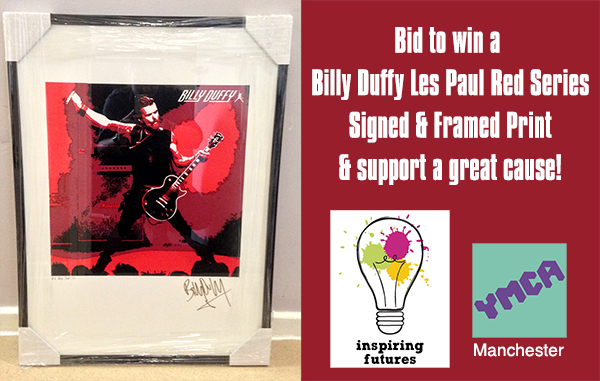 Last chance to win a signed print…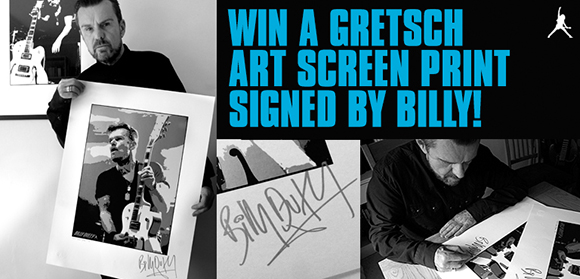 The competition to win on of my signed Gretsch Prints closes next week so if you haven't done so already make sure you get you entry in now!
I've got an great prize lined up for the next comp with something very close to my heart!… make sure you're signed up to my  
Instagram
, 
Facebook
 & 
Twitter
 pages so you don't miss the announcement!
If you missed out on the earlier prints there are still a few of the Les Paul Red Series #3 left and you can pick one up here before they all sell out too…
BUY A SIGNED LES PAUL RED SERIES #3 POSTER NOW
Anyway that's it for now…
billy x