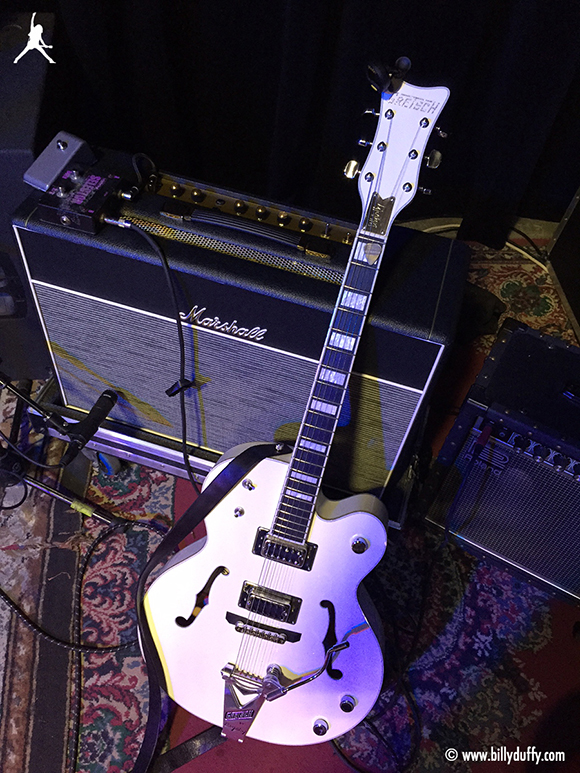 Hey,
Since the last update I've gone back into the studio for Pre-Production Part Deux!
After my last post of photos from the studio I had a few questions as to why the gear that I've been using is different to my stage rig. The answer is that in pre-pro I tend to use the pedals that have been kicking about in my house while I'm writing whilst the smaller combos are just a logistical thing in that I can throw them in the back of the car easier than my big touring rig. You'll also notice from this latest photo above that I'm trying out this neat little Marshall 1973X Combo. It's like their classic 'Bluesbreaker' rock combo amp but overdrives at a lower volume much more suited to long sessions focussed on song structures… basically so we don't blow out our ears!!! The 1973X has all of the classic hand wired marshall sound in a smaller package and it's a remake of amps they made in the late 1960s (so I'm not sure why Marshall called it the 1973X ha ha).
Anyway hot off the press news and just announced on thecult.us is the fact that we have two shows in California lined up in the summer. We're playing in Highland on June 4th and headlining XFEST in Chula Vista on June 7th. It will be great to get out live for these couple of dates after all the time in the studio and you never know we might even play a new song 😉
For more info and to get tickets checkout thecult.us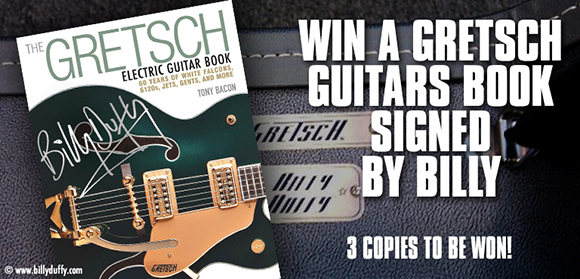 As many of you will already know I've been playing Gretsch guitars since I bought my first White Falcon back in 1981 so it was really great to be featured in The Gretsch Electric Guitar Book by Tony Bacon.
If you're a fan of Gretsch Guitars you'll love this book which is a great read with loads of pictures of great guitars, rare memorabilia, and of famous Gretsch players where I feature alongside the likes of Chet Atkins, Eddy Cochran, Duane Eddy and Brian Setzer.
The best news is that Tony and publishers Backbeat Books have given us three copies of The Gretsch Electric Guitar Book which I've signed to give away in this exclusive competition here on billyduffy.com!
Win a Gretsch Guitars Book Signed by Billy
So till next time…
billy x