"It's been great to have seen the buzz around the 'Electric 13' Tour since the dates were first announced and I'm really looking forward to playing all those songs live again. Over the years my live guitar solos on 'Electric' songs have morphed a bit into something different from the originals. So for this tour I'm trying to be as authentic as possible to the recorded versions, a bit like I did when we did the 'Love Live' tour.
I'm also pleased that we've been able to add some dates in Australia to 'Electric 13' and remember if you want to keep up to date on the latest tour news make sure to keep it locked to www.thecult.us.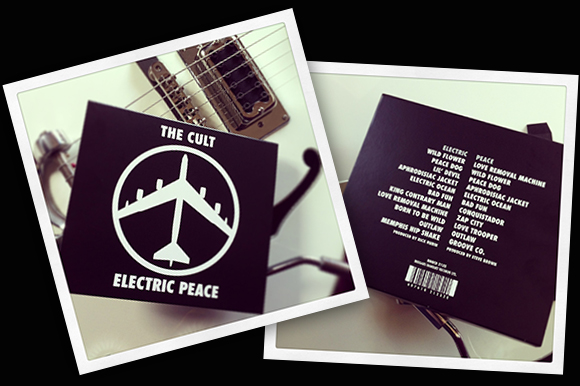 Other exciting news is that to coincide with the tour we are re-releasing the album as 'Electric Peace'. It's a special edition double pack (in either CD or Vinyl) that features both the Rick Rubin version that was the official album as well as the 'un-released' version produced by Steve Brown. It was originally going to be called 'Peace' as that was the working title of 'Electric' though it's sometimes been referred to as 'The Manor Sessions' after the studio where we recorded with Steve. Another cool thing is that the artwork is Ian's original concept for 'Peace' from 1987. 'Peace' has been around before as part of the 'Rare Cult' box set, but that's kind of rare and been deleted for 13 years. Now more people can hear the difference between the two versions and see where the songs changed and why. There is some good shit on the original version and 'Zap City' is one of my favorite Cult songs.
I'm getting great feedback from people who've picked up their very own Billy Duffy Gretsch Falcon and I'm hoping to do some special events soon with Gretsch so make sure you follow me at facebook.com/thebillyduffy as I'll post details of those as soon as I can. The first one is at Bizarre Guitar in Reno on 29th June and I'll be there with Fred Gretsch himself! If you're in the area come along and say hello.
See you soon for some 'Bad Fun' !"
Billy x