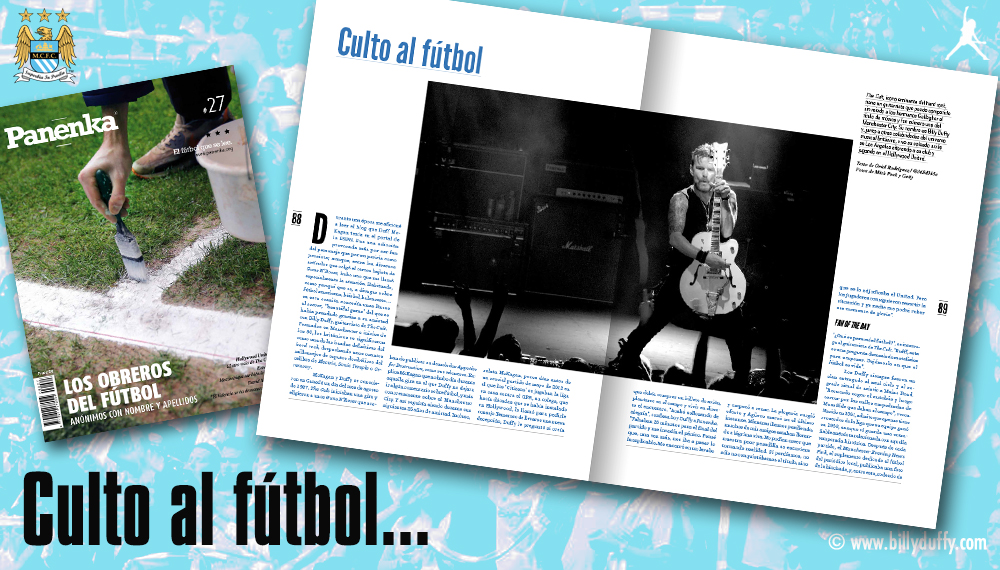 This is the English translation of an interview that appeared in the February 2014 issue of Spanish Football magazine Panenka.
THE CULT OF FOOTBALL
The Cult, the iconic hard rock band, has a guitarist who can compete with the Gallagher brothers for the title of Manchester City's number 1 musician supporter. His name is Billy Duffy and lives a sunny exile in Los Angeles missing his club and playing, along with other celebrities of the British music scene, for teams like Hollywood United.
What does football mean to you?
BD; "That's a metaphysical question to kick off with… so for me football is life."
When and how did you become a Manchester City supporter?
BD; "My first game was Manchester City v Burnley in 1968, I was seven years old and I was taken by my brother David and his fiancé Lynn. They took me along as they used to look after me occasionally and they were really passionate about the team and that rubbed off on me. That and the fact City won 4-2.
All my family were City fans but during the early 1960s my Dad's interest had waned but around that time my Dad's started to go again too.
My memories about going to City with my dad all seem to be about cold foggy weather, not so much rain but a cold damp excitement, getting the bus to the ground and then running through the streets of Moss Side dodging our way through the narrow, cobbled streets leading to the ground. Anyone who'd ever been to Maine Road (Manchester City's old stadium) would know what I'm talking about.
Night games were especially memorable because of the atmosphere and the street lights and the whole other worldly quality of it.
From about 1970 onwards I was a regular at every home game and even I started going to away game trips with my dad."
What's your best football childhood memory?
BD; "I have to be honest I don't remember City winning the league in 1968 although by brother David was actually photographed at the game.
Manchester Evening News Pink (football edition of the local paper) used to print a photo of the crowd from each match with one person circled as the 'Fan of the Day' and David was the fan in the match away at Newcastle on the last day of the season when we won the game and beat United to the title!
As for my best memory there's two really… the first was in 1972 and City were again beating Manchester United. We were 2-0 up when Rodney Marsh started messing around in the corner, showboating, and it just showed how superior we were at that time to United, and we went on to win 3-0.
My other best memory was being at the Old Trafford in 1974 when Dennis Law famously back heeled the winner against his old side to 'relegate' them.
My Dad got hold of two tickets from a workmate who was a United fan but they weren't together so I was in a stand on my own and my dad was in another section of the ground. Of course when City scored it was very heavy as in the Seventies there was a lot of anger and violence at football matches. My view was across the side of the Stretford End which just went hysterical and into a whole meltdown of violence and hostility when the goal when in. There was a pitch invasion and the match was abandoned but the result stood. A great day!"
Who was your boyhood football idol?
BD; " I'd have to say Colin Bell. I have school notebooks with his name all over it and photos of me wearing his famous number 8 shirt too. As I had blond hair at the time I fancied myself as a bit of a Colin Bell type player… which was clearly a fantasy! He was my favourite player at the time although I did really like Rodney Marsh when he joined us. I know that he ruined the team, as a team, but I was one of the fans who liked his approach and he bought a bit of 'show business' to the City side. He was our first player to have that glamorous side to him, every other team seem to have one in that era… Frank Worthington, Tony Currie, several guys at Chelsea and Arsenal and obviously United had Georgie Best. We kind of imported a rockstar. Rodney Marsh was our rock star player and for me it was something to be proud about."
Do you miss those days of muddy fields and tough players? What do you think about modern football?
BD; "If I do I can always go and watch lower league football live in England as I think that there's still that spirit of 'old' football there. I've got spoilt watching the quality of Manchester City, the Premiership and the top leagues in Europe so that when I do occasionally see lower league football on TV its almost unwatchable so I prefer the live atmosphere. I find there's a lack of invention and skill in a lot of those players.
When I'm at home in England I sometimes go out in bad weather, on a cold night and watch local teams play and kick lumps out of each other! I'll eat chips and gravy in a tray and treat it as an event, a night out but not for the football."
Back in time, did you dream with becoming a professional footballer?
BD; "No, those dreams were shattered very early as I barely held down a place at left back in my school team. It was a very good team and we did win our league.
I was good enough to be involved but never one of the star players but I was always getting substituted or being a substitute."
Is being a supporter of a team like Manchester City like being a Punk Rocker?
BD; "For most of my lifetime City haven't had any lasting success so the best analogy I can use is that being a Manchester City fan (over the last 40 years) made you understand the meaning of 'Blues' music… both metaphysically and literally. There's been a lot to complain about and it's been kind of cruel, particularly when you share a town with a phenomenally successful football team. That's globally, not just better than your team but better than most peoples. Manchester City were definitely the outsiders choice, it defined you as a person and they were never really a mainstream team, until recently that is.
So I can kind of identify with that as a concept but I didn't make the choice as it was in the family, in the blood. There was this kid at school who just decided to stop being a City fan and start supporting United. I remember being so shocked as it was just the most unspeakable act I could imagine, going against your family, it's like going against nature if you're born into a City family. It was unbelievable but I suppose smart money on his part, certainly for the next 30 years!
What do you think football and rock have in common?
BD; "I suppose rock is not particularly elitist and neither is football. If you look at rock shows and festivals and you look at football matches they tend to be egalitarian, mostly working class crowds. To make it as a rock star you don't have to be terribly privileged, just have determination, a bit of skill and get your hands on a basic cheap instrument… the same with football; a pair of boots (or sometimes not even a pair of boots) a football and a patch of dirt.
What football and music and rock do is that it shows less privileged people an escape route, something positive, which is hope. The worst case if they don't make it as a musician or they don't make it as a footballer but they can still enjoy the process, enjoy the ride."
Do you think that players like former Manchester City Mario Balotelli are the new rock stars?
BD; "I do think that it's crossed over a bit in that there is a lack of genuine rock stars these days. Music has changed its format, a 'rock star' playing rock music doesn't exist anymore and I think football has filled some of that 'stardom' gap with players like Balotelli.
In the music business musicians have got smarter in terms of drugs, drink, wasting their money, they realise that their careers can be short so they get into the business side now. I don't just mean rock stars but also pop and rap artists are creating brands with clothing lines, perfume, alcohol. They realise that their career is very mercurial and they have to diversify in the world we live in now, it's an information age it's not the same as it was even 10 years ago.
I think Balotelli is very much a footballer of the moment and the problem comes when their lifestyle overtakes the delivery on the field and they become a waste of space. A team can't carry a footballer who doesn't do his job on the field and the fame can end very quickly if they're dropped.
It seems as though a lot of musicians are smarter these days and have good managers and people around to advise them. Whereas professional footballers seem to have so much money and too much spare time; they do some training in the morning, they eat right but then what do they do unless they're travelling to matches? The elite clubs seem to be more in control of this but players in the teams just below are still very well paid but they don't have midweek travelling with the team so they have too much time on their hands but no infrastructure around them to stop them getting into trouble."
Have you ever written a song inspired in football?
BD; "Personally, no, as the way that I write music is that it just comes to me. Football is a very important part of my life, it's a great hobby, a great counter balance to music. It's my roots, following my hometown team through thin and thinnner… and now some thick. It somewhat defines me as a person so there's nothing in football that has literally inspired me in my music. Maybe the energy of a crowd in full voice at a game fills me with the same sense of wonder that I can feel at some live music shows so that's a buzz and perhaps it finds its way subconsciously into my music."
Have you ever canceled or delayed a show just to see a football match?
BD; "No I don't think we ever have. This is my job and if we're booked to play then the show comes first. We have organized tours to co-incide with tournaments like the World Cup in Germany and I've also been to quite a few games when I've been on tour in places like Argentina."
What did you feel when Aguero scored in the last minute against QPR and Manchester City won the Premier League for the first time in 44 years?
BD; "I had tears of unbridled joy! I was actually at the game and went through the previous 25 minutes in the abject horror of thinking the unthinkable was going to happen yet again, so it was an emotional release. Just before the goal I went to the bathroom and started praying… so you could say I believe in the power of prayer.
To put that in context while we were losing people I know were crying in the stands as they couldn't believe that our nightmare scenario was going to happen;
that City, the team with the best home record in the league, were about to lose to QPR, the team with the worst away record, and that would mean we'd lose the championship to our local rivals! There was such a feeling of shock in the crowd I'm amazed that the players overcame it.
So at the final whistle there was just this incredible outpouring of emotion from people. You can never take it back, City will always have at least that one premiership in my lifetime and I was there when they did it.
Though I aged a lot, I really did!
Living in LA, do you use to fly to Manchester to see City games?
BD; "I have done occasionally, for example before the QPR game I was on tour with The Cult and after I saw that we'd beaten Newcastle 2-0 to set up the season finale I immediately booked flights. Usually I organize my trips back to the UK to see my family during the football season so I can catch a few City games at the same time."
Is it hard for a football supporter to live in a land where "the beautiful game" is called "soccer"?
BD; "I find now that more American people have an awareness of soccer and it doesn't mater to me what its called as long as its played well. It's great here as an armchair supporter because virtually every game is on TV, let alone the internet, so I have no complaints.
15 years ago was quite different and I used to have to go to a pub in Hollywood on a Saturday or Sunday morning at 6am for breakfast, watch the game and look at guys drinking beer at 7am and wondering what they were doing!
Now I can have as many games as I want in the comfort of my own home."
Do you support any team in the States?
BD; "Historically I haven't had a particular team though I have followed LA Galaxy, to an extent, on the basis that you should always support your local team. I would always look out for the Galaxy results and I've been to a few games but didn't really like the atmosphere. It was a bit flat, maybe that would be different for a night game, or maybe it's too sunny and I need cold damp Manchester weather for a real match!
Now though I have a new team to support, New York City FC. They're the US team being set up for the 2015 MLS season by Manchester City in conjunction with the New York Yankees. I won't be against the Galaxy, as they're my local team, but I'll have to be NYCFC all the way!"
Tell us about playing in L.A. with Hollywood United?
BD; "There's a lot of amateur soccer played in America and if you think of the background of all the immigrants here that's no surprise; the mixture of people from Latin America, Northern Europe and worldwide. Added to that there are a lot of American guys who grew up playing it at college level here, though they never thought of it as career because the money wasn't there.
Here in Los Angeles it's a nice climate and there was always several teams playing but unfortunately a lot of driving to get to the games. Hollywood F.C. was just one of those teams, a bunch of English guys and occasionally I would play for them when I was off the road and here for extended period of time. Playing for Hollywood was fun."
I guess that for a football supporter like you must be a kind of dream come true having the chance to play along with former international footballers like Vinnie Jones, Eric Wynalda, John Harkes, Alexi Lalas, Richard Gough or Frank Leboeuf?
BD; "In the Nineties Ian (Astbury, singer with The Cult) and I took over a team for a couple of seasons called the 'Nomads'. We got a bunch of our friends to play; Brazilian guys, a Serbian guy, a couple of Americans, one Latin guy in midfield but the core was English guys, like us.
At the time we knew someone at adidas in Los Angeles who sorted us out with our kit and they introduced us to a lot of the U.S. team in '94. We got on really well with them and I got to go to few of the World Cup games and became friends with Alexi Lalas.
I played with all those guys and it's funny as some of the ex professional players just still want to score goals, I'm not going to name any names, but they just go out there with one thing on their mind… even if they're 60 or 6 years of age there's a kind of guy and all they care about is scoring! I have to say Alexi is NOT one of those guys and he is particularly generous on the filed trying to make the "celebrity" players look good!
I've also played a lot of charity games with ex-pros and it really gives you an appreciation of the game when you're out on a professional field. The sheer size of it to a amateur pair of legs, even a guy that plays regularly on a Sunday for fun in a league with referees its nothing to how it compares to when you get out on a big field."
Who's the best rock star playing football?
BD; "Good question. I can't pick one as lots of people have impressed me when I've played with them over the years. Steve Harris form Iron Maiden is really good, very solid in midfield. Robbie Williams is a very solid left back who doesn't do anything fancy, just plays a very sensible game of football. Gezzer Butler 'when fit' is also super handy on the field too.
Others who stand out include Rod Stewart who although he's an older guy, who doesn't do very much, has an incredible shot and can hit a football really hard. Ziggy Marley is very good, very solid midfield player, very combative. The Def Leopard guys are very good too and they can play a bit.
It seems as though a lot of guys who are entertainer's play a bit more sensibly when they get on a football field. It's hard to explain… maybe it's because they know it's not their real job they keep it tight and play a sensible game, not too flashy.
I've played in friendly games and charity matches with loads of great guys from bands over the years and I know I've missed a whole load off for now!"
Negredo, Navas, Javi García, just to name Manchester City ones, the Premier League is living an invasion of Spanish players. What do you think they are contributing with to the British football?
BD; "And you've not even mentioned our little magician, David Silva! Like I said in my earlier answer Manchester City and the Premier League now has some of the best and most skillful players in the world and I feel privileged that it's happened in my lifetime. I also can't answer this question without saying thank you for 'The Beast'… Negredo has been awesome for City!
I would say most if not all of the Spanish players in the UK, but especially the ones at City are technically gifted and not afraid to work hard for the team offensively as well defensively. They also 'see' the field to coin a phrase, so have quick brains as well as feet and that's makes Man City a much more dangerous team these days….viva!!!"
What do you think about millionaires like Khaldoon Al Mubarak, Vicent Tan, Roman Abramovich, Malcolm Glazer… taking control of the clubs?
BD; "It's not been a problem at City as they are a solid family who are in it for the long term and have put plans in place that prove such like the massive new Training Campus being built at the moment. I think its unavoidable in the UK to have overseas investors and mostly the good ones let the club remain true to it's roots. Unfortunately some of the more eccentric owners of 'smaller' clubs seem to have way too much ego and might abandon the team if they get bored and that's destructive… think Cardiff, Blackburn or Hull City 'Tigers' for example."
In few weeks Manchester City will face FC Barcelona in the knockout round of the Champions League. What do you expect to happen in these two games?
BD; " My heart says a City win… my head says Barca to win due to their superior experience at this level and it's over two games.
I do think the games are gonna be GREAT though…. and of course I have faith in my team to make good showing and prove why we were the most feared of the unseeded sides."
Questions by Oriol Rodríguez – Panenka, interview by Mick Peek – February 2014 © www.billyduffy.com 2014 – All rights reserved. No part of this article may be reproduced or transmitted in any form or by any means, including photocopying and recording, or by any information storage and retrieval system without the prior written permission of the publisher