So it's been a busy April and great to be back playing live again. The Cult gigs that we did on our own were just as much fun as last year and I hope we can do many more shows this year because the band seems really on fire at the moment. I had been worried that we might be a bit rusty but the amount of touring that we did last year really helped and everything felt really good.
The two shows at Coachella were great as they gave us a chance to play to a different audience, not just fans of our own. Coachella is very much a dance orientated festival and the whole site is alive so that even when bands are playing there's usually 2 or 3 things going on at once creating a cacophony of sound. We were lucky though as we were playing in a tent, albeit a massive one, so that contained the sound and allowed us to use our lighting show and create a great atmosphere.
For our choice of songs we tried to bring something from all the eras of The Cult to the show but still make it work as a set. 'The Witch' particularly was fun to play as it worked really well in that environment and felt fresh and new.
The first weekend we played 'Gone' which is one of Ian's particular favorites but to mix it up for the second show we took that out along with 'Embers' and 'Love Removal Machine' and played more faster songs and ended with 'Sanctuary'. Swapping a few songs around made it a little less of a traditional rock show set and I really enjoyed the variety.
It was also great to see that Rolling Stone had us down as one of the highlights of the festival too.
I didn't get much chance to see other acts though I saw The Replacements and they were fun and it was nice to see Tommy Stinson, plus they did a great cover of The Only Ones 'Another Girl, Another Planet'. I also watched Bryan Ferry as he was on before us on the same stage and while there I briefly caught up with the legendary 'Sir Paul' McCartney. I first met him in about 2000 when he came in when we were mixing the track 'War' from 'Beyond Good and Evil'. He helped us mix the track and even suggested that we put phaser on the high hat cymbals so we were all like "who can argue with the man who wrote 'Helter Skelter' and knows a thing or two about writing scary rock songs!"
After our 'Cultchella' show it was also cool to hook up with Steven Tyler and a lot of you will remember that The Cult toured with Aerosmith in the late 80s so we go way back.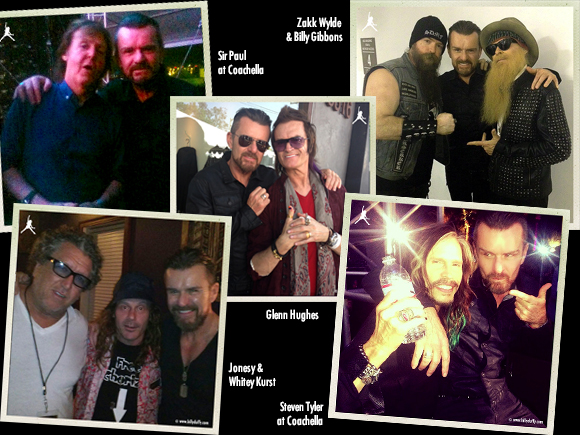 On the Sunday after the first Coachella show I went to the 11th Annual John Varvatos Stuart House Benefit at Melrose Avenue in West Hollywood. It is an annual event raising money for Stuart House, at Santa Monica-UCLA Medical Center that focuses on helping sexually abused children. It really is a great cause that I like to support and this year Willie Nelson played and I got to hang with a bunch of old friends like Glenn Hughes and Matt Sorum.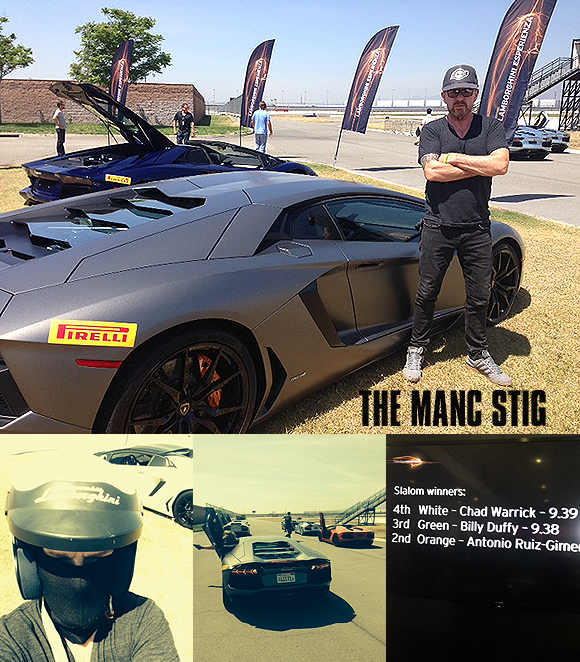 Following the second Coachella date I had a great day out living the dream racing fast cars in the desert at the Auto Club Speedway, in Fontana, California. It was a Lamborghini race day experience where you get to drive $450,000 cars around a race track and it was a really hot day at the track spent with my mate Jimmy and a bunch of pals.
You start off with an instructor then eventually they let you go solo and follow the instructor in another car. They don't make the circuit track times competitive because it's too dangerous as these cars are 700 horse power and can do 220 mph if you can get them up to that! They did however have a Slalom race where you go down the track as fast as you can dodging in and out of cones.
I was really pleased as I got 3rd place out of 16 so I even got on the podium.
There were guys that were faster than me but they kept hitting the cones so I got lucky there maybe, but I suppose the whole point of the slalom is to not hit the cones!
I have to say a big thanks to Jason Chinnock at Lamborghini North America for the invite too.
It seems as though there's always something interesting going on in Hollywood and this week I had a great time at the Revolver Golden Gods award show at Club Nokia. It was ace to see my old pal Duff Mackagan playing with Guns n Roses at the event and it was cool to catch up with so many old pals like Zakk Wylde and Billy Gibbons too.
So this weekend I'm off to Biloxi for a Cult gig at the Hard Rock Live then it's the Rockville Festival in Jacksonville, Florida where we're headlining the East Stage on the Saturday night.
Then that's it for shows for a while and then its back to the song writing and recording for the next album.
Take care
billy x
P.S. If you haven't done so already don't forget to enter for a chance to win a one off Signed Screen Print of me with my Signature Gretsch Falcon. Click on the banner below for more details and to enter.