Hey,
Just getting in touch whilst enjoying a few days of luxury lifestyle in the sun in beautiful Marbella in Spain. I'm off to England next week and it will be great to catch up with my family and friends as I've not been home since last year and with a bit of luck I might catch a couple of games watching the Champions!
Since my last update I played the last few dates of the US tour with The Cult and they were as great as the ones before. In fact since James joined the band last year I feel that we've consistently been playing great shows and I've had my best tone and guitar sound for a long long time. Currently there's no more shows planed for 2014 as after my time back in the UK it's back to LA and time to get focused on working on the new music with Ian.
Before I headed over here to Europe I was really pleased to be asked by my old mate Billy Morissison to team up with the Viper Room All Stars for a show celebrating the legendary Hollywood venue's 21st anniversary. It was a great night as I got to play with a bunch of friends like Billy and Steve Stevens when we did 'Rain' and 'Surrender' by Cheap Trick. Billy Idol was also there to join in and expand the 'punk' ex-pat presence on stage but my highlight of the evening was the appearance of Duff Mackagan's daughter Grace doing a brilliant version of Iggy Pop's 'Sweet 16' off the 'Lust for Life' album….one of my favorites!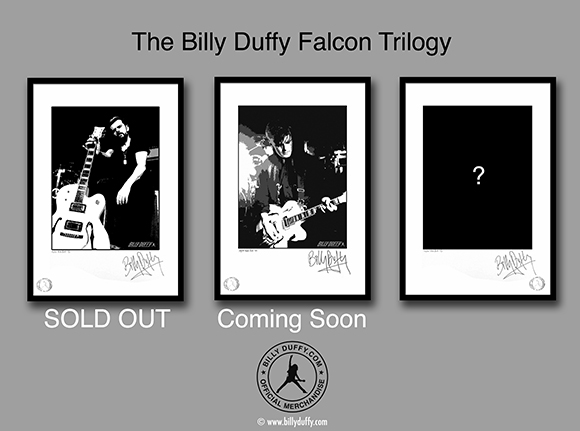 Last year we produced a Limited Edition Fine Art Screen Print exclusively via billyduffy.com. With only 50 available worldwide they sold out in just two hours!!! At the time we announced that we would look to produce more and the second one will be released very soon. Following the 'Gretsch White Falcon' theme of the first poster it is again designed by Mick Peek from a photograph he took of me on stage during the 'Dreamtime' tour in 1984.
This time the edition will be 75 available worldwide and the print will be in three colours (black and two tones of silver ink) again celebrating the signature colourway of my White Falcon guitar.
The print will be hand signed in silver pen by me as well as numbered and signed in pencil by Mick. If you are interested in picking up one of these unique items then keep an eye on your inbox as we will be launching them first to people who have signed up to my email newsletter before they are offered for public sale.
Take care
billy x