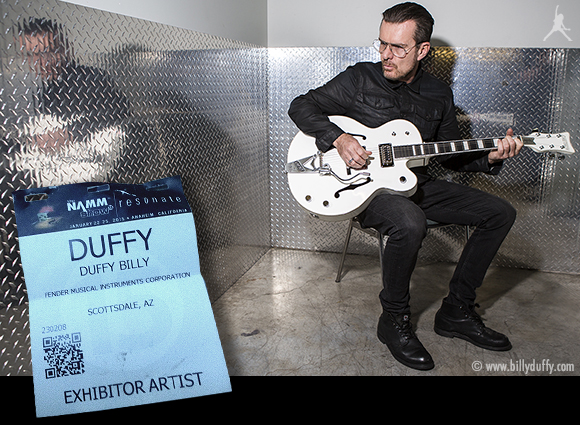 Hey,
I've had a great January and been keeping busy with plenty of music related stuff. Over the last few days I've spent some time hanging at NAMM which is one of the biggest music trade shows in the world and lucky for me pretty close, as it's held in California. I was back there with Gretsch showcasing my signature Falcon which most of you will know plenty about. I can't believe that it's been two years since it was officially launched at NAMM in 2012 but as the cliché goes time flies when you're having fun 😉
Catching up with all guys from Gretsch was cool as I was able to spend some time talking about my next 'top secret' project that will be revealed later this year. I can't say anymore about it at the moment but as soon as I can you'll be the first to know!!
While at NAMM I also attended the 'Dunlop 50th Anniversary Party' to celebrate the life and works of Jim Dunlop and hung with my mates Jimmy jnr and Scott Uchida.
Then I went by the Marshall booth and found a couple of new/old things I hope to try out very soon and lastly grabbed a couple of pedals by a company out of Akron, Ohio called 'Earthquaker Devices' to check out….. the 'Park Fuzz' and the 'Palisades'…..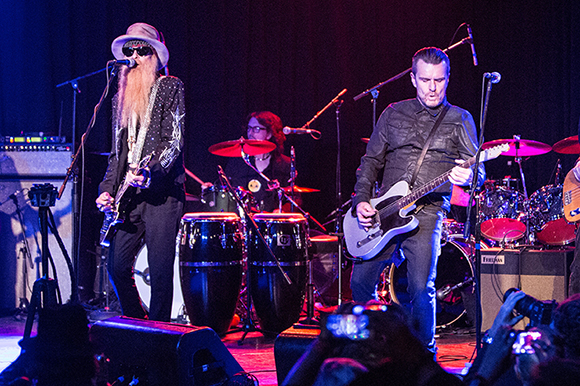 Earlier in the month I had the great pleasure of being asked to take part in a show at the Roxy to honour Billy Gibbons of ZZ Top and Butch Trucks of the Allman Brothers band. It was organized by one of my oldest pals, Matt Sorum for his Adopt The Arts charity and I played "Beer Drinkers & Hell Raisers" with Mr Gibbons. It really was my pleasure as Billy's a gem! The night ended up a guitarmaggeddon… Slash… Duff… Steve Lukather… Richie Sambora et all… just check out the photo below from the soundcheck!
Best of all it was all for a really great cause and you can find out more about it here…
Adopt the Arts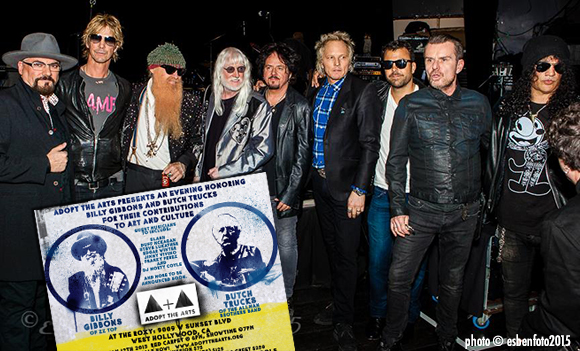 As much as I love the thrill of being onstage as a lifelong music fan it's always great to have a night off and be entertained by one of your heroes. On the 10th I had the pleasure of catching Ian Hunter's show at the Roxy. Those of you who've read my many interviews over the years will know that I've been a fan of his since he was lead singer for Mott the Hoople in the seventies, when I was a teenager, and that was only heightened when he collaborated with Mick Ronson from the Spiders from Mars (and the muse behind my wood fronted Les Pauls).
I went to the show with James Stevenson and hung with Tracey Hunter (Ian's daughter) and Clem Burke from Blondie. I really enjoyed 'Bastard' from one of Ian's early solo albums (with Mick Ronson) plus the Mott hits particularly 'Roll Away The Stone' that Tracey sang the female vocal part in the middle 8. Ian's energy and enthusiasm was amazing for a guy of 50 let alone 72 and was much the same as the Mott shows in London a few years back and about what I have come to expect of a legend whom I have now seen perform in at least 4 decades!!!!!!!
Here on my website you can even see my poster for the Hunter Ronson gig I saw in Manchester in 1975!
Ian also wrote the book 'Diary of a Rock n Roll Star' which basically opened my eyes to the world of touring in the 1970s in the states and simply chronicles the life of a touring musician hanging with Bowie, Iggy,  Lou Reed et al. It's written from a very down to earth prospective and includes gems like Mott's guitar player (the brilliant Mick Ralphs) scouring pawn shops picking up soon to be super collectible guitars (that were still very rare in the UK) for peanuts….. I dreamt of that life….  so be careful what you wish for as they say!!!!!!
Finally and as a nice book end to the update which started talking about my White Falcon is to finish with this. I've always been a Clash fan and had the thrill of playing a lot of shows supporting them when I was in Theatre of Hate (as well as working with Mick Jones) so loved seeing the BBC documentary shown over Xmas based around their show at the Roxy in London on January 1st 1977. What was cool was that Joe Strummer was playing a Gretsch White Falcon which was weird as I've not seen that before especially as he's famous for playing Fender Telecasters. I think the White Falcon originally belonged to Sly Sylvain from the New York Dolls who brought it over from NYC, or Malcolm Mclaren did when he managed the Dolls before the Pistols. Then either Jonesy gave it to Joe or visa versa! If you can manage to find the documentary online you can even see Jonesy backstage in amongst the fog of cheap ciggies n booze……amazing stuff indeed!!!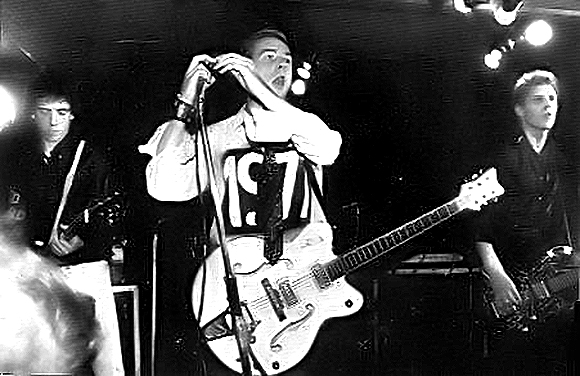 Next week it's full steam ahead with Cult album pre production as well !!!!!
So till next time, take care
b x