Hey
It's really been a busy few weeks since my last update. When I flew back into England I really hadn't expected it to be as busy as it was.
After the excitement of teaming up with Johnny to play the encore in his show I had a few days in Manchester with my brother. It felt like I was hardly there long before I was off to London to catch up with a load of old friends there.
On the 8th of September I was lucky enough to be invited to the launch of the new Jaguar XE at Earls Court in London. It was great to catch up with a fellow petrol head Mr AC/DC Brian Johnson at the event as well as my pal Nicko McBrain from Iron Maiden who was hanging with us too as he's a huge Jag nut …almost a supergroup!!!!!!!!
The event was HUGE…. 3k people watching a west end stage show telling the story of Jaguar cars narrated by John Hannah! The Kaiser Chiefs played too and they were excellent. It was a great night and thanks to all the JLR team (Jaguar Land Rover) for looking after us and Jaguar Designer Wayne Burgess for the invite.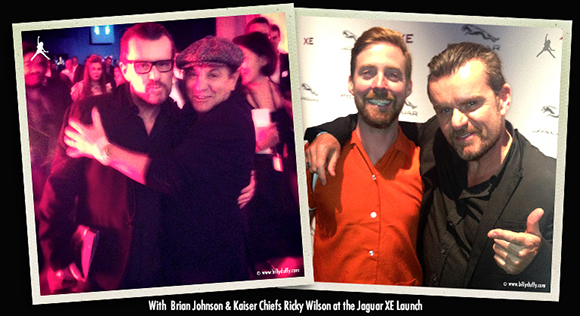 The 10th saw the release of the second in the 'Gretsch Trilogy' series Limited Edition Screen that I've produced with my pal Mick and we were really excited that they sold out in just a few hours. If you missed out we have a competition just started to win an Artists Proof that you can enter by clicking on the banner here.
We'll also be launching the third and final design in November so keep and eye out for that one, as if it goes as well as the first two you'll need to be quick to snap one up!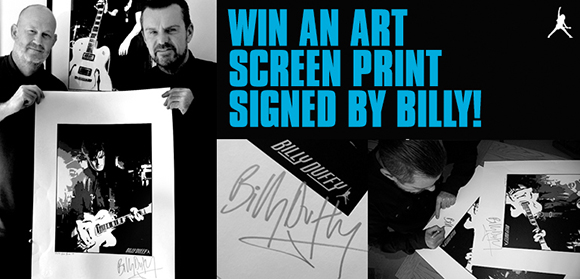 On the 15th another of my 'Maiden' pals Adrian Smith invited me along to watch his son play in his band 'Wild Lies' where they were supporting German metal band 'Edguy'. Heres a pic ad Adrian and me with Edguy's frontman Tobias Sammet who was a nice fella!

If I thought that jumping up with Johnny was going to be my only musical jaunt in the UK I was wrong as I ended up on stage with my great mate James Stevenson as a guest in Holy Holy.
It was a top night last night as they performed David Bowie's Man Who Sold the World album. The show was part of a tour organised by Tony Visconti and Woody Woodmansey and as lots of you will know Tony produced many of Bowie's albums and Woody was the original drummer in 'The Spiders From Mars'.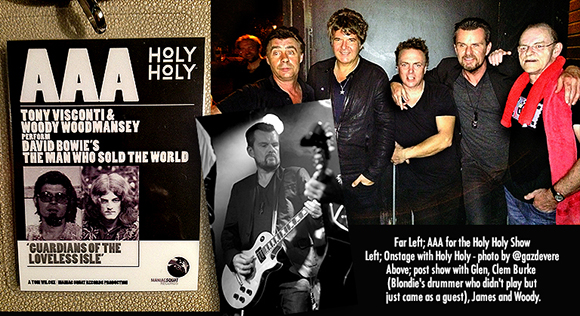 With the great vibes I couldn't resist jumping up on the drum riser with the brilliant Woody and the band for 'White Light/ White Heat' .. then the rest of the night I spent singing along with everyone in the sold out crowd… amazing!!!
It was truly fun hanging with such a great bunch of people all intent on selflessly making a brilliant night celebrating some of the music that shaped our lives……
As well as Woody W and Tony V, Glen Matlock (Pistols) played as did James doing trojan work on Mick Ronson's amazing guitar parts. The list goes on… Glen Gregory (Heaven 17) was brill on vocals, Steve Norman from Spandau Ballet also sang a few and did a great job as musical director, Marc Almond cameo was top plus all the other sundry players who have various Bowie or Iggy connections……….. the backing singers even included Mick Ronson's sister Maggie and Daughter Lisa!
You can watch the performance here…

All in all I had a great time back in the UK (as I always do) before I headed back to my California home and back to work with Ian on the next Cult album.
I have to be honest though I couldn't resist the chance to head on to the #PEACEROCKS event at John Varvatos Melrose Store.Ringo Starr performed with the All Starr band that included Joe Walsh, Edgar Winter and Nils Lofgren and it was a great way to spend a Sunday afternoon!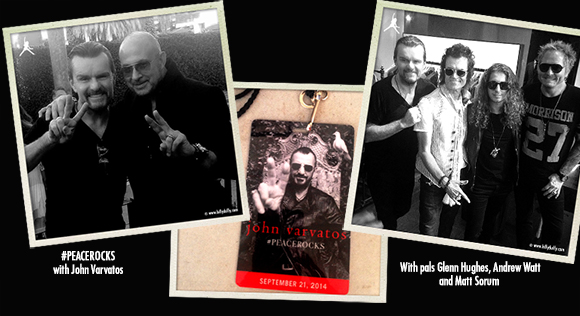 So til next time
Billy x