So we're not even out of January yet and its already hotting up to be a storming year!….
Back at NAMM
I guess I'm pretty lucky to have one of the world's best music gear shows so close to home so this month saw my annual trip back to NAMM and chance to hang with some of my pals in the business.
Obviously we need to start with Grestch and the recent launch of my Signature Black Falcon. I couldn't have dreamed a few years ago that I could have the honour of one signature model and now I have two with the arrival of the Evil Twin.
Those of you who follow my updates will know that I'm constantly tweaking my gear in the quest for the perfect tone and a recent favourite in the backline is my VOX AC30 combo so I was pleased to spend some time on their stand signing a few pics for people. Likewise I stopped by at Ernie Balls as they've included me in their #IPLAYSLINKYS campaign… but then I have been using their strings sine 1983!
Finally and probably most exciting for me was getting my hads on the the first finished Signature Cry Baby Wah pedal. Mr (Jimi) Dunlop bought along the first 3 production models and here's a pic of me signing them with him! He tells me they should be in the shops in March so keep following for details of the actual release date.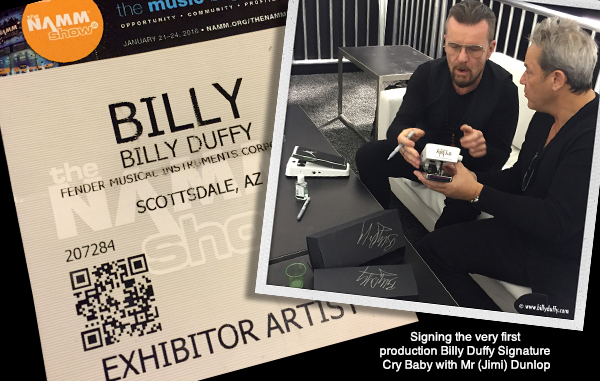 Hidden City
With only a week to go until the release of the album I've been getting as excited as you all for it to finally be born! In the build up we've released three of the tracks online to anyone who's pre-ordered the album including 'Dark Energy', 'Deeply Ordered Chaos' and most recently  'Hinterland'. We even shot a full video for 'Hinterland' which I feel looks great and really captures the feel of the song including a blood splattered BD Falcon and me on my Ducati! You can watch it here…
I've also been really busy doing lots of interviews about the album for magazines and radio stations so make sure you follow me on Facebook and Twitter as I'll be posting links to those as and when they come out.
And if you haven't pre –ordered your copy of Hidden City yet why not get it now!!!…
Amazon USA     iTunes USA    Amazon UK    iTunes UK
You can also pick up the 'Hidden City' as a pre-order in various white vinyl editions exclusively from The Cult Store.

Alive in the Hidden City
Since I was last in touch we've added a whole load of North American dates to the ones already announced in the UK. We kick it all off with an intimate show at the Grammy Museum in LA which is sort of like a cool album launch and a great way to kick off the live shows in 2016.
For ticket details including 'VIP Photo Op' Packages check out www.thecult.us.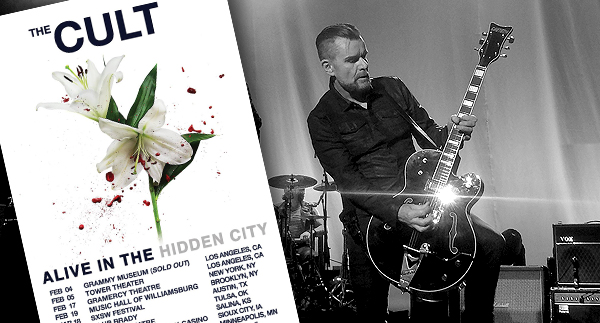 Pop Up Exhibition & Signing in Manchester
After I did the Modern Rocks Private View in Austin last year signing prints and Posters by my pal Mick Peek we had lots of people asking if we could do something similar again. So we thought the ideal location would be a 'hometown' show when The Cult hit Manchester on February 26th. The Pop Up Exhibition will feature an exclusive Manchester-themed limited edition screen print, as well as a collection of black & white photos of me taken by Mick over the years, including some never seen before images.
There will also be an opportunity to purchase a life-size photo print of my signature Gretsch White Falcon guitar!
For more details and to reserve a ticket check out…
Billy Duffy Photos & Prints –  A Pop-Up Exhibition by Mick Peek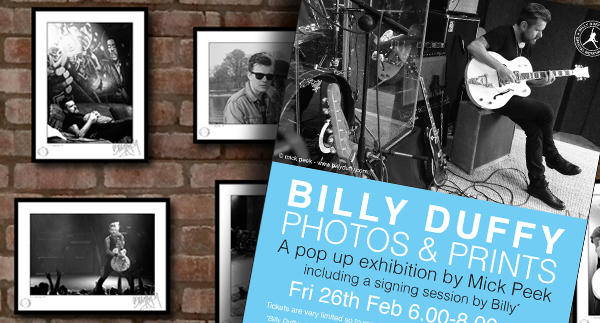 So back to the interviews and getting stuff sorted for the tour and I hope to see you Alive in the Hidden City!
billy x