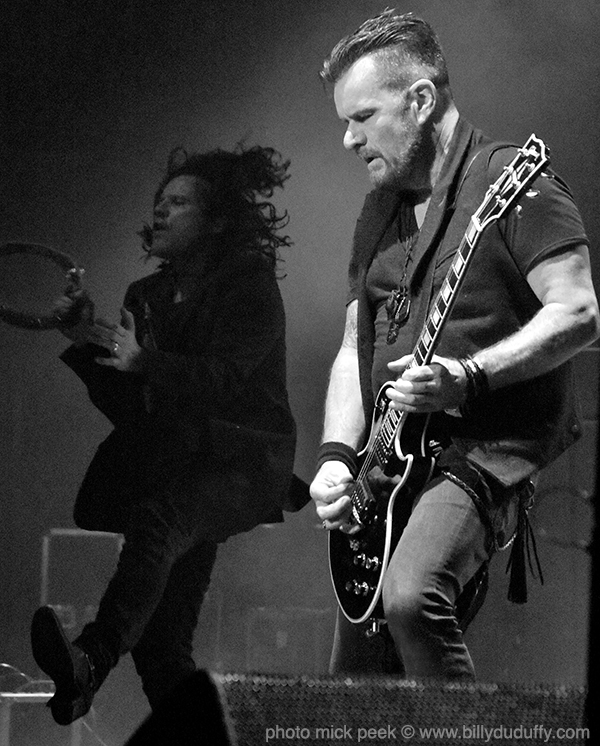 Alive in the Hidden City
"I have to say a massive thanks to everyone who has caught one of our 'Alive in the Hidden City' shows this year and helped make them some of my favourite live times yet! I know it seems like I've been saying the same for the last couple of years but this tour really has been something special. I'm not sure what the magic ingredient is… the new songs… the new guys… my new gear… I suppose it's a bit of it all. Don't worry if we've not hit your location yet as we are currently working hard on adding more dates for the rest of this year… best place to get the first news on those is to check out www.thecult.us.
Next up we're off to Mexico City to play some stadium shows with Guns n' Roses. We go back a long way with those guys to when we took them out on the road as our support in 1987 on the 'Electric' tour. Since then Duff has become a close friend and it's great to see them back together this year.
After Mexico it's back home to California to recharge for a few weeks before we're off out again.
Jamming with Mates & Pop Up Show in LA on my B'day…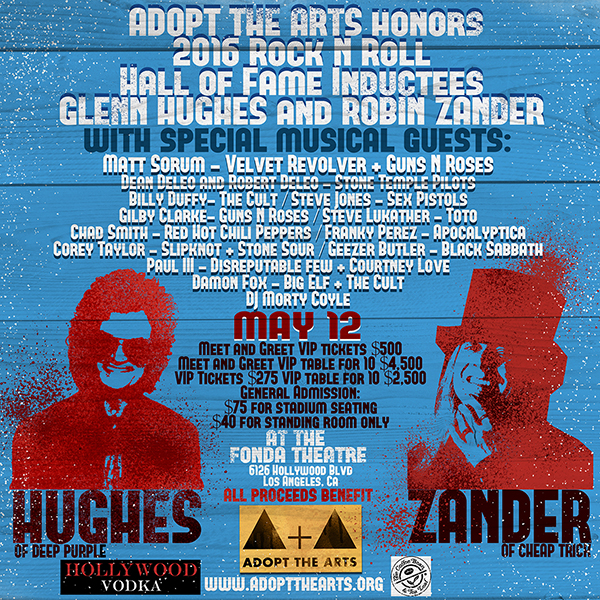 t's my birthday on 12th May and what better way to celebrate it than jamming some classic tunes and spending time with some great friends and musicians at a charity night at the Fonda Theatre in Hollywood organised by my buddy Matt Sorum.
The night is honouring 2016 Rock n Roll Hall of Fame Inductees Glenn Hughes and Robin Zander and is in support of Adopt the Arts, the Non-profit funding arts programs in public elementary schools. Other musicians lined up to play include Jonesy, Chad Smith, Corey Taylor, Gilby Clarke, Dean and Robert Deleo, Geezer Butler, Paul III and my new band mate Damon Fox!
You can pick up tickets here…
Adopt the Arts Benefit at the Fonda
Anyone attending the show at the Fonda will also get chance to see a Pop Up Exhibition of Photos & Prints of me by my mate from the UK Mick Peek. You will be able to buy signed copies and anyone making an advance purchase will get the chance to have it personalized by me on the night. We will also be giving 10% of all sales to support Adopt the Arts so even more reason to check it out.
For more details on this art show email info@billyduffy.com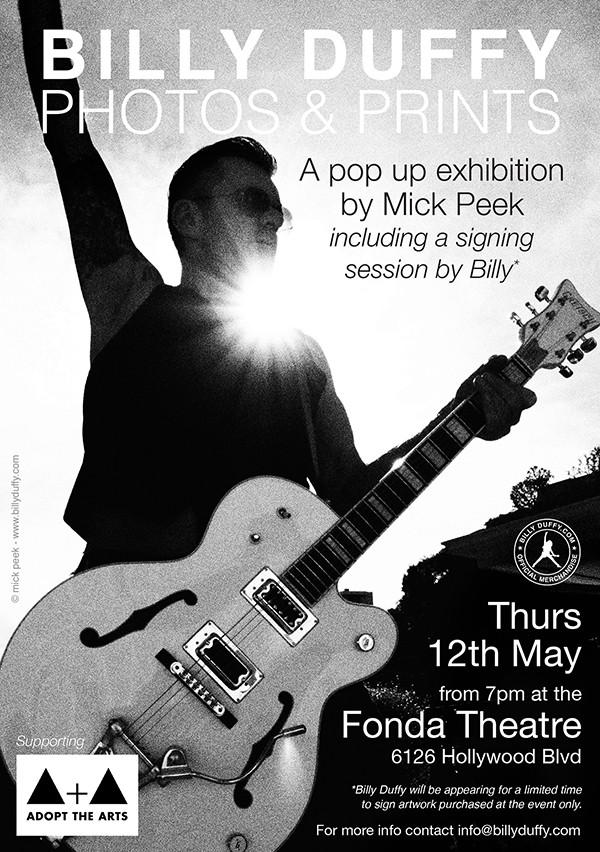 The Dunlop BD95 Billy Duffy Cry Baby
We sent you an email earlier this week launching my signature Dunlop BD95 Cry Baby Collectors Set. As there were only 20 available there were obviously quite a few of you who were disappointed to miss out. We are going to see if we can secure a few more from Dunlop to create a 2nd Edition Collectors Set (with different contents) If this is of interest to you please email info@billyduffy.com and we will add you to a pre-order list should it happen… but can't guarantee anything yet.
In the meantime Dunlop are taking pre-orders in the US for the standard pedal and you can pick one up here…
Billy Duffy BD95 Cry Baby Wah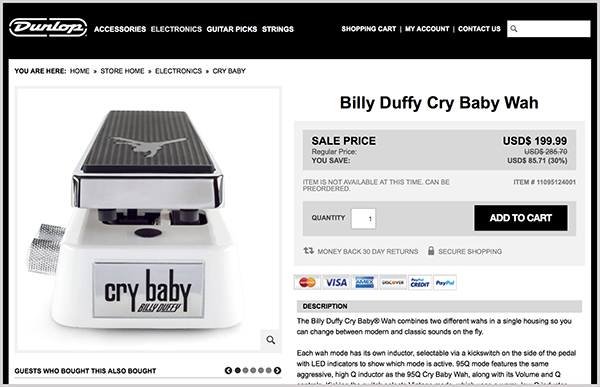 Own one of my amps as played in the studio & live!
I've never been a great horder of gear so from time to time will sell on stuff that I'm no longer using. Anyone who regularly reads my updates will know that for a good few years I was using the Matchless DC-30 combos as part of my rig. These boutique hand built amps are pretty special and were used in the
the 'Choice of Weapon' sessions as well as live on tour.
I recently decided to make some space in my gear lock up by moving on my two DC-30s so I've teamed up with LA based music gear sellers Techo Empire to give you the chance to own one.
You can check them out here….
Billy Duffy MATCHLESS DC-30 Guitar Amplifier with Case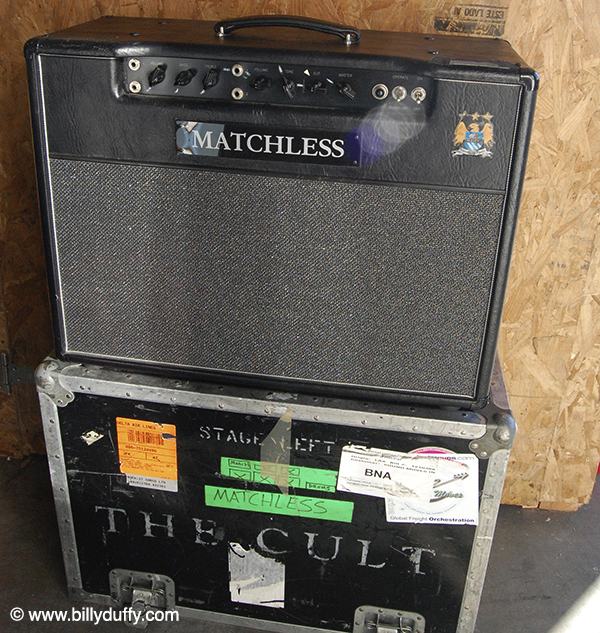 Limited Edition Signed Prints & Photos
Anyone looking for a memento from the tour should check out my online store.
There's a large selection of limited edition signed photos and screen prints and you can check them out here…The BD Online Store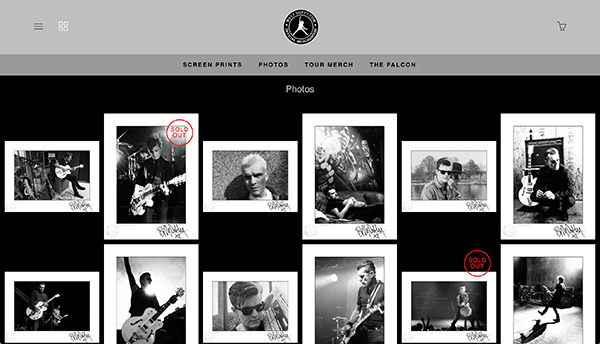 So till next time…"
billy x