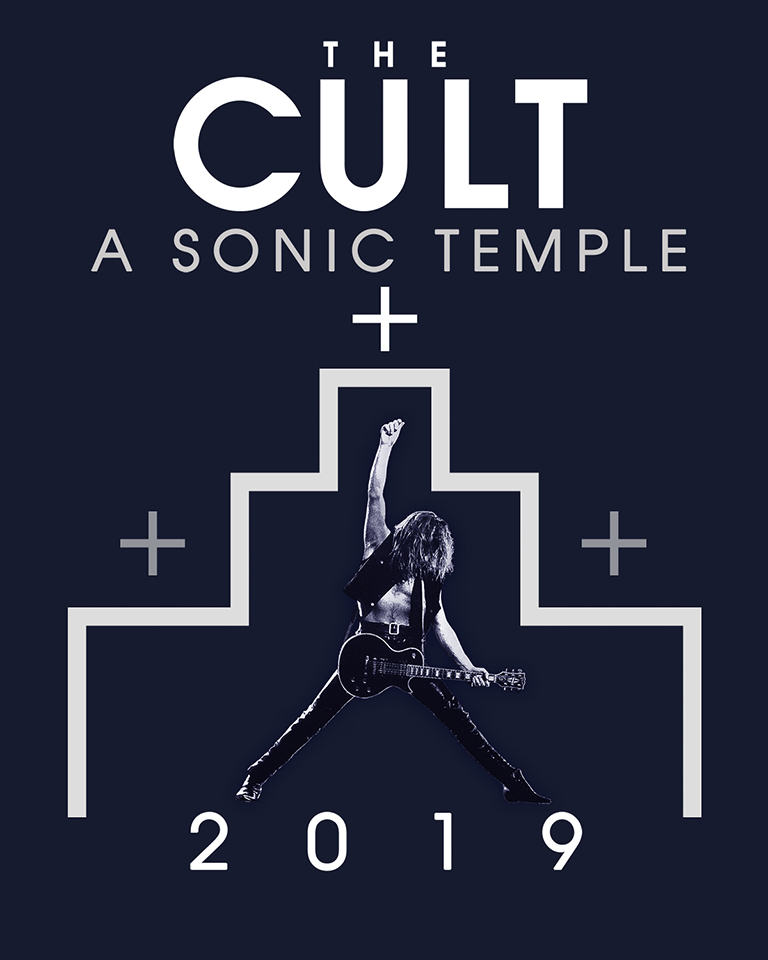 More live shows…
Since I was last in touch there has been a whole bunch of new shows announced with The Cult for May and June going out under the banner 'A Sonic Temple'.
With it being a couple of months away the set list isn't finalised but expect to hear some of those album tracks that haven't been played live in quite a while!
I've been following the 'addicts' posts about the tour and appreciate it's a bit frustrating when you don't see your country or town appear in these dates but rest assured we are working on more for the later this year. It's a bit like a puzzle and we need all the pieces in place and dates 100% confirmed before making an announcement. We are aware that there are a lot of you who will travel long distances (even to different continents) for our shows so we need to be sure nothing will change to avoid causing problems.
I know I'm like a broken record here (hopefully not one of ours though) but the ONLY place to be sure you've got the official tour news and updates on The Cult is at www.thecult.us!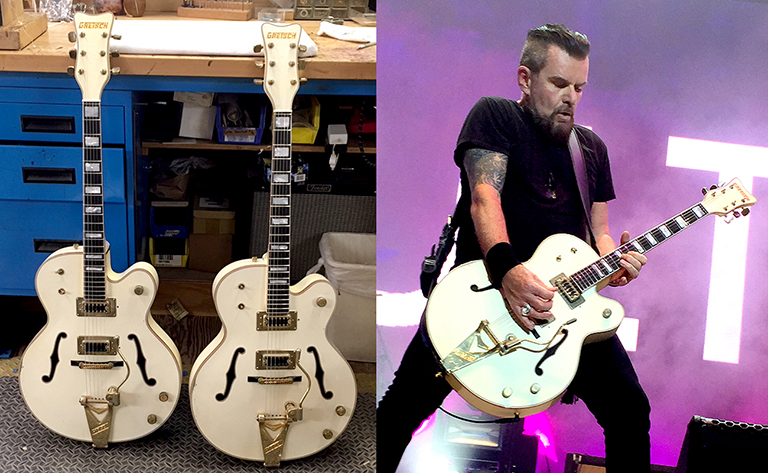 New 'Old' Falcons…

In 2016 I decided to 'retire' my original 1975 White Falcon which had long been known as the 'Sanctuary' Falcon due to it being my weapon of choice from way back in the 1980s for both recording and playing live with The Cult.
After many years of faithful service the 'old girl' had developed a beautiful patina with the white lacquer creamed with age and the gold plating on the metalwork worn away to reveal the silver coloured metal below but the value of this guitar (both monetary and sentimental ) meant I wasn't comfortable touring with it anymore. By this point I was happy to do so as my Signature White Falcon looks and sounds fantastic but after a while I missed having the 'Sanctuary' Falcon in my live arsenal so approached legendary Gretsch luthier Stephen Stern to make me two exact copies of my 1975 original.
Stephen did an amazing job with every scratch and dent replicated on a guitar with all the 'works' of a brand new model so the perfect combination.
So good is the reproduction that when I started playing the 'Stern' Falcon live with The Cult many people commented on how great it was to see the 'Sanctuary' one back onstage!
Also, of interest is that one of these beauties will be taking pride of place in an exhibition this summer dedicated to the design of iconic guitars. Full details will be announced soon so watch this space!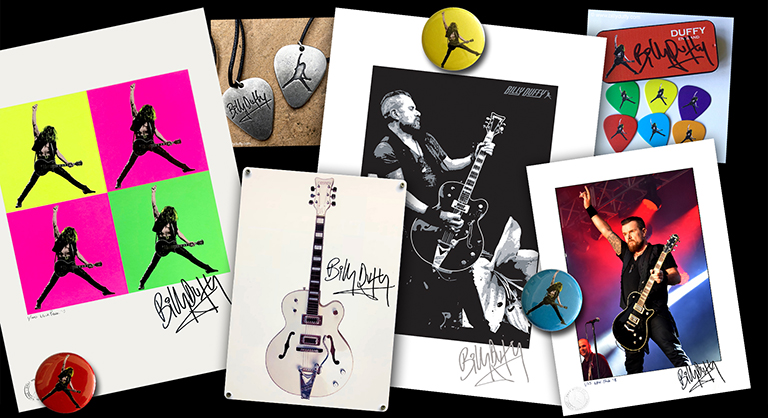 New Merch…
In case you missed the last email we've recently added a few new items to my online store including a brand new 'Day Glo Pop Art poster and a selection of signed live photos…

So that's it for now but here's a date for your diary… Tuesday May 21st when the 'Wythenshawe Blues' will be in the area!
I'm really looking forward to seeing my lifelong pal Johnny Marr play at John Anson Ford Amphitheatre in L.A. which is a lovely open-air venue. I've played there a couple of times before, once with The Cult and also as the guest of The Mission when I jumped up and did 'Rain' with them. It's worked out really well for me cos it's a day off between the first run of Cult dates in the US and my flight to England for our headline show at the Bearded Theory festival so happy days 🙂

I'll be in touch soon
Billy x