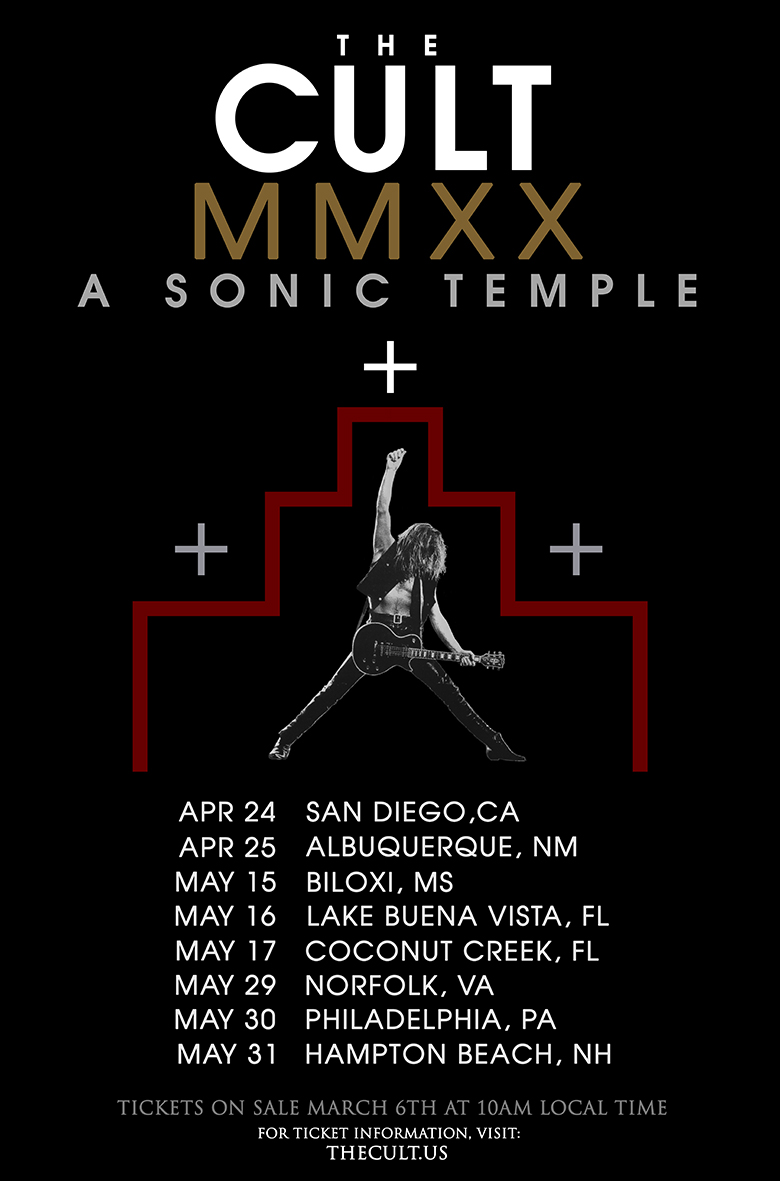 +
So here it is the first big news of the year and as I said in my last message A SONIC TEMPLE is back and coming to some of the places that missed out last year.
These are just the first shows to be announced and whilst all will be great the most exciting one will be playing THE MET in Philadelphia. It's an amazing historic venue and this is only our 6th time paying Philly it definitely not be one to be missed. As a nice symmetry the original Sonic Temple Tour stopped off at the Spectrum in Philly on January 31, 1990!
You can get pre-sale access to tickets for THE MET all these shows 48 hrs before they go on general sale!
To get your EARLY ACCESS FROM 10AM MARCH 4TH (LOCAL TIME)
use the link below & the
PASSCODE ST2020
For all the tour news and updates on The Cult make sure you keep it locked at  www.thecult.us!
.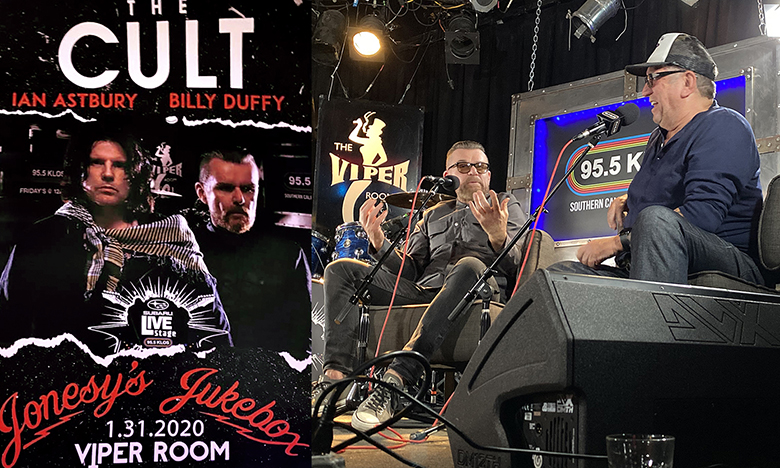 JONESY'S JUKEBOX

As you will probably know Steve Jones is a very good friend of mine and Ian's but you may not know he was quite ill recently so had to take a break from his Jonesy's Jukebox radio show. He's doing fine now so we were really pleased to be asked to be special guests recently when the show returned to the airwaves in a new format broadcast live from The Viper Room in Hollywood.
As well as Ian and I he also roped in his Pistols buddy (and our mate too) Sir Paul Cook! If you missed the show when it was broadcast you can check it out here!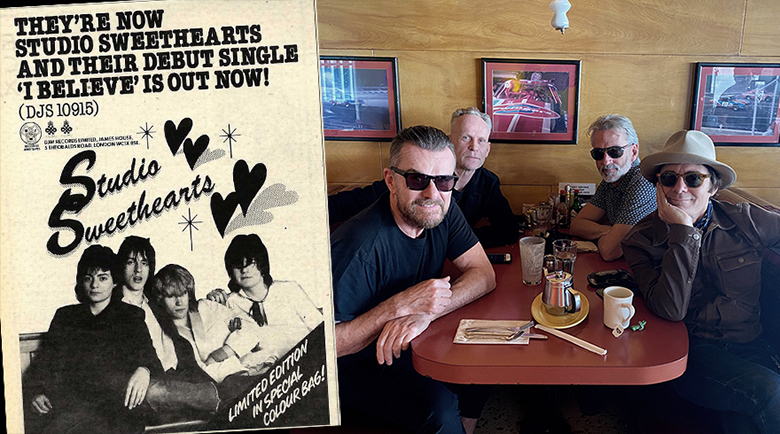 STUDIO SWEETHEARTS
As a teenager I stated writing music with fellow Mancunian and New York Dolls fan Steven Morrissey, but before we got too far I had a offer to move to London with new band that already had a record deal in place. The lure was too great, so I left home (and Mozzer) to join up with Studio Sweethearts and we released the single "I Believe" in 1979.
Two of the Sweethearts were from the legendary Slaughter and The Dogs and after that one single they decided to reform as 'Slaughter' and that was that.
It was great then to meet up with all the guys last month in LA as they got together to rehearse for a one off re-union of that 'Slaughter' line up. By a nice quirk of fate that show takes place in Manchester and I'm due back in the UK at that time so with luck I'll get along to cheer the guys on!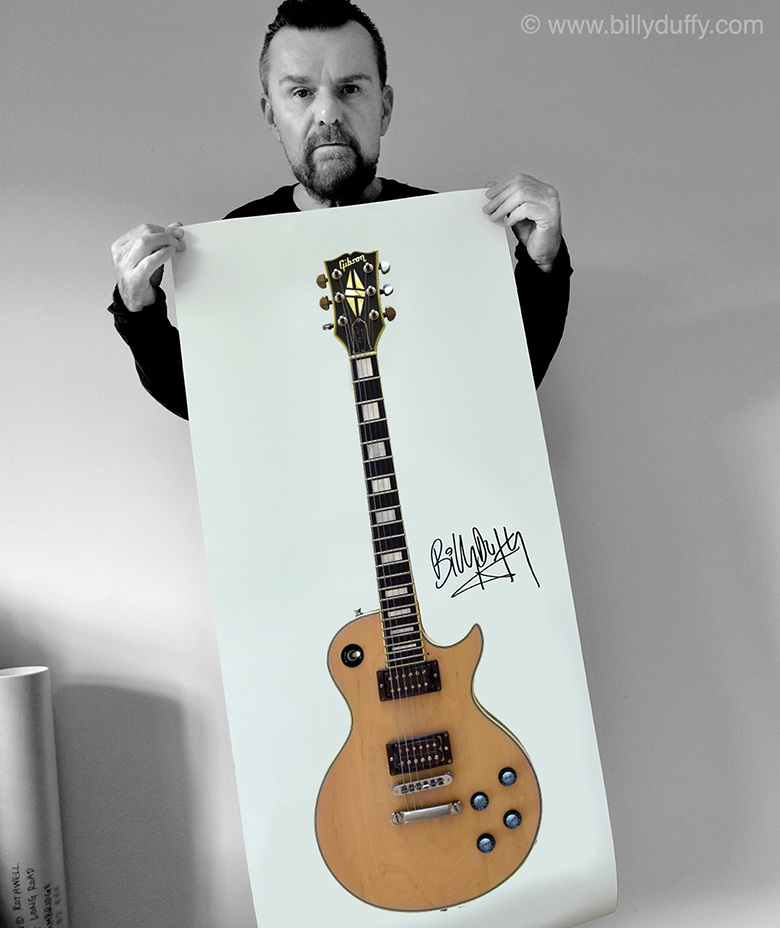 PERSONALISED LIFE SIZE GUITAR PHOTOS
We are pleased to announce that we are again taking pre-orders for the life-size guitar photos that Billy signs with a personal dedication to buyers. There are five of his iconic guitars in the series; his Mick Ronson inspired 'Woody' Gibson Les Paul, his original 'Sanctuary' Gretsch White Falcon, his Signature Gretsch White and Black Falcons and one of his Black Gibson Les Paul Guitars.
Each of these exhibition quality photographic prints have produced life-size from a high resolution pic by Mick Peek and are available exclusively at www.billyduffy.com.
Measuring 50 x 115cm these life size images have been giclée printed in archival ink on high quality heavyweight Klein Imaging 300 gsm smooth rag art paper. Giclée prints are recognized by the world's leading galleries and museums as the finest reproductions available.
The photo will also be hand signed by Billy and can be a personalised dedication to appear on the guitar or the white background. They are also signed and dated in pencil by Mick and for authentication feature an embossed 'Billy Duffy Official Merchandise' logo. 
As these exhibition quality photographs are very expensive to produce we only make them to order and are now taking pre-orders to be signed when Billy visits the UK for a vacation. 
ALL ORDERS TO BE PLACED BY 12TH MARCH
So, that it for now & hope to see you at A SONIC TEMPLE MMXX!
 
Billy x