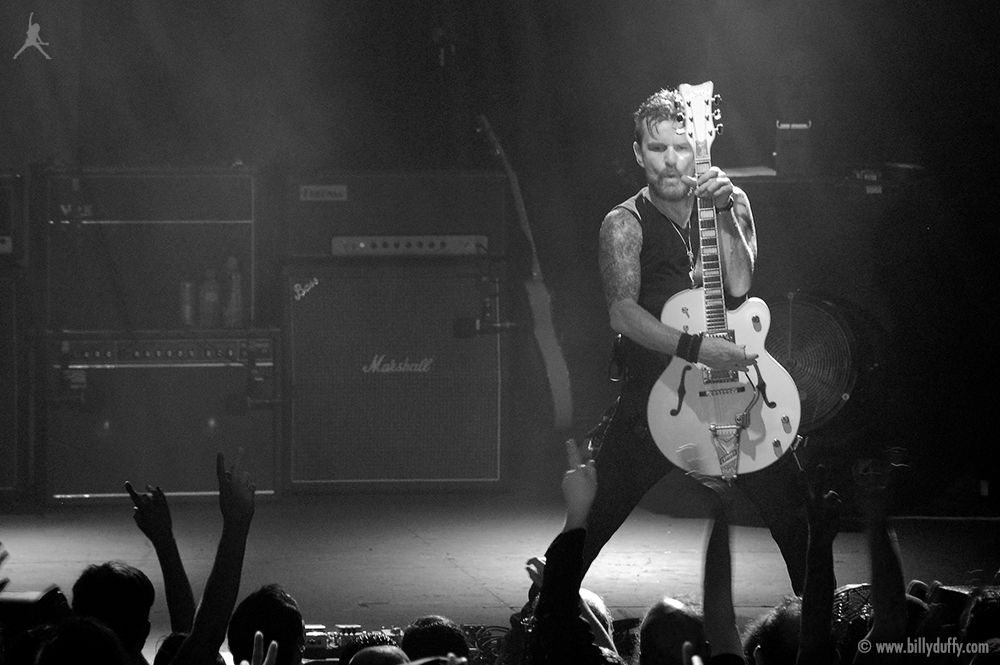 With the 2013 drawing to a close I have to say that it's been a great year but also a year of two halves. The early part of the year was all about the Falcon and from the summer onwards it was all about touring 'Electric 13'.
The Falcon…
I've talked a lot about Gretsch producing my Signature version of their iconic White Falcon guitar but it's almost impossible to put into words how proud I've been to see my name on that guitar. After originally falling in love with it over 30 years ago and playing one for my whole career as a guitarist to produce my very own version, to my own specifications, was heaven. That's why when I look back in in a few years time for me 2013 will always be the Year of The Falcon!
The early part of the year was taken up with the launch of the Gretsch Billy Duffy Falcon as well as launching billyduffycom, which was produced in harmony with the guitar. I'd never felt the need for the self publicity of my own website before but with the guitar coming out it just seemed right and it's been a great way to share some cool stuff that's been hidden away in my attic for years as well as bringing new news from my time out on the road this year.
A highlight of the early part of the year was jumping up and playing onstage with my lifelong pal Johnny Marr. Despite being friends since high school it was the first time we'd ever played on stage together and it was a really fun day out in San Francisco, which is one of my favourite cities. It also bought me a lot of pleasure seeing Johnny's success as a solo artist, which is thoroughly well deserved in my opinion.
It's quite amazing that these two upstarts from a housing estate in South Manchester would both get to release their own signature guitar models within a very short space of time… me with Gretsch and Johnny with Fender. There's a certain kind of poetry and symmetry to me and him, even though the journey has been slightly different; Johnny playing with a lot of other musicians, since he left the Smiths, whereas for 30 years I've been pretty consistently with Ian in The Cult.
If you haven't done so already you can checkout an interview with me and Johnny from eariler in the year here… Billy & Johnny
Electric 13…
Given that 2013 has been the year of the Falcon for me it's ironic that the that with the release of 'Electric Peace' the primary focus of The Cult 'Electric 13' tour was an album that I didn't play on a Falcon!
Although we have been touring every year since 2006 this year we made a commitment to a heavier schedule with more dates in intense periods. We also didn't do the festivals so it was really about getting out on the road and playing to our fans rather than a mixed crowd.
For me I couldn't single out one particular show to be the highpoint as the whole tour just seemed to work really well. I think the format was great with a little break in the middle which gave us time to reset and meant that we could play for a lot longer each night.
I've really enjoyed playing 'Electric' especially playing a whole album front to back rather than chop from eras and decades like I usually do on tour. When I'm swapping guitars and trying to make songs from the early band sound authentic and sit well next to more recent stuff there's a bit of a mental balancing act that goes on for me. I'm not living in the past but I always try to capture the spirit of the songs from a guitar point of view and when I'm doing that I find it hard to switch my head from one era to another. I could just plough though the songs and not care but that's not how I do it!
I know that the second set on the tour has been that kind of mix but I'm a feel player so that if it feels good I play good and after a full set of 'Electric' songs I find I'm in the zone. I'm not a machine, I'm very much an emotional guitar player, by that I mean that I'm not a virtuoso guy who has spent years practicing in my bedroom… I'm a feel player, an instinct player.
Also having a good sound inspires me to put that physicality into the show and
I had a lot of really positive feedback on the sound and tone of my guitars on the tour. Having great equipment is important but a special mention needs to go to Tom Webber, my guitar tech, he's been fantastic and having enough concerts in an intense period enabled me to work with him for the whole tour.
On a personal note having James Stevenson on board has also been great. We've been pals for a long, long time, infact since the early 1980s, and having another friend out on the road is great. His copasetic musicianship is what its about though and we share that love of the same guitarists and sound so he fits right into what we're trying to achieve live with The Cult.
Finally on the tour I can't talk about it without giving a massive thanks all the fans who came along and made it such a great experience. People didn't come to see us because we're the trendy, new, hottest thing they came because they have a love for the music. It feels like they have a real connection with the music that me and Ian have made and continue to make and they're the ones who go out in droves to buy the new records when we make them.
It was a great experience and a really positive tour in terms of the vibes, so if you were there thanks for again for helping us to help you make a great family… a Cult community!
Onwards into 2014…
I'm looking forward to a relaxing chilled out Christmas and then I've got a show with Camp Freddy on New Years Eve at the Roxy in LA. It will be great way to end the year jumping up with a few friends and playing some classic songs.
Then into 2014 and time to roll my sleeves up and get into my guitar riffs and chords to get myself organized before getting together with Ian and working on new songs.
Looking forwards is what we like to do as a band so next year is about new music and less intense touring. We'll probably play more festivals as well to give us more time to work on the new songs for the next album.
When will the album come out? … when we've got enough songs that we think are good enough! We're not making 'Chinese Democracy' but with a band like The Cult you can't just churn out stuff because there's two writers working together and it takes time. It's not like I have a song and Ian has a song and then we just record them, it's a collaborative effort and that chemistry has to be right.
That's why we do it … to give fans good music not to just to put something out as a 'product' that we can use to go out on tour to push.
For official news on tour dates and new music make sure you checkout www.thecult.us
So as I sign off I wish everyone a Happy Holiday… whatever you chose to worship… or otherwise 😉
billy x