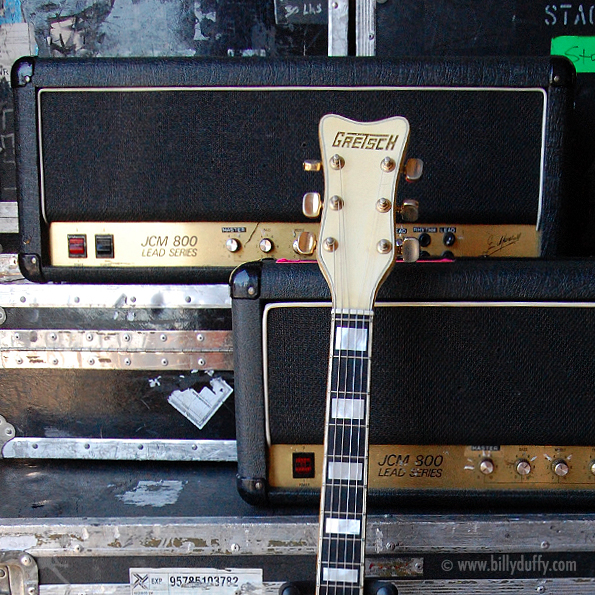 If you're lucky enough to see Billy playing live with The Cult you'd think that whilst he uses Marshall Speakers he doesn't play through the amps but you'd be wrong as he keeps a pair of Marshall JMP MkII 100-watt heads driving the 4x12s out of sight.
Billy explains how it works, "Using a floor switcher, I'll just switch on and off between combinations of the amps".  On Electric-era tunes Billy pairs the Matchless with the Marshalls for a straight-up rock sound without the JC-120's solid-state shimmer.
The all-valve JCM800 2203 is one of the most highly respected 100W Marshall heads in the company's long history. Evolving from the legendary Plexi head, it was one of the first Marshall amps to feature a master volume control. The essence of simplicity, the JCM800 is a one-channel, all-valve amp with no reverb or effects. Its easy control panel, distinctive roar, and larger-than-life edge immediately set the standard by which all other rock amps were judged and it remained the industry benchmark throughout the entire 16 years of its production life.
Billy tells us how he came to start using Marshall amps…
"When The Cult first made some real money around the time of 'Electric' we went out and bought a whole load of backline from Marshall. This can be seen in the videos around that time, we bought tons of it, we just went mental buying all Marshall equipment, all new. Also at the time we changed the band line up to incorporate 'Kid Chaos' on bass so Jamie Stewart went onto rhythm guitar which was his original instrument prior to joining The Cult. So live on the 'Electric' tour, where we supported Billy Idol and also had Guns n Roses opening for us both Jamie used I used Marshalls. On the tour I noticed that both Steve Stevens and Slash had really excellent guitar sounds and I realized that my amps whilst they were OK, they were stock and they weren't giving me the tone I wanted. So after the 'Electric' tour Jamie moved back to bass and I ended up having four Marshall amps, which are the JCM 800s. Anyway my managers' assistant knew this guy Harry Kolbe, in New York, who she recomended could do some work on them. I took a chance and sent one to him and he basically 'hot rodded' it. He tuned it up, added a secret 'black box' about an inch square like an OXO cube or a dice that changed the sound. Harry also did some other things that nowadays are very commonplace but in 1988 it was all new.
I still have those four Marshalls today, they've pretty much lasted through all the years of abuse, all the tours we've done and they're pretty much all still running. Some have had a little bit of minor surgery but they're still going.
When The Cult sort of split up in 1995 I had all this equipment and I was storing it with no use for it so I had a bit of a 'car boot sale. It was kinda like a post grunge cleanout, I sold a cabinet to Duff McKagan, a cabinet to Mike Dimkich who plays rhythm with us now and I sold two amps and four cabinets to Steve Jones of the Sex Pistols. Those were the amps and cabinets that Steve used on the Pistols 1996 re-union tour and live album ('Vive Les Sex Pistols: Filthy Lucre Tour 1996') so that was basically my backline that Jonesy was using.
After the Pistols stopped working I bought the amps back off him, but Joney being Jonesy he made me buy them back at a profit to him! I didn't get the cabinets back as he'd already sold them to somebody else. So sadly I lost the cabinets in the mists of time but the amps are back with me but with a few things that Jonesy had done to them like sticking things on them, tuppence pieces and so on. So anyway when the Pistols got back together in 2002 I lent them back to him so he could use them, but I didn't sell them to him I just loaned them for the tour."
Billy Duffy – January 2013
BUY ONLINE IN THE U.S. NOW…
Marshall Jcm800 2203 Vintage Series 100W Tube Head