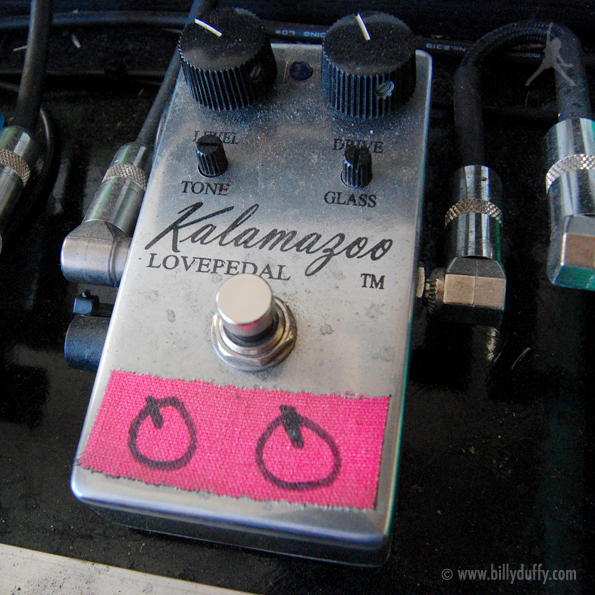 The Kalamazoo is Billy's Overdrive pedal built by boutique pedal manufacturer Lovepedal. He explains how he came to use it, "I'll tell you – my new love is the Kalamazoo overdrive by Lovepedal. They're great, great pedals and a great company. It's essentially an [Ibanez] Tube Screamer, but you don't lose the bottom end, it's like a hand made Tube Screamer but better, The Kalamazoo is a Tube Screamer on steroids.
I don't particularly like fuzz or distortion; I only like overdrives. Bob Rock let me use a Centaur by Klon when we were recording Choice of Weapon and it was great, but they go for, like, $1,500 on eBay. These things are stomp-boxes, right? I want to be able to take them on the road and have 'em take a beating. I wear motorcycle boots onstage and I'm not prancing around delicately. I heard about this Lovepedal that goes for around $150 and is supposedly fantastic, I tried it out, loved it, contacted Lovepedal's founder, Sean Michael, who turned out to be a big fan of The Cult and… here we are."
The Lovepedal Kalamazoo is unique in that is has two tone controls that allows you to shape your overdrive to the specifics of your guitar and rig. The Level knob controls the amount of signal and the Drive knob controls the level of overdrive. This super smooth overdrive allows you to have controllable highs, so no more trebly fizz or unwanted icepick treble. Just smooth and sweet singing highs. The Glass knob allows you to increase treble without cutting bass, and allows you also to tune your drive 's tone to different amplifiers. The Tone knob allows you to soften the treble content. This effectively creates a tone control in series with a treble boost, which provides a sonic presence that will simply knock you out.