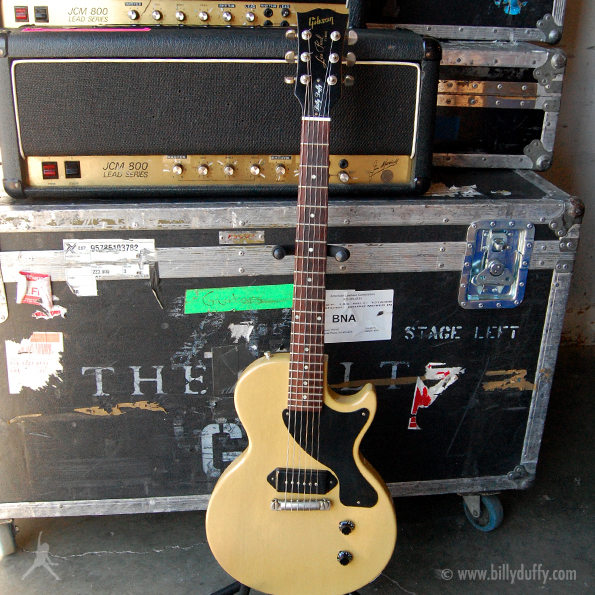 The goal for Gibson when they introduced the Les Paul Junior in 1954 was to have a high-quality guitar that was still affordable. This was achieved by stripping the Les Paul down to the basics: one pickup, one volume knob and tone knob. It was equipped with one P-90 dog ear pickup in the bridge. It was originally released in sunburst, but Gibson also introduced the TV version (a kind of yellow, also known as TV Yellow) for professional musicians, who would be featured playing the guitar on television; the yellow would look white on black and white television, without the glare of an actual white finish.
Billy tells the story of how he got his…
"This one goes back to an offshoot of the Camp Freddy band and we played a party at on a stage in the parking lot of the Gibson Guitar Custom Shop in Nashville, Tennessee. It was a bunch of friends having fun, making music including guitar players Billy Morrison, Jerry Cantrell and me plus Franky Perez singing. Gibson flew us out there and we played a bunch of cover songs and we each got to pick a guitar that Gibson would make for us in the Custom Shop. I chose the TV Yellow Les Paul Junior and the guy who actually made it handed it to me and I played it in the gig there and then.
It's a very Plain Jane simple guitar designed in the fifties almost as a learner guitar with no frills and apart from them putting my name on the headstock the only thing I had them customise was that I had them make it with the slimmer neck which is to my particular taste. They generally came with thicker necks in the 1950s and I prefer the 1960 neck profile where Gibson decided to make it slightly flatter and slimmer and less like a baseball bat!
It's a great little studio guitar, fun to play and loads of guitar players love them and collect them and I've even used it live a few times on the last tour on a couple of songs."
BUY Gibson Custom 1957 Les Paul Junior Single Cutaway Electric Guitar Tv Yellow
 ONLINE IN THE U.S. NOW