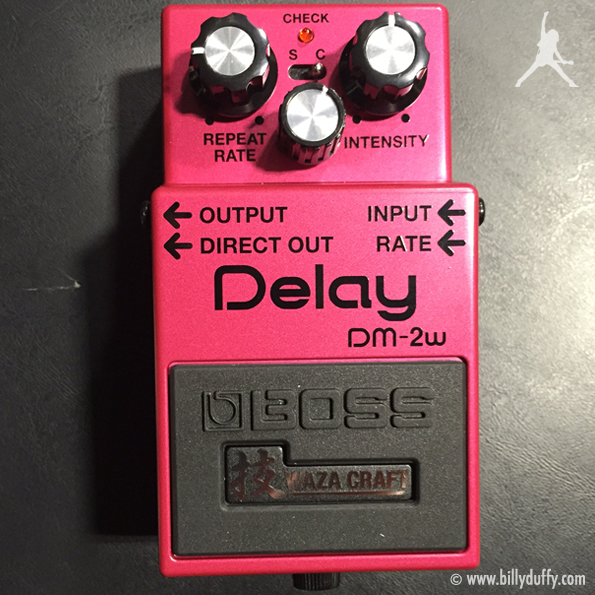 Ever since being discontinued way back in 1984, the BOSS DM-2 Delay pedal has remained highly sought after by guitar players everywhere for its warm, "bucket brigade" analog delay tone. The DM-2 has been part of Billy's guitar sound since the early days of The Cult including featuring on "She Sells Sanctuary".
You can read about Billy's Original BOSS DM-2 pedal here.
He's needed to keep a stock of the discontinued pedal though as it's remained in his live rig set up ever since but now he won't have to track down old ones as the DM-2 is back! This time as the Waza Craft DM-2W! The coveted stomp has been reborn with switchable sound modes and greater versatility. Using 100-percent analog circuitry, the DM-2W's Standard mode nails the lush sound and 20-300 ms delay range of the original DM-2. Flipping into Custom mode instantly changes the sound character to a cleaner analog tone with over twice the available delay time.
"I've just picked up another of the BOSS "WAZA craft" pedals to use in pre-production. It's basically its a remake of my classic DM-2 analogue delay that was part of my original set up in the early 1980s. Again those clever fellas at BOSS have kept all the features of the original but now has the familiar to waza "better" switch which in this case keeps the warmer sound of analogue but has a longer delay time more like a DM-3 and that family of digital delays… ergo… better!!
I will definitely be using one of these in my live rig very soon."
Billy – March 2015